On the road at the Tour 4
Read the latest blog from Jaguar's embedded performance engineer Neil Thompson.
Last Updated: 17/07/13 3:25pm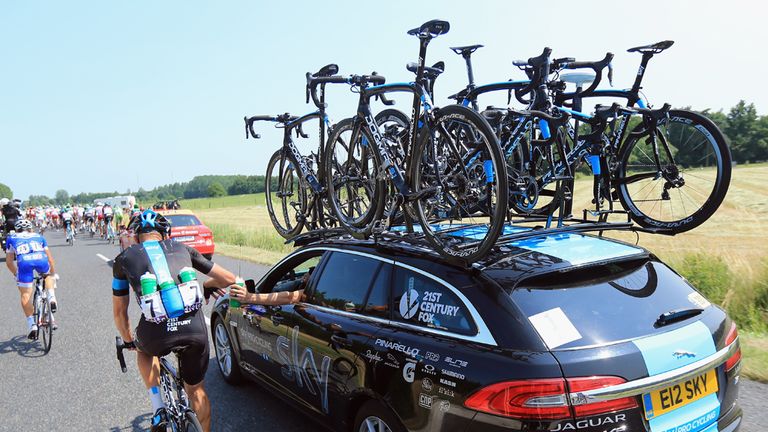 Jaguar performance mechanic Neil Thompson is back on the road with Team Sky during this summer's Tour de France and has just sent us his latest dispatch from the road:
Consistency, they say, is a fine thing. In sport it certainly is, and many heads more qualified than mine have proved it. But the Tour de France dictates to hell with all that, and makes up its own set of rules – all of which revolve around wonderful, fascinating inconsistency. Everything Team Sky do, every day, has to be done in a different way – and almost always in a different place – to the day before. Sure, the tasks remain similar, but the execution of them has to change each time. I think that is the beauty of bike racing. The fundamental fact that the sport revolves around pedalling, not e.g. running, means that everything constantly changes – the scenery, the fans, and most importantly, the racing.
The past few days have not allowed a single minute of 'easy' time in the saddle. First the team suffered a big blow in the loss of Edvald Boasson Hagen, or 'Eddy' as we know him. He's become a victim of the great uncontrollable factor of racing - crashes. Yes, it certainly adds drama and an edge of excitement to the race when you're watching it, but imagine the amount of training and sacrifice that goes into the Tour de France being wiped out by something totally out of your control. It's the biggest bike race in the world and one that every rider dreams of being in. I can only imagine the frustration. Despite this, Eddy smiled to us all and wished us luck before he was whisked to hospital. I'll take the opportunity to wish him a speedy recovery; he's an absolute gent.
I usually feel slightly envious of pro-sportsmen and I imagine many of the world's population are with me. If the genie came out of the lamp and made the offer though, I would have to think twice about being a pro cyclist. We've been lucky enough to see the peloton go past a few times and the sheer pain they endure on each stage goes beyond anything I think I have seen in sport. Triathletes have a similar experience, but the point was made well the other day that they'll do one event and then usually have a week or so to recover. The riders on Grand Tours do it day in, day out, for nigh on three weeks. Not for me thanks.
Behind the scenes, the tour circus moves on apace and Corsica feels like years ago! There was a hilarious moment yesterday when I asked some of the carer team where we were off to tomorrow and was greeted with some very blank faces indeed. Our Bus driver Claudio came to the rescue, but it's a marker of how quickly we have to move on and concentrate on our jobs that the days and places become a blur sometimes. That's not to say we don't appreciate them though!
Also a word to the fans. We have been charmed and also flattered by the level of support we have had over the past few weeks. Two days ago I was performing the usual car checks and cleaning them off of all the dust form the days racing when a horde of local kids descended with their parents and wanted to help out! They wouldn't take no for an answer and armed with sponges there ensured a half hour of highly enthusiastic (if perhaps not entirely efficient) car cleaning. But everyone had a great time and it was highly amusing to see them scrubbing away keen to help out. It's times like that that remind me what a privilege it is to be part of it all.
I need to sign off now, it's a very long day on Sunday with Mont Ventoux coming up and we've had a visit from some guests of Jaguar so it's been a busy time. Finally you'll see there is a link to click at the bottom of the blog – make you sign up! If you do, there is a competition running for entrants to win some hospitality places in Paris with Team Sky. Ringside seats and a meal with all the management by the Champs-Elyseés too. Trust me, that'll be worth it!
Subscribe to the Jaguar's Cycling App for films, competitions, and more : http://po.st/JaguarHub