On the road at the Tour 5
Read the latest blog from Jaguar's embedded performance engineer Neil Thompson.
Last Updated: 17/07/13 3:26pm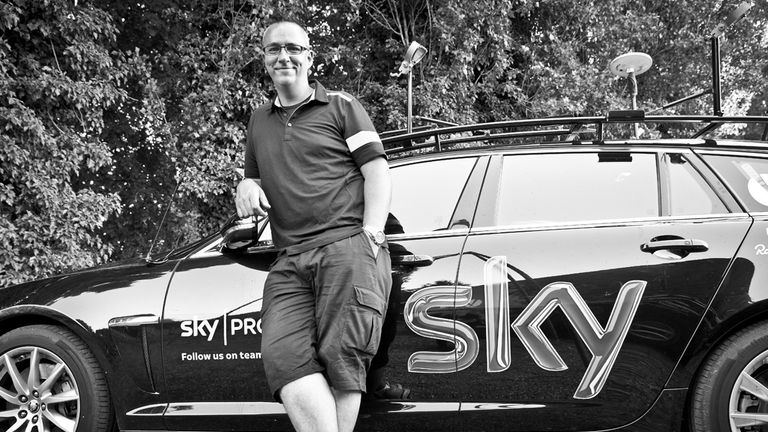 Jaguar performance mechanic Neil Thompson is back on the road with Team Sky during this summer's Tour de France and has just sent us his latest dispatch from the road:
It's hot. Really hot. It's also frightening to think that the team has to ride up mountains in this. As if it weren't bad enough already, they also get cooked when they're on the way up. The dashboard on my Jaguar read out this morning at 42°C, to give you an idea.
I'm writing once again having arrived at our hotel and set up our not-so-little Team Sky camp for tonight. It's always amusing to see the reaction when we pitch up, which ranges from nonplussed to almost delirious with surprise. What is for 364 days a year just a disused patch of tarmac behind the hotel or nondescript car park suddenly turns into Team Sky central. Combine that with the fact that we're usually sharing with another team and you've got quite the transformation!
It's an amazingly self-sufficient operation. As soon as the team arrives, everyone sets up their work station and within 20 minutes we're running at full speed.
I'm especially jealous of the mechanics' truck, which is air conditioned. Gary [Blem, one of the mechanics] reminded me it's not in the heat when it comes in most useful though. It's the cold – imagine trying to do all the intricate maintenance on these precious bikes with numb fingers.
Team Sky are usually the envy of the peloton with the Jaguars and our bus, but I have to say Saxo-Tinkoff come up trumps with their kitchen truck, and you can always smell wafts of delicious cooking creeping out of it. I think our chef Soren may be a little jealous!
I've also noticed how my priorities have really changed from the start of the Tour. Initially I would wonder if the rooms were decent and beds comfortable. Now I'm anxious that there is a decent water supply and some shade to work in. Must be something to do with the Team Sky 'performance first' methods creeping in.
For the past few days I have only really seen the riders looking happy in the mornings by the bus, and too tired to be happy by the bus in the evenings. That said, the buzz was palpable on Sunday evening. Chris Froome's stage win on Mont Ventoux was electric. Even though Richie [Porte] had used every ounce of energy, he still managed to smile and have a chat with us back at the hotel. It's a great show of comradeship that Richie is so pleased to see his good mate Froomey in yellow.
I can just sense now that we'll be in Paris soon. There's a big mental barrier for everyone that gets crossed when we know we're in the final week. Whether as a rider or one of the support staff, we know there is one week left. The problem is that in many ways the easy bit has been the last two weeks. Now we've got to gather all our energy for the next week as we head high up into the mountains.
Oh, nearly forgot! The Jaguar guys are doing a campaign for everyone to show their support of Team Sky. Simply tweet a photo of yourself supporting the team (or in fact, just a photo of yourself) and use the hashtag #BehindTeamSky – your face could end up on a mosaic on the bonnet of the car in Paris!
Subscribe to the Jaguar's Cycling App for films, competitions, and more: http://po.st/JaguarHub