Froome set for night to remember
Chris Froome is ready for the biggest night of his career as he prepares to ride into Paris in the Tour de France's yellow jersey.
Last Updated: 21/07/13 10:38pm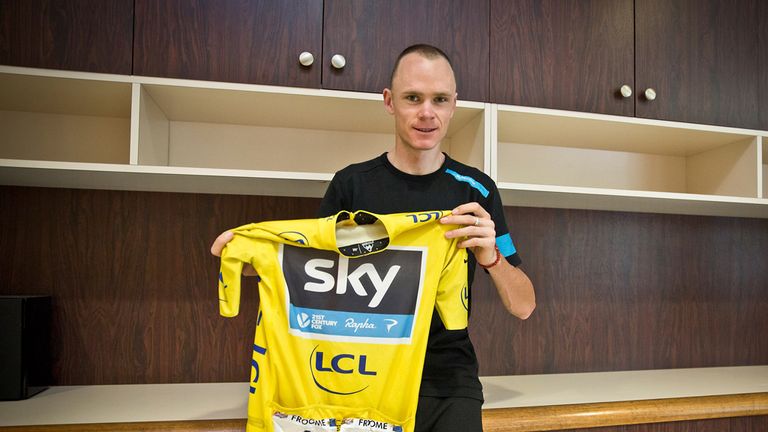 Chris Froome is ready for the biggest night of his career as he prepares to ride into Paris in the Tour de France's yellow jersey.
The Team Sky rider has been slowly coming to terms with the enormity of what he has achieved after effectively securing victory in the centenary edition of the Grand Tour on Saturday atop Annecy-Semnoz.
Froome will be able to soak in the atmosphere of an illuminated Champs-Elysees on Sunday evening as the race alters from tradition by holding a spectacular night-time finale.
Speaking after adding his name to the history books as the first African-born winner of the Tour, Froome admitted: "This is an amazing feeling. Everybody keeps on telling me it is life changing, but I really hope things don't change too much for me.
"I've really enjoyed the challenge this year of month by month getting closer to the Tour. Going up to altitude camps and targeting other races to be in a similar kind of position to get ready for this year's Tour. It's really been a fun challenge and I've enjoyed every part of it."
Wrapping it up
Thinking back to the moment when, after three weeks, he finally knew the race was won, Froome floated up the final 8% ramps of the Semnoz ascent to the finish, and for the first time in the race, let his mind wonder.
"It was quite an overwhelming feeling," he smiled. "It must have been at just over two kilometres to go when I was with [Nairo] Quintana and [Joaquim] Rodriguez coming towards the finish. '2km to go now, I've got five minutes. This is it. This is pretty much wrapped up now.' I was quite hard to think about continuing racing and the tactics to sort out those final kilometres. There's always that nervous tension each day, counting down to get to this point."
Now he's reached the point of yellow jersey winner, Froome is able to look back and reflect on his own rapid rise to the top of the sport. Admitting he would like to target more Tour victories, the Brit feels there is more to come as he continues to grow as a rider.
"I can't tell what the future holds but I was quite late getting into the sport. I've only been a professional for five years, this is my sixth year, and it's been a fast progression for me. Each year I've taken so much away and learnt so much. I refuse to accept that I don't have improvements to make in every aspect of cycling.
"The first time that I thought realistically that I could become a GC rider to contend in Grand Tours and races like the Tour de France was during the 2011 Vuelta a Espana. Up until then I found it very difficult to keep my performances consistently high throughout a stage race. I would have good days and show what I was able to achieve but I'd never be able to back it up all the way through. But that Vuelta in 2011 was the first time that I was able to do that. That gave me a lot of confidence and belief in myself that actually I do belong in this group of riders at the front of the general classification.
"But to be sitting here three years after joining Team Sky, in yellow before Paris – I can't say I would have seen that coming."
Role model
Froome also hopes that news of his resounding Tour success will strike a chord back in Africa, serving to inspire the next generation who came up the same way he did.
"I'd like my performance this year to help inspire and motivate a lot of youngsters. Especially young Africans who find it very hard to believe that they can get out of Africa and get onto the European scene or make it in the pro peloton. My experiences are an example of that and if you want to make something happen, you'll find a way and an opportunity yourself to make it happen."
As for what Froome does next, attention will quickly turn to his late-season goals before he and Team Sky get to work on the dream of making it a hat-trick of Tour de France victories.
"I don't think there's too much I'd change [next year]," he continued. "I'll be more prepared for everything else that comes with the yellow jersey. The pressure, the decisions on the road, the whole experience. There's nothing that compares to the Tour. All the other races I'd won leading up to the Tour, I thought they had prepared me in a way that I'd be ready for all that at this year's Tour de France, but everything is on a different level. The riding, the atmosphere off the bike, it feels like every day has had its own challenges. I think next year I'll come back with a lot more experience."
All that remains now is to get across the line in Paris and celebrate. "I've got some friends from school who have come over to Paris," Froome explained. "My fiancée Michelle and obviously my team and team-mates. I'm hoping that we can have an unforgettable night. Then I'm looking forward to switching off a bit after the Tour though. I hope I can relax and reflect on what an amazing month this has been."