On the road at the Tour 6
Read the final blog from Jaguar's embedded performance engineer Neil Thompson.
Last Updated: 22/07/13 4:07pm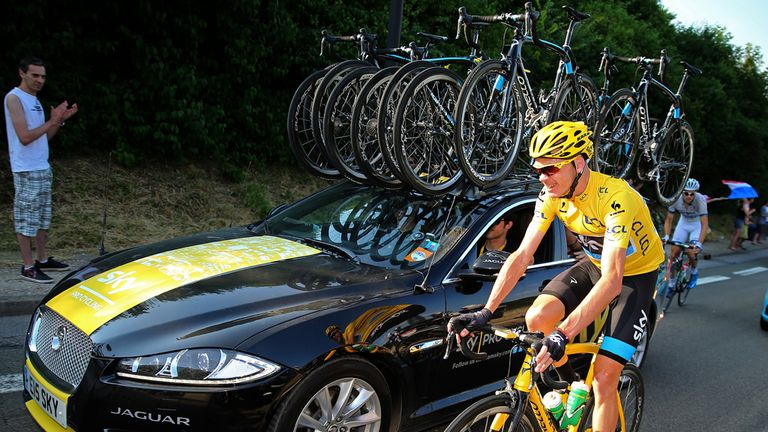 Jaguar performance mechanic Neil Thompson was back on the road with Team Sky during this summer's Tour de France and has just sent us his final dispatch from the road:
Last night was an amazing experience too. The roar that went up as the peloton entered the Champs-Elyseé was deafening, and as a hot night came to a close and the atmosphere ramped up a few degrees, the emotions of the past three weeks were released through much cheering, hugging and handshakes.
You could see the delight in the team's eyes and young Pete Kennaugh was visibly in awe by it all. The fact that the team rode across the line as one is a mark of Froomey's class too. He didn't mind the time loss, he wanted to share a very special moment with his team and I don't think anyone will begrudge him that.
When you consider that two of the team had to pull out, the achievement is made even more special.
On another note, I've managed to get a cheeky shot of the special Jaguar F-Type that has been prepared to be presented to Froomey today in celebration of the Team's achievement. I've put it at the top of the blog. Now that is a pretty stunning machine!
Lastly I'd like to say a few thank yous. First off to Sir Dave Brailsford and the management team who always had a moment to say hello and ask how things were.
Then to all of Team Sky – especially my room mate Soren, for his great humour despite our overall state of tiredness much of the time.
Last and but certainly not least, to the riders! They have kept us on the edge of our seats for the past three weeks and it has been truly brilliant. In the same manner as Martin did last year, I would like to say chapeau Team Sky, chapeau Sir Dave Brailsford, and chapeau, Froomey!
Subscribe to the Jaguar's Cycling App for films, competitions, and more: http://po.st/JaguarHub