Wiggins happy with form
Sir Bradley Wiggins is happy to be back on form ahead of the Eneco Tour and is ready to challenge for a Tour de France place next season.
Last Updated: 14/08/13 1:17pm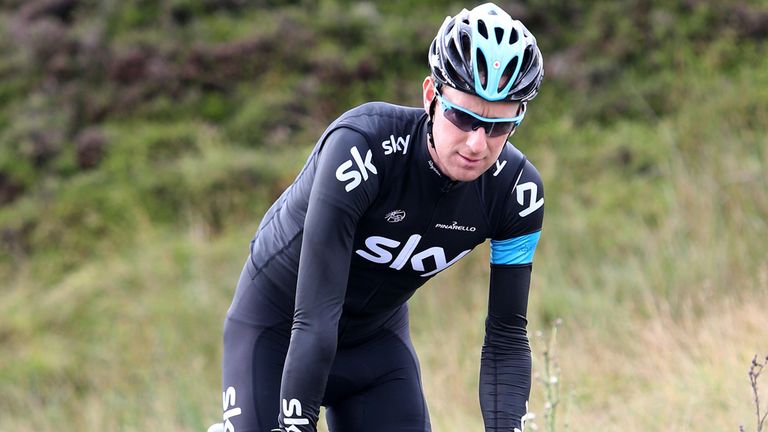 Sir Bradley Wiggins is happy to be back on form ahead of the Eneco Tour and is ready to challenge for a Tour de France place next season.
The Brit will look to continue his momentum following his recent time trial victory at the Tour of Poland when he lines up at the Low Countries World Tour race on Monday.
The seven-day event features another time trial and is the next step as Wiggins builds towards the world time trial championships in Florence, Italy in September.
Back in the swing of competition after helping team-mate Sergio Henao ride to fifth in Poland, the 33-year old admitted: "It was nice to be back racing with the team and back to winning.
"Now everything is towards the World Championships and that is what I am building towards with the time trials."
Tour return
Speaking in Barnoldswick, Lancashire, after riding his Bradley Wiggins Foundation's 'Ride With Brad' mass-participation cyclosportive, Wiggins stated that he would like to return to the Tour de France next year.
"I would have loved to have been there and done a job [this year] but it wasn't to be. Maybe that is next year," he said.
"I would love to be back. Hopefully I will get picked and I can do a job for the team, whatever they ask."
Wiggins also expanded on a superb performance from compatriot Chris Froome across the three weeks and revealed he hopes the pair can combine again to great effect at the race.
He added: "Having seen what he did in the races before and leading up to the Tour, it was a case of doing what he'd been doing all year. He did that and it was incredible. To win three stages and ride the way he did - I think it showed the pre-race hype was right.
"If anything it makes it his place now. I think he has earned the right to lead the team again next year and do it all again.
"I don't see why we can't work together and I'm sure we'll be back at the Tour next year, if I'm selected. I'd like to be there but it's not my decision."
Stronger
Sidelined with a niggling knee injury, Wiggins admitted that it was hard not to be on the Tour start line in Corsica with his team-mates, but that the experience could well go on to make him stronger as an individual.
"At the time it was very frustrating and disappointing but not going to the Tour was probably the best thing that has happened to me.
"In some ways it has been a bit of a wake-up call, a realisation. You are reminded things can't go well all the time. When you know the bad points you really appreciate the good times. But I'm really good now, I'm back to where I was back in May.
"It is all looking good for the next couple of months."