Dombrowski makes US return
Joe Dombrowski is raring to go as he rides on home soil for the first time in Team Sky colours at the USA Pro Challenge.
By Richard Simpson
Last Updated: 17/08/13 5:59pm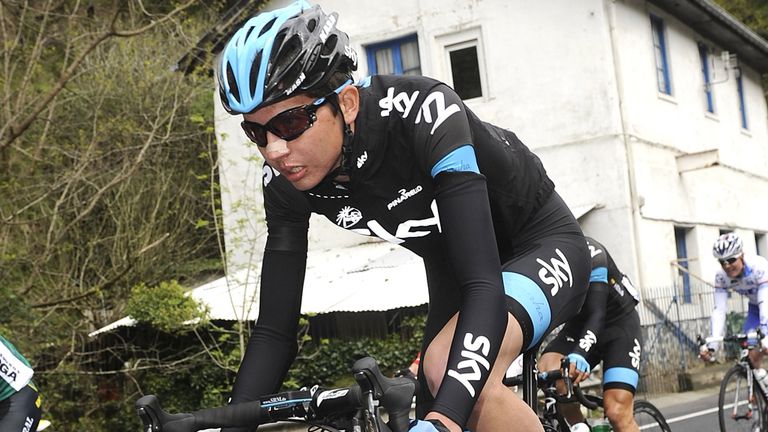 Joe Dombrowski is raring to go as he rides on home soil for the first time in Team Sky colours at the USA Pro Challenge.
The race marks only the second time Team Sky have raced in America – and the first since the 2011 Tour of California – making the event a big focus for everyone involved.
Dombrowski will line up in Colorado as part of a strong eight-man squad including two fellow Americans (Ian Boswell and Danny Pate), as well as Tour de France winner Chris Froome.
2013 has been a year of discovery for the 22-year-old, with Dombrowski relocating to Nice and tackling an intense programme of high-profile races including the Tour of Oman, Tirreno-Adriatico, Vuelta al Pais Vasco and the Tour de Suisse.
Adding its name to that list, and with its reputation growing rapidly, the race many know as the Tour of Colorado is certainly an event Dombrowski looks forward to.
"Of all the races I've done, I don't think I've seen as many fans as I did at this race last year," he said. "In terms of cycling in the US I think Colorado is probably the epicentre of it. In terms of fan turnout that's exciting and the race overall has a pretty laid back and fun atmosphere."
Making an impact
Dombrowski has fond memories of the race after taking a top 10 finish in Colorado last season amid a run of strong results which saw him prise open the door to the WorldTour.
"It was a good race for me here last year. It's exciting to come back and return to a race I've done well at. It's special being my first race back in the US, but also now with Team Sky. I've definitely been looking forward to this for a while."
The Virginian was seen most recently at the Vuelta a Burgos but his race came to a premature end after a crash midway through the opening stage.
Talking in Colorado Dombrowski confirmed: "I've been a little bit sore but nothing serious. I'll be fine by the time the race starts, that's for sure.
"After the crash I had a bit of trouble putting weight on my left leg. [Team Sky Doctor] Alan (Farrell) suggested that I went to have it x-rayed. Luckily nothing was fractured and actually, because it was raining, I didn't lose too much skin. I just hit the pavement and slid."
Flying high
With seven tough stages to negotiate in Colorado Team Sky will need to call on all their strength. The key to unlocking the race according to Dombrowski could be to go on the offensive.
"Obviously we have a pretty strong team here with Chris, Richie (Porte), Pete (Kennaugh) and everybody. It looks like the day we finish in Beaver Creek is going to be pretty hard and will be selective. The TT being uphill is also pretty tough. It's similar to last year – we had two uphill finishes but they were both pretty short. It rewarded guys that were aggressive in the race because you had to take time where you could.
"I think this year it's going to be a similar situation where you can't just sit back and wait for the selection to be made. You kind of have to make it yourself if you want to go well."
It isn't just the tough terrain that makes Colorado challenging, with altitude also a significant factor in selecting a winner.
The unique challenge altitude brings is nothing new for Dombrowski. "We get that a lot in the US and a lot of the races out west are pretty high. I think that definitely plays a big part in how the racing plays out.
"Normally I've done pretty well racing at altitude. I think it suits me reasonably well. In the past I've always had a few weeks to really acclimate fully. This time myself and the rest of the team are coming in later. You can't really think about it too much you just have to go out and get it done."
To check out the route, team news and TV times for the USA Pro Challenge check out the race guide here.