Porte looking to perform
Richie Porte is hoping to kick off the WorldTour season in style at his home race with a strong ride at Tour Down Under.
Last Updated: 20/01/14 7:03am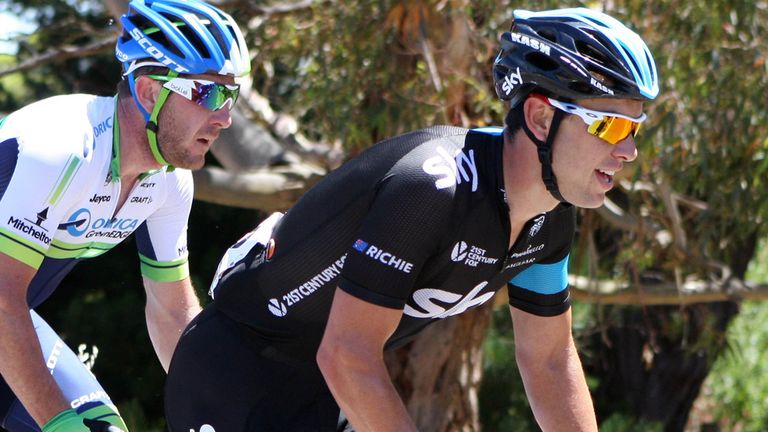 Richie Porte is hoping to kick off the WorldTour season in style at his home race with a strong ride at Tour Down Under.
The Tasmanian returns to the event after a two year absence in a co-leadership role within Team Sky and the chance to gauge his form heading into a big year on the road.
Porte's key ambition lies further down the race calendar in the shape of the Giro d'Italia, his first out-and-out Grand Tour leadership opportunity with the team.
The month of May is not as far away as it may seem, meaning Porte is looking for a good hit out to build on his recent third place as the Aussie national road championships.
"I want to go to Tour Down Under and perform," Porte told TeamSky.com. "As an Aussie it's the race to win.
"It used to be a sprinter's race but now there are some good climbs in there like Corkscrew and Willunga. I've spent a bit of time in Adelaide so I know the climbs pretty well. I feel like I'm in good form and we have a strong team here – so if not me then through Geraint Thomas we also have a really good chance. He was brilliant last season so it should be an interesting race."
Increased profile
With the profile of the race now rising as high as the temperatures around Adelaide, Porte is happy to be among the leading lights in Australia's assault on the cycling world stage.
"It's great that there's interest from an Australian perspective with Cadel [Evans] starting his season here – myself, Simon Gerrans and guys like that. I've been in Australia a lot over the winter and you can see how big cycling is getting. People are really taking an interest."
That interest could peak further if Porte is able to put himself in a competitive position, with the race routinely providing close action, minimal time gaps and spectacle.
"It's silly not to go to Tour Down Under and really go for it," he reasons. "I've never really tried to be good there before. Obviously this year my focus is the Giro d'Italia so that's where I want to be at my best."
Part of a strong seven-man line-up, Porte has been spending the days leading up to the race training with a squad mostly comprised of Classics riders.
On getting to race with a different set of team-mates for a change he admits: "It's the joke in the team that you see these guys at training camp over the winter and then that's it. It's good preparation for the Classics guys. They are more motivated than ever to be in good form and it's a big goal for the team to win a Classic this year."
Fond memories
As well as the chance to get some early WorldTour points under his belt – "I finished 10th last year in points. But if I'd done a good Tour Down Under I'd have been right up there. To get some early runs on the board is not a bad thing," – Porte also remembers tackling the race as an under-23.
Finishing ninth in 2008 as part of the national Team UniSA set-up, Porte looks back: "I got the wildcard with the Aussie team from the nationals where I had a good run. It was before anybody knew who I was but I had a good race and finished ninth. I still didn't turn professional until the next year, but back then it was such a big deal to go and ride the Tour Down Under. It was quite daunting."
Check out the Tour Down Under race guide for full stage information and Sky Sports TV times.