Eisel set for tenth Tour
The Yorkshire Grand Départ will be doubly special for Bernhard Eisel as it marks the Team Sky rider's tenth appearance at the Tour de France.
Last Updated: 05/07/14 12:48pm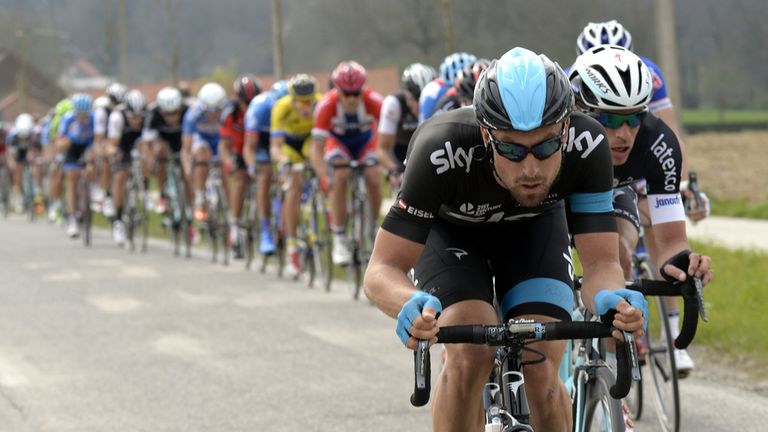 The Yorkshire Grand Départ will be doubly special for Bernhard Eisel as it marks the Team Sky rider's tenth appearance at the Tour de France.
Few riders can read a race like the popular Austrian and Eisel will need to use all his experience to help navigate team leader Chris Froome to victory across the three weeks.
The 33-year-old already has a Giro d'Italia appearance under his belt in 2014 and is relishing the opportunity to not only race another Tour, but to compete in front of a packed British crowd.
"I love riding here," Eisel told TeamSky.com after arriving at the team's pre-Tour base. "Even walking through the airport you feel welcome. Riding for a British team, on the Tour de France in Britain is special. It's a really big thing, even for me as an Austrian. It motivates you but at the same time the pressure is on. But it's a good pressure.
"It's my tenth Tour and I can't wait to get started, especially after being at home last year. It's great to be back! I always said I wanted to do 10 Tours. Not for any special reason, but it's a nice number and if I don't ride the Tour again I can be happy with that. But that's not to say don't have more Tours in me."
Crowd support
Eisel is uniquely placed when it comes to big bike races in the UK. A Tour of Britain regular, he also rode the Tour de France when it last started on British shores in 2007, as well as in the more recent 2012 Olympic Games.
He recalls: "London had the idea to make cycling popular in the city. The Grand Départ of the Tour back then was really big and, to be honest, I'd never seen so many people out watching a race. The number couldn't really get much bigger for the Olympics as there was no space left at the side of the roads. And I think that will be the same in Yorkshire. They are expecting huge crowds. It should be incredible."
Despite the fanfare Eisel is under no illusion that three incredibly tough weeks lie ahead, along with the pressure of riding for the defending champion.
"It was really hard just to get into the team," he adds. "To ride the Tour de France is an honour. You have probably 10 seconds to celebrate getting into the Tour squad but after those 10 seconds you focus and you realise it's going to mean work – a lot of work. And pain.
"Of course we'll enjoy it. We want to compete for yellow and to support Chris and do our job. If I can do that I'm happy."
Tough terrain
Eisel got chance to witness the Yorkshire stages first hand after a recent reconnaissance trip to Yorkshire to see what all the talk has been about.
"I came out directly after Route du Sud to look at the first and second stages in Yorkshire and I've also been down to look at the Arenberg cobbled stage," he confirmed.
"There is some wonderful scenery in Yorkshire. The landscape is just amazing, whatever the weather. It was nice to see what Yorkshire has achieved in bringing the Tour here. Everybody in and around the area is taking part, putting yellow bikes or jerseys in their shops or gardens. It was incredible to see, even two weeks before the race. You can see we are really welcome here and the crowds are going to be amazing.
"The first stage is going to already be an important day. You can't win the Tour there but you can lose it. It's on small roads, up and down all day. The last 40km are relatively straightforward but out in the country it's not so easy. Stage two is really tough as you do around 3000 metres of climbing. There's everything in there. It's like one of the Classics – Liege-Bastogne-Liege or Amstel (Gold) with big climbs, short climbs and maybe some wind. We're not going to see the sprinters up there by the end but it will be a really key stage. But the good thing is that, while it will be a tough stage, it should hopefully be decided by strong riding and not luck. The third day is more of a proper sprint stage and a lot of guys will be using it to recover from the day before."