Thomas ready to race
Geraint Thomas is proud to see how far he and the sport of cycling have come since the last time the Tour de France visited British roads.
Last Updated: 05/07/14 7:37pm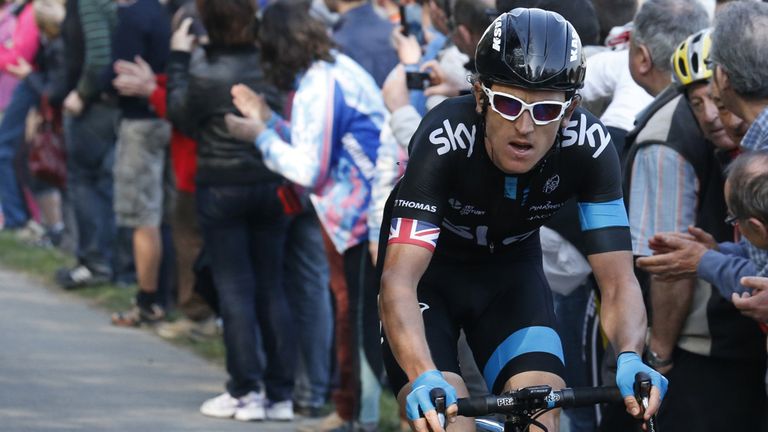 Geraint Thomas is proud to see how far he and the sport of cycling have come since the last time the Tour de France visited British roads.
An all-rounder who excels on the flat, the climbs and the cobbles, the Welshman will tackle his fifth Tour de France and is an integral part of the Team Sky line-up.
The two-time Olympic gold medallist is a firm fan favourite and ahead of the race, he spoke to TeamSky.com about what racing the Tour means to him, the pressure of defending yellow and his evolution as a rider.
TeamSky.com: Last time you raced the Tour on UK roads you were the youngest rider in the race. So much has changed since then.
Geraint Thomas: A lot has happened since 2007, for me personally and the nation as a whole. We've had two Olympic Games and so much great success on the track and now on the road.
I've ridden the Tour and the Giro quite a few times since. I'm just a completely different rider to the guy who started back then. Being in a team that has won the Tour is a big thing too. It's crazy really to see how far I've come and the sport too. It's fantastic and I just feel lucky to be at the age I am to be able to benefit from that. It's really exciting time.
TS: When it comes to defending the yellow jersey at a race like the Tour de France there's nowhere to hide.
GT: I enjoy the pressure of trying to defend it. Especially in the Tour there are some really tough days at the start. It's always really hard for the team to control but you thrive on the responsibility and pressure – working together as a team. You're all in it together and you have that camaraderie. I'd rather be suffering on the front trying to defend the jersey than be suffering in the wheels with Froomey in second or third place. Having yellow gives you a boost.
TS: What are your expectations for the cobbles on stage five?
GT: It's going to be really stressful. On the cobbles silly little crashes can happen. So can punctures. There are just a lot more variables. It's going to be a massive fight to be in the best position possible going into each of the sections. I'm not sure if I'm looking forward to it or looking forward to it being over. It's a different mentality looking after someone rather than racing it yourself. At Paris-Roubaix you get stuck in. You look after yourself and you fight, bounce around and get into the position you want. But when you've got a team leader following you you need to be thinking about them all the time. You can't go through the usual gaps and take as many risks as maybe I would myself. It is slightly different but I think having Bernie (Eisel) in the team will make a massive difference too as he's really good at positioning. If one of us gets caught out a bit there's always someone to be there with Froomey. From the recon he was fine over the cobbles. It's just about getting him into the right place. I think we have a good team to get in the mindset of getting in there and going for it, rather than being defensive.
TS: Do you feel like you've stepped up this year as a stage racer?
GT: I'd like to think so. Take Bayern-Rundfahrt, for instance. When I went there in 2011 Brad (Wiggins) and Edvald (Boasson Hagen) were the leaders of the team. I was beneath them and just took my opportunity to win it. This time I went there as the leader and had the team working for me. It's a different sort of pressure. Then obviously Paris-Nice this year was another big deal. Having a lead role in a team like Sky at a race like that was special. Obviously the crash on stage seven wasn't ideal, but I've come a long way. This year I've had more responsibility from the team and I definitely feel like I've stepped up to that next level. Hopefully we can keep that curve going and see where we can take it.
TS: It's also evident this year you're able to ride further on to the climbs.
GT: I think last year I could have shown more in the Tour, but with my crash on the first day I didn't get chance to do that. Hopefully this time I can really make that next step up and it definitely feels like I've moved up that line.
TS: You had some back luck at the nationals. How is your form?
GT: That was frustrating because I felt pretty good. I dropped my chain in the road race which wasn't an issue but then it ended up getting jammed. I had to wait for the neutral service and the race went away. Physically I felt good and I had some big efforts chasing. It was definitely a good workout. It was good for the head in a way, being in a race and feeling pretty strong. I'm looking forward to actually starting on Saturday now.