Rowe ready for homecoming
Luke Rowe is looking forward to revisiting some childhood haunts during the Tour of Britain.
Last Updated: 07/09/12 12:35pm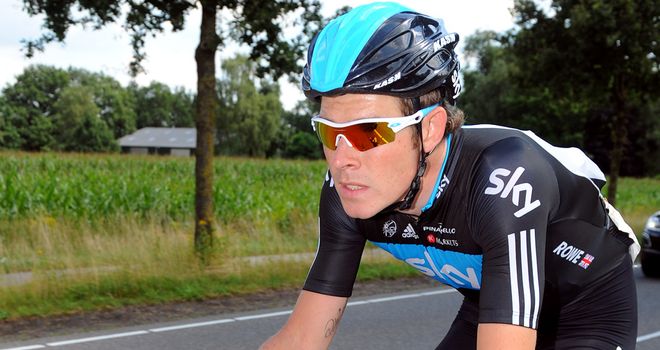 First-year professional Luke Rowe is looking forward to revisiting some childhood haunts during the Tour of Britain.
The Welshman has been included in a strong Team Sky line-up for the September 9-16 event alongside the likes of Tour de France winner Bradley Wiggins and world champion Mark Cavendish.
The race holds an added significance for the 22-year-old, with the route for stage six from Welshpool to Caerphilly passing within two kilometres of Rowe's house.
"It is rare to get to race at home," he said. "It happens pretty much once a year in the nationals so it's nice to get the chance, especially with one of the stages coming so close to home.
"The Caerphilly mountain on stage six is a couple of kilometres away from my house, I spent a lot of my childhood bouncing up that mountain so should know it like the back of my hand.
"I spoke to a couple of my mates and a lot of my family will be out there. With racing abroad all the time it's nice to get an opportunity to race on my doorstep. It will be good for them as well to see what a proper race is all about."
Interest
Rowe sees a bright future for cycling in Britain in the wake of the country's recent run of success and points out what good value the sports provides for spectators.
"The sport has exploded since Brad's Tour de France success and the Olympics," said Rowe. "I think that trend is going to carry on and it will grow even more.
"With us guys, putting Bradley Wiggins and Mark Cavendish in the race, it's just going to be so good for the general public to get out there and see it. Can you name another sport where you can go and watch the best in the world for free? There isn't one."
Each team at the Tour of Britain consists of only six riders, leaving little margin for error.
"With six-man teams there are only 100 riders in total, it's less than we are used to," added Rowe.
"You have to think things through a lot more and can't waste one rider anywhere.
"It's going to be different but we have possibly the strongest team there. That counts for nothing, you have to ride clever and as a unit. Having Bernie Eisel as captain on the road we should be able to do that."
Rowe is feeling increasingly at home in the professional peloton and impressed with 14th place in the GC at the Post Danmark Rundt in late August.
"The last month has been really busy for me," he said. "It has been quite a good month. I started to find my feet a bit at this level, this speed, of pro racing.
Confident
"I'm coming into the Tour of Britain quite confident. I don't know exactly what I'll have to do in terms of helping the team out but I'm sure I'll get an opportunity at some point and hopefully will take it.
"On the flat and in the sprints I can really handle myself but the pace that some of those guys go up the climbs is pretty incredible. That has been the hardest thing to adapt to and get used to but slowly and surely I'm getting there."
He added: "One of the things that has struck me is how much of a unit we race as. Looking back at some of the stages in Denmark, you ride together as a unit all the time and it's so much safer.
"You get so much more respect if you ride together. How much the team actually ride together is pretty cool and different.
"The style of racing is also different; the amateurs are a lot less controlled, a lot less predictable. With a pro race, you can look at a stage and almost say what's going to happen, who's going to chase and how the race is going to unravel."
Are you going to the Tour of Britain? We want you to get involved with our new interactive mapping - where fans tell the story. Info here.