Get Back To Your Best
Team Sky enroll five BSkyB staff members on a six-month dream training programme.
Last Updated: 18/02/13 2:29pm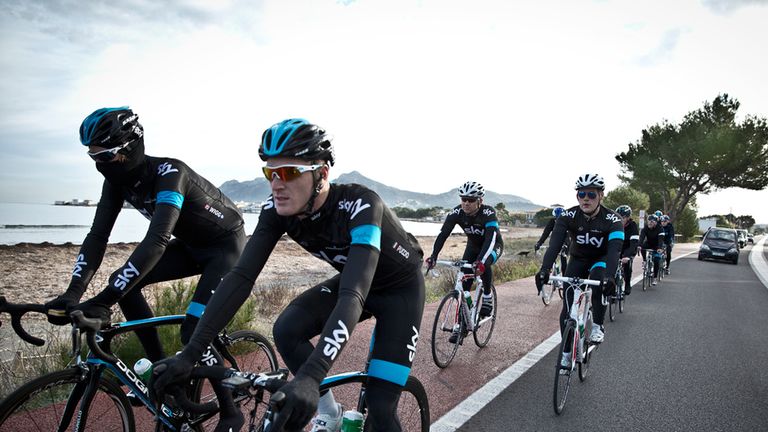 One of Team Sky's key objectives is to inspire people of all ages and abilities to cycle through the team's positive profile, attitude and success.
Six months ago we got together with BskyB and gave five of their staff members the chance to get back to their best.
The shortlist was interviewed by Dr Steve Peters and the lucky winners enrolled on the programme. They were given access to all the support and expertise that has made Team Sky one of the best teams in the world, as well as a Pinarello bike to ride, kit and much more.
After hundreds of hours of hard training, the challengers were flown out to Majorca in January to meet Team Sky. They enjoyed pre-ride briefings, meals prepared by the Team Sky chef, post-ride analysis by Sir David Brailsford, and an opportunity to see the training camp in action.
The challengers then had to complete a 48.1km ride – including the climb of Cap Formentor (a gruelling 983m ascent). To see how they got on, check out how they got on here:
The challengers were:
Dee Lakhan, VOD Producer, Sky Movies, Osterley.

Goal: To get fit, feel younger and healthier, and change her lifestyle.

Achievements: Dee has lost one stone and is now fitter than her 23-year-old son. She has signed up to Sky's London to Paris bike ride this summer.
Nicki Hyslop, Get Involved Executive, Bigger Picture, Dunfermline.

Goal: Lose weight, but more importantly, to become healthy and active again in a way that is sustainable.

Achievements: Nicki has lost two stone in weight and is fitter and healthier than ever. Nicki will be running the Edinburgh Marathon relay for charity.
Scott McGladrigan, Customer Care Advisor, Livingston.

Goal: To lose weight in a healthy way by diet control and exercise.

Achievement: Scott has lost an incredible eight and a half stone in six months. He has signed up to ride from Glasgow to Edinburgh with Sky and will be taking part in "The Caledonian Challenge" to support Cyclists Fighting Cancer.
Miriam Owen, Transformation Senior Trainer, Home Service & Supply.
Goal: To lose weight, regain muscle and benefit from the social side of exercising.

Achievement: Miriam has lost weight, gained fitness and has considerably more energy.
Simon Duggan, Regional Manager

Goal: To be fit at forty.

Achievement: Simon lost over one and a half stone and improved his fitness, which has had the unforeseen benefit of stopping him snoring. Simon is participating in the Three Peaks Challenge and Sky London to Brighton bike ride.
Feeling inspired? Then why not head over to www.goskyride.com to see a whole range of ways you can get involved.