Countdown on for Froome
Chris Froome's confidence is at an all-time high heading into the Tour de France.
Last Updated: 20/06/13 7:56pm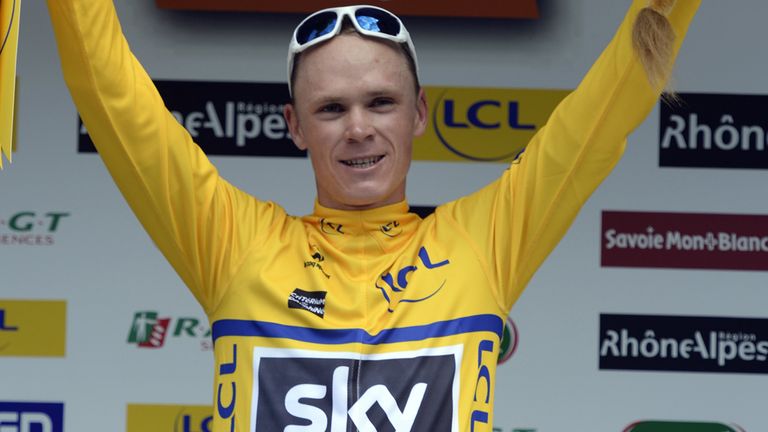 Chris Froome is counting down the days until the Tour de France gets underway and admits his confidence is at an all-time high heading into cycling's biggest bike race.
Froome goes into the Tour de France on the back of a stellar start to the 2013 season which has yielded victories at the Tour of Oman, Criterium International, Tour de Romandie and Criterium du Dauphine.
Those results have made him the odds-on favourite to follow in Sir Bradley Wiggins's footsteps and make it two Team Sky wins from two in 'la Grande Boucle'. Such expectation brings with it massive pressure to succeed, but Froome is taking everything in his stride and insists the team he has working for him will give him the best possible chance for success.
He said: "I'm nervous, but quietly confident. I've got a fantastic team around me, both on and off the bike.
"So far this year I feel we've ticked all the right boxes in the build up to the Tour de France. Winning those races in their own respect - those are not small races - has given me a lot of confidence.
"It has given the team-mates around me a lot of confidence in my ability to lead the team, but more importantly, it's given me the opportunity to be in this position - getting used to answering more questions from the press and having to deal with the different pressures which come with being the leader."
Brad will bounce back
Froome witnessed Wiggins dealing with those pressures in 2012 and learnt a lot from it. Although injury has forced Wiggins to miss out on this year's edition, Froome insists his team-mate will return from his current layoff and has backed Sir Bradley to be as strong as ever once he is back in the thick of the action.
He added: "I'm sure Bradley will bounce back and be targeting other races for later on in the season.
"We're not just talking about some neo-pro. He's the guy who won the Tour de France last year. He knows what he's doing and I have no doubt he'll be back.
"Having Brad would have added a huge element to the strength of this [Tour de France] team, but I do believe we've got all our bases covered with the riders we do have."
Fully focused
At 28 years old, Froome believes he is entering the "peak years" of his career, but is choosing to focus on things one day at a time and not get carried away by the prospect of wearing the yellow jersey on the top step of the podium on 21 July.
He concluded: "I believe I'm coming into my prime right now. If I can win one Tour I'd be ecstatic with that, I'd be really happy. For now we're going to focus on this one coming up and hopefully give it everything.
"I did start thinking about winning the race but quickly stopped myself. I don't think it's something I should spend too much time thinking about. If I do find myself in that position, then I'll start thinking about it. For now I'm just focusing on the racing aspect and just focusing on getting there."
The Tour de France gets underway in Corsica on Saturday 29 June. We'll be ramping up our coverage in the days before then so be sure to check back regularly for all the latest Team Sky news and features.