Kennaugh ready for next step
With an Olympic gold medal in his back pocket, Peter Kennaugh is ready to commit himself to the road for 2013.
Last Updated: 02/12/12 4:54pm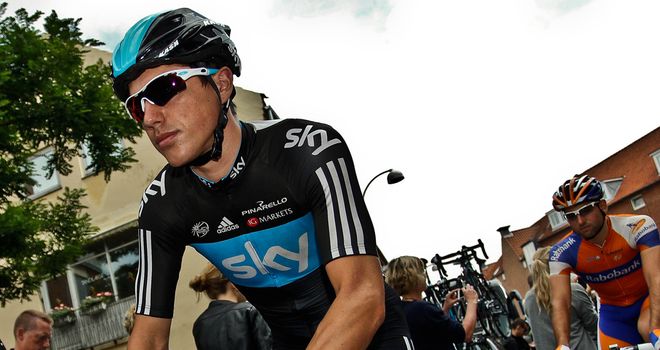 With an Olympic gold medal in his back pocket, Peter Kennaugh is ready to commit himself to the road for 2013.
The Brit set aside his road aspirations during most of this season to be a part of the Great British team pursuit squad at his home Games.
The 23-year-old, who saw the end of his campaign hampered by a troublesome heel injury, is ready to make up for lost kilometres in 2013.
Now the gold medal fanfare has died down, Kennaugh admits it's time to put in the hard yards.
"I think it's sunk in now," said the Manxman. "I'm just at the point now where I want to move on from it really. Obviously it was a massive hype at the time, but now I just want to get back onto the road and back to normality.
"If we'd got silver in the Olympics it would have been a failure. It had to be gold.
"It's strange, you usually have that feeling at the end of the year when you're really tired and you're looking forward to a break, but this is the first year since I was about 17 that I don't really feel like that. That's down to not racing much as I have in the past.
"I went to the Tour of Denmark and I didn't do a lot after that. I've had the chance to catch up with friends and family and really take it all in. I think that's partially why I feel like I want to get back on the bike and get training again. I've spent the last month or two having fun really."
Sole focus
Widely regarded as one of the hottest prospects in world cycling, Kennaugh is ready to fully integrate himself within the peloton next season after dovetailing his road and track ambitions to date.
"For the next two years I'm just going to ride the road," he confirmed. "Then maybe two years out from Rio – I know it's still quite far away – but in the back of my mind maybe I'll start looking at the track again.
"This last Olympic cycle has given me massive experience of what to do and what not to do. I've learned a lot."
As for his goals going forward, Kennaugh admits there is one race that he has a real affinity for.
"I'm looking at riding the Giro again next year. Beyond that it would be nice to get a win along the way and really just find my niche within the team.
"That means becoming a rider that everyone can rely on, who goes and gets the job done.
"The chance to target a few more races for myself would be nice as well - races like the Ardennes which I haven't experienced yet. I think they are the sort of races that really suit me, so hopefully I'll get to do them next year and see what they're all about."
Racing legs
Kennaugh got the chance to tackle his second Giro in May, coming into the race after only a few days of road racing.
Despite that he revealed: "I felt quite strong, and very fresh as well - my fitness was never going to be a problem.
"I think the more Grand Tours you do the stronger you get. It was a whole different ball game to the one I did the year before. We were leading Cav out in the sprints so I had a totally completely different role within the team. That was really good and gave me something to do every day, and a lot of focus on.
"I seemed to cope with it alright and legs-wise, I was only getting better as the race went on. That's why it was a real shame to have to pull out on stage 17, but my heel injury was playing havoc."
Kennaugh also explained the niggling problem which brought his season to a premature halt. "Basically the tendon which is attached to the metatarsal on the side my foot was really inflamed. I'm not sure how I did it – apparently it's just the way I walk. I re-corrected the way I was walking because the side of my foot was sore, and then my heel got really inflamed."
Now back in training, the Brit is fired up to start the season on the front foot, but admits: "It's still going to take me a couple of races to get back into the swing of things because of the lack of racing I've had this year. But I want to stick a good winter together now.
"I plan on going to Italy and getting some good miles in there and then obviously the Mallorca camps are always really good for that. That should allow me to hit the ground running and really start the season in good condition. Hopefully there will be no hiccups along the way."
And finally after four consecutive podium finishes in his last four appearances, could this be Kennaugh's year to win the British National Championships?
"Hopefully, yeah (laughs). I'm due it! If I have a good Giro and come out of that on form, I'd like to put my hand up for that one. It would be great!"