Strong season for Stannard
Ian Stannard continued his progression in 2012 with a season that cemented his status within the peloton as a forced to be reckoned with.
Last Updated: 10/12/12 12:14pm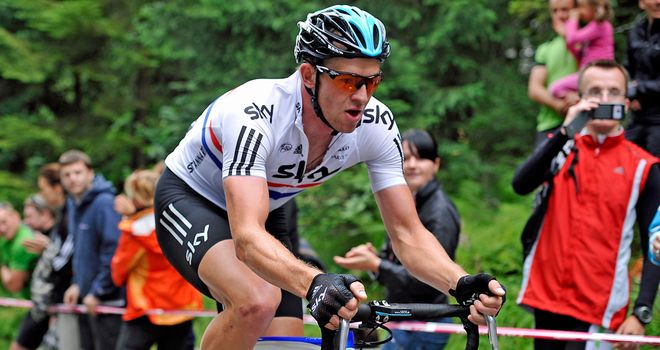 Ian Stannard continued his progression in 2012 with a season that cemented his reputation as a forced to be reckoned with in the peloton.
The Brit was routinely spotted burying himself on the front of the bunch this year, whether propelling along his team-mates or trying to force the issue with a lone break, and continued to gain legions of fans for his never-say-die attitude.
All that power was translated into one particularly special victory in Ampleforth in June, when the 25-year-old rode to a solo victory to clinch the British National Road Race Championship.
On donning his national colours, Stannard said: "I've really enjoyed riding in the national champion's jersey so far and it's nice to have that extra bit of visibility.
"G (Geraint Thomas) and Bradley (Wiggins) have both done some pretty amazing stuff in it over the last few years so hopefully I can follow suit next season.
"It's one of the most iconic jerseys out there with a very rich history, so it's cool to be wearing it and I definitely want to do it justice.
"I don't feel pressure purely by wearing the jersey though, I'd put that pressure on myself irrespective of what jersey I'm wearing.
"It would be nice to progress and win some big races wearing that jersey – and do it proud – but the type of rider I am I'd like to do that anyway."
When it comes to pulling off the look of national champion, Stannard has his own ideas about what that entails.
"I think the all-white look is more for the TT guys," he admitted. "I wanted to keep the black shorts, like Brad and G had done in the past, as it's more in keeping with the rest of the team, and also keeps with tradition."
One step closer
With two Grand Tours, a consistent Classics campaign and heroic showings at both the Olympic Games and the World Championships, Stannard has had a long but productive year.
"Looking back on 2012, it's been a good season. I've enjoyed the racing throughout and feel I've progressed as a rider, both in terms of my strength and tactical nous. I think there's still a lot more to come though and I want to step it up again next year.
"I do have goals in 2013 but the most important thing is to ride my bike, have fun and enjoy it, and hopefully that can have the knock-on effect of inspiring people to do the same."
No races inspire Stannard more than the northern cobbled Classics, and the man himself is keen to put his hand up for an increased role in the future.
"The Classics are always big races for me, and now that (Juan Antonio) Flecha is moving on to pastures new I'd like to step up and try to exceed the results he's got for us over the last three seasons by winning one of these big one-day races.
"I'm sure guys like Eddy (Boasson Hagen) and G will have similar ambitions though and they're both equally capable of doing it, as are guys like Mat Hayman and Bernie Eisel. We've got plenty of cards to play, which can only be a good thing, and we'll discuss things in much more detail nearer the time."
Tactics
With so many accomplished riders in the team, Stannard admits that knowing which card to play will be all-important in the big races as Team Sky look to finally add a Monument to their collection of wins.
Stannard explains: "Tactically, I think we need to be a bit smarter than we have been in the past. Teams have expected us to take these races on, and we have sometimes done that too early. We've learnt a lot from those experiences though and I'm sure we'll be a more formidable force next time around.
"As for the rest of my season, it would be great to ride another Grand Tour, and maybe even the Tour de France. That's all to be decided in the future though so I'm not really thinking about it at this point."
After what has been a landmark year for British cycling Stannard is happy to see the profile of the sport rise, and is hoping he can continue to do his part as a new season approaches.
"The support we've had has been unbelievable and it'll be great to experience that again next season. Back home as well, it's great to see that we've played a part in this current boom in cycling. It's nice to know we're inspiring people to keep fit and healthy."