Siutsou back in training
Kanstantsin Siutsou is happy to be back on the comeback trail in winter training following a broken leg.
By Richard Simpson
Last Updated: 01/01/13 1:08pm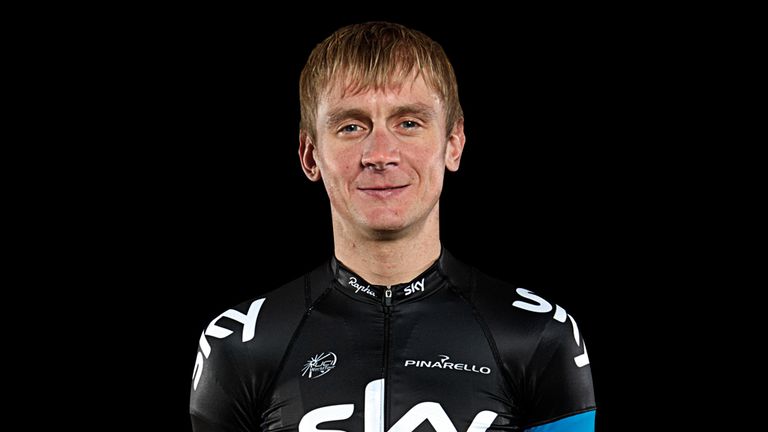 Kanstantsin Siutsou is happy to be back on the comeback trail in winter training following a broken leg sustained at the Tour de France in July.
Taking time out of a busy schedule in Mallorca, we caught up with the Belarusian, as well as team doctor Alan Farrell and Lead Physiotherapist Dan Guillemette to get the latest on an impressive recovery.
The Belarusian made an instant impact upon joining Team Sky in 2012, riding in successful campaigns at the Volta ao Algarve, Paris-Nice, Tour de Romandie, Bayern-Rundfahrt and the Criterium du Dauphine.
It was no surprise to see the rider affectionately known as 'Kosta' included in the Tour de France squad. That race was cut heartbreakingly short with a crash on stage three en route to Boulogne-sur-Mer.
Siutsou takes up the story: "I remember riding and watching in front of me. There was a crash up ahead and I put out my left leg and slowed down. Then another rider arrived from behind much faster and hit my leg. I can remember the crash but then after that it was more shock. For a second I tried to get up but I knew it was not possible to ride."
Recovery begins
"The first stage was the acute management," explains Farrell. "The initial x-ray and subsequent CT scan showed a comminuted fracture of his left Tibia. After initial management he was transferred to Paris where he underwent a procedure to repair the bone. The support we received from the medical team at the Tour was excellent and Kosta was in excellent hands in Paris. He immediately transferred back to his home in Italy where his rehabilitation commenced'"
The initial period hurt in more ways than one for Siutsou: "In hospital I watched on TV every day," he remembers. "It was hard to watch when I was needed. We were going for the win and it was painful not to be there."
Side-lined for the rest of the season, Siutsou set about the painful task of recuperation.
Guillemette explains the next steps: "Because he wasn't allowed to take weight through the leg, the muscle wasted very quickly. Through that initial period he was given some exercises to do to maintain some muscle and also restore the range of motion in the knee. We then supervised his local treatment back in Italy and also in Belarus with the Belarusian Olympic Institute.
"Once he started hitting his markers and was able to put his foot down then we started getting him back on the bike. We had to grade what he did as initially he did not have full range of motion and thus the ability to do a full pedal stroke. That can alter the situation as the athlete is trying to compensate so we had to monitor that and make on-going changes to his bike position and cranks."
Making progress
"Every week I was able to do more exercise," confirms Siutsou. "I spent a lot of time in the pool, not only swimming, but simply walking in the pool was beneficial.
"It was gradual but day by day I began feeling better. In the morning when I woke up and got out of bed it was a bit difficult to start to walk for the first few steps."
Finally the time came to get back on the bike. "He was back on the turbo by the third week in August," said Guillemette. "The most difficult aspect is, once a rider starts taking a bit of weight through and starting to ride their bike they are keen to do more and more. It was important to restrict the amount Kosta did as the body is still going through a massive healing process following the surgery, but naturally these guys are keen to feel that training effect again. Using the indoor turbo and frequent contact with the coaching staff was a perfect way to control his workload."
"The biggest risk and temptation after injury is trying to do too much too soon," Farrell admits.
Siutsou stuck to the programme despite the obvious frustrations: "It was a case of just doing a bit of work on the rollers on the bike, just for my own rehabilitation. 30-40 minute efforts, but just two or three times a week. Then in September I went back out on the road for the first time and also did a bit of mountain biking in addition to gym work three times a week."
Back in training
With the former Giro d'Italia stage winner now heading out for training each day with his team-mates, you might be forgiven for thinking the process is complete.
That's not the case according to Guillemette. "Out in Mallorca we've been doing some intensive rehab on the back of his bike work," said the Guernsey man. "We've been developing his muscle strength, co-ordination, muscle endurance and core stability. That brings us to where we are now.
"He's doing an hour's work in the gym one-to-one with me in the morning before then going out and doing five or six hours with the guys on the bike."
With things looking promising, Farrell confirms: "He has done exceptionally well in the last few weeks and we have an excellent physio team taking him through intensive rehab here in Mallorca so we expect a full recovery and we all wish him well for the coming season"