Joe Dombrowski Twitter Q+A
Team Sky's new American signing Joe Dombrowski bravely answers your questions from Twitter.
Last Updated: 30/01/13 4:15pm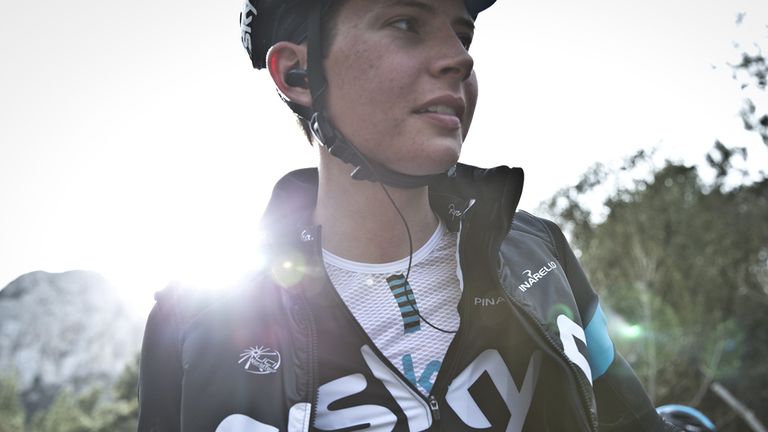 Just a few weeks away from his first race as a professional we caught up with Joe Dombrowski at Team Sky's Mallorca training camp to answer questions from the fans.
Check out the answers below as Joe tackles themes of training, aspirations, roommates and the mysteries of British food.
@FelixCooney - What's the hardest race you've competed in?
Joe: I haven't really done any races as a professional yet but I think the hardest race I did as an amateaur was the Baby Giro in Italy.
@sfielder78 - Obvious one but what do you hope to achieve this season?
Joe: Going into this season obviously my goals and objectives are different from what they have been in the last couple of years. I spent the last two years on a development team racing under-23 races in Europe and some of the bigger races in the States. I was going to races to get results where as now, moving into a team like this at the top level, it's a case of stepping back again and trying to learn as much as I can. Being helpful to the team in races and continue my progression and development in the first year.
And also I think off the bike what's going to be important for me is to be comfortable living in Europe. I've not spent a lot of time racing in Europe as an U23 so it's a pretty big change for me to be living over here full-time. So if I can feel like when I'm here that it's like home then that will be a big success.
@daveluckyhodges - What food do you eat post training/race?
Joe: After a ride, especially if I'm riding long or hard, it's obviously important to eat straight away. Usually within 15 minutes of getting back I try to sit down and have a good meal. I'm focused on getting good quality protein and carbohydrates in and rehydrating at the same time. It's usually pretty simple – like for your carbohydrates source you can get things like rice or pasta or quinoa. Pretty simple but food but things that gets the calories back in that you've burned off while out training.
@martinpickles - Can you do a wheelie?
Joe: I can wheelie a mountain bike pretty well actually. I mountain bike a lot in the fall. And I like to race cyclo-cross too. I've tried to do a wheelie on a road bike but I've never quite been able to master it.
@pibishop - What's better: turbo trainer or rollers and why?
Joe: I would have to say rollers for sure. I can't say that I've ever actually done a work-out inside. I think the longest I've ever ridden inside is about an hour and it's always been easy. I always find riding inside to be quite boring but the thing I like about the rollers is at least you can move around a bit. You have to pay attention so that you don't fall off so that gives you a little something to do. The trainer is good because you can actually do efforts on it but I've never done efforts inside!
@Irishgirl_007 - Curry or fish and chips?
Joe: Curry or fish and chips. I don't actually know what fish and chips are! At first I thought it was the British way of saying hamburger and French fries! Next time I'm in the UK I need to go out for fish and chips. Regardless I'd have to say curry anyway as I'm a big curry fan.
@iainbanks1 - Where do you prefer Nice or Virginia?
Joe: I would have to say I prefer Virginia - it's my home obviously. The riding in Nice is really awesome and the weather's good. There's good food too and a lot of cool stuff to see. I'm really enjoying it so far, but nothing beats going back home. We have great riding in VA and it's nice to be home and see your family and be with your friends.
@RoundWheels87 - How much time will you put into TT training? Seems to be crucial if you would want to win a Grand Tour in the future.
Joe: Time trialling has sort of been my Achilles heel the last couple of years. I can climb well enough that I've done well in a number of stage races but sometimes in a TT I tend to lose time. I think it's one of those things where I have to look big picture. In the next year or two it's not crucial that I'm ripping time trials, but in the long-term I hope to continue to develop as a stage racer and part of that is going to be putting a lot of time into working on my time trialling – whether that's a combination of spending more time on the bike, looking at how I am aerodynamically or working on core strength and that stuff.
@JoeyLaurenB - Are you enjoying working with the Sky boys? And who's your favourite team member?
Joe: So far I've really enjoyed being with the team. It obviously has a lot of the best riders in the world but you don't really get that feeling while you're here [at the training camp]. You sit down at the dinner table and you feel like you fit in with everybody else. There aren't really any attitudes and everyone gets a long really well. The team has also been really accommodating with me in the transition both to this level but also moving to Nice this winter. They've been really helpful in easing that transition.
@H_Bomb22 - At what age did you start racing on a bike?
Joe: I got into cycling through mountain biking in high school when I was about 15 or 16. So that's when I first started riding. My last couple of years of high school I got into doing some mountain bike racing and I raced some cyclo-cross in the fall as well. I actually didn't start racing on the road until I was 18, in 2010.
@JustinHouareau - Who is the hardest trainer in Team Sky?
Joe: There are a LOT of guys that train hard on this team.
@EmptyB_MTB - What's the next big race for you Joe?
Joe: The Tour of Oman (February 11-16). It's not that old as a race but the profile has really risen in the last few years. I'm really looking forward to it.
@Grantona - Who is the worst sky team-mate to room with?
Joe: Everyone I've roomed with so far has been great. Right now in Mallorca I'm rooming with David Lopez – he's a really funny guy. I've also roomed with [Dario] Cataldo and Ian [Boswell].
@tremaynejohnson - Have you been on board the #deathstar [Team Sky bus] yet and what did you think. Impressed?
Joe: I actually haven't been on it yet. I've heard it's impressive! My first race is Oman so they won't have it there unfortunately. I'll have to wait until I get back to Europe to try it out for the first time.
@arabadan - Do you think there are any other cyclists with as much of a rock star-like name as yours?
Joe: I'll tell you who has a really good name I think – Ben Swift.
You can follow Joe during his first year with Team Sky via twitter at @JoeDombro.