Rasch ready for Roubaix
Gabriel Rasch is motivated to ride his favourite race on Sunday as he gets set to tackle Paris-Roubaix.
By Richard Simpson
Last Updated: 06/04/13 3:43pm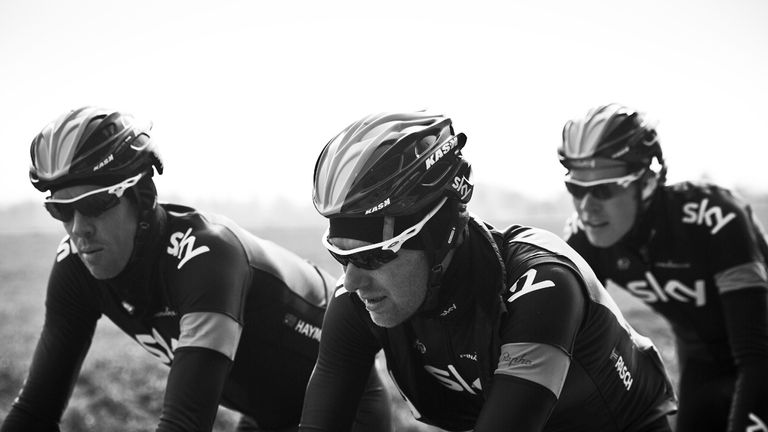 Gabriel Rasch is motivated to ride his favourite race on Sunday as he gets set to tackle Paris-Roubaix.
The Norwegian has slotted seamlessly into Team Sky's Classics set-up with his blend of knowledge, assured riding and laid-back persona.
A starter in the 'Hell of the North' in all but one of his years in the pro ranks, a best finish of 23rd (with Garmin-Cervelo in 2011) belies the ability the 36-year-old has to compete at the very sharp end in the toughest one-day race of them all.
Speaking to TeamSky.com in the lead-up to the race, Rasch filled us in on what has been an eventful few weeks.
"The form is pretty good right now," he confirmed "but I got a little bit sick after Gent-Wevelgem with a bit of a cold and then I've had some coughing after Flanders. Now it's about resting up and making sure I'm 100-per-cent ahead of Sunday."
Dependable
With two of cycling's monuments already under his belt this season Rasch was last in action at the Tour of Flanders. Despite getting caught up in a mid-race crash the Classics specialist still went on to impress the team.
Happily suffering no ill-effects from the spill, he added: "I'm fine. My wrist got a little knock on it and I was just winded at the time. I had the seat of another bike hit me in the stomach so that took the air out of me for a minute, but there are no problems now."
Rasch's crash was just one of a number of elements which tied together to create a frustrating day out in Flanders.
"The team were disappointed after the race. But when you look at it there's a reason why everything turned out like it did. Mathew [Hayman] was ill the day before and Bernie [Eisel] was also getting over an illness, plus the crashes. It wasn't through a lack of trying.
"We're supposed to be disappointed after something like that as it shows we care."
Big day out
Rasch has never hidden his love for Roubaix since making his debut back in 2008.
"It's a race where I know I can be up front and doing a good job. Then there's everything else around the race. It's just one day and one race a year. It's really special and it's nice that it is this way – all on the day."
Although both races are cobbled the flat, relentless expanses of Roubaix present a different challenge to the cobbled 'hellingen' climbs of Flanders.
'Gabba' doesn't subscribe to the idea that Sunday's event will suit the team more. "I think we have teams capable of winning both races," he reasoned, "but the way we've been training this year maybe lends itself more to Roubaix."
That training has proved an intense process for all involved. Joining the team in the off-season Rasch has relished the 'hard yards' and the camaraderie that competing as a core 'Classics group' has created.
"I'm really enjoying life on this team. It's really impressive and professionally run. It's also a lot easier for me to be in an English-speaking team.
"This Classics group is great to be a part of and we have a lot of fun. We've spent so much time together this year and we're still all good friends - which tells you a lot!"
If you're new to cycling, you should check out our Introducing The Classics video HERE - and get a rider's eye view of the cobbles by watching this video HERE.