Brailsford relaxed ahead of Tour
Team Principal Sir Dave Brailsford feels Team Sky sit in a strong position on the eve of the Tour de France.
Last Updated: 29/06/13 6:07pm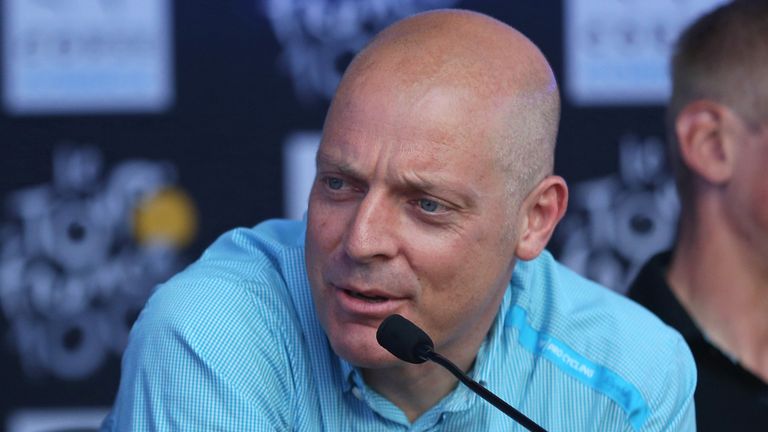 Team Principal Sir Dave Brailsford feels Team Sky sit in a strong position on the eve of the Tour de France.
The team head into the biggest race in cycling occupying the position of favourites having achieved victory 12 months earlier in Paris through Sir Bradley Wiggins.
With the 2013 season yielding further victories, Brailsford feels that the team are where they need to be ahead of stage one in Corsica as Chris Froome targets race victory.
"We've had a good run-in to the Tour this year," he told Sky Sports News. "I don't think we have left any stone unturned in terms of getting ready for the racing. We are in a very good place, and hence the relaxed mood in the camp.
"Chris is feeling confident. The important thing on the eve of an event like this is for every rider to sit down and say, 'Did we miss anything? Have we done everything possible? Are you the best that you can possibly be at this moment in time coming into this race?'
"And I think the answer from Chris and the team would be 'yes'. That then gives them self-belief and their self-confidence systems are as a high as they can be, and that is a good place to be."
Differences
Returning with the number one on the back of Froome comes with its own set of pressures, but Brailsford insists that the team are not looking to defend – but rather to go on the attack.
"This year is definitely different. That is fair to say," he continued. "Last year we were all hoping, with Bradley, to win the Tour for the first time and we put an awful lot of pressure on ourselves to try to achieve that.
"Coming here this year, we haven't come here to defend the title. As far as we are concerned, we have won it once and we want to win it for a second time, and we will do everything we can. That might be this year, it might be next year, it might be the year after, but we are here to win it for a second time.
"This whole negativity in terms of defending something is not something that we are entertaining. We are very much positive, it is an exciting opportunity, we have got a great team, and in that sense, it does feel different."
Rivals
With the best riders in the world set to take the start in Porto-Vecchio on Saturday, Brailsford admits he is expecting a tough fight, but that in Froome and Richie Porte the team possess two of the strongest men in the race.
"Chris' main rivals will be whoever time trials and climbs the best. On form this year, there are a whole host of guys who can step up.
"There is a younger generation of rider who could step up and be competitive. There are the usual suspects in [Alberto] Contador, [Alejandro] Valverde, [Joaquim] Rodriguez, who will be there or thereabouts.
"In Team Sky, with Richie Porte and Chris Froome, we have got the two, potentially, best riders in the race and we are focused on what we can do to win this race and control what we can control."