Rasch ready to retire
Gabriel Rasch brings the curtain down on his professional cycling career at Paris-Roubaix on Sunday and is aiming to go out with a bang.
Last Updated: 11/04/14 2:05pm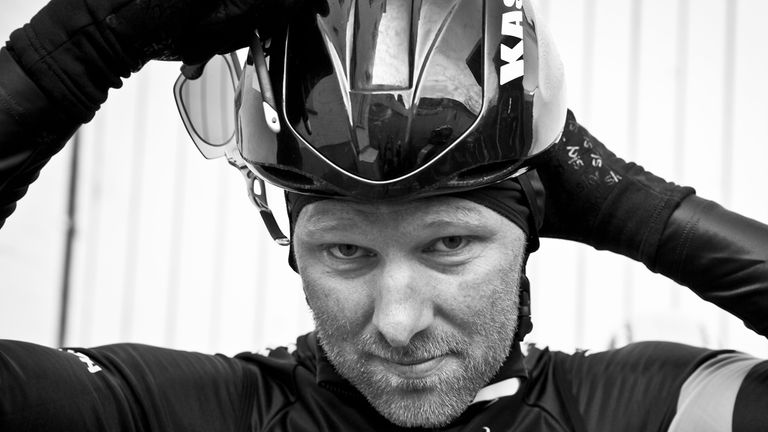 Gabriel Rasch brings the curtain down on his professional cycling career at Paris-Roubaix on Sunday and is aiming to go out with a bang before swapping the bike for the team car.
Rasch has featured in all but one of Team Sky's cobbled Classics this season and will be making his sixth appearance in the "Hell of the North" before commencing his new role as Sports Director with the team.
The 38-year-old has long been targeting this race to end his career, and although he suffered a nasty crash at the Tour of Flanders on Sunday, he is looking forward to one last hit out on the iconic pave, and hopes Lady Luck will shine on him in northern France.
He told TeamSky.com: "I'd like to go out on a high and get my best-ever result in the race. I know if everything goes my way, and I am really lucky, that I can be up there at Paris-Roubaix.
"First and foremost, I'll be looking to help our team leaders, but I'd still like to be competitive myself and hang in there for as long as possible. If you've got the form on the day, you'll always have a chance because it's such an unpredictable race.
"I think my strengths as a rider suit this type of race but everything still has to run perfectly. The Classics are the hardest and best races in the sport in my opinion – and Paris-Roubaix is the biggest of them all. It has so much history and so many people turn out to watch it. I love everything about it and I'm pleased I've got the chance to ride it one last time."
New chapter
Once the Classics are done and dusted, Rasch will take a few days off to rest and recover before turning his attentions to the Tour de Romandie, where he will make his sports directing debut under the tutelage of Servais Knaven.
Rasch see his transformation as a natural progression, and while he admits the switch has come slightly sooner than expected, he is relishing the prospect of commencing his new role.
"I'd pondered the idea of becoming a DS for the last few years," he revealed. "I was planning on cycling for a couple more seasons but this offer was too good to refuse.
"You never know when a chance like that is going to come again, especially not with a team like Team Sky. My head definitely made the decision for me, not my legs – they still feel strong. I turned professional quite late in my career so I'm not tired of the bike, training or racing.
"I've been road captain a few times over the last two seasons and that is almost a halfway point between a rider and a DS.
"I think if you want to be a DS, it's best to do it directly after you've finished cycling, because the sport changes so much every year.
"I made the decision back in October so I've been preparing for this mentally for a long time now."
Looking forward
Far from being saddened by the prospect of leaving the professional peloton, Rasch is excited at what the future holds and believes there is no better place in which to learn his new profession.
"Of course, it will be emotional after the race on Sunday, and I think if I'd quit cycling straight after retiring, it would have left a big hole in my life, but now I have new goals to motivate and challenge me," he added.
"Although it's a logical step, being a DS is a completely different job to being a rider so I will need a few races as a second DS to learn the ropes before I start leading teams on my own.
"I've never really been in a team car before, and then there's also the whole administrative side to it as well – making sure everything runs smoothly off the race. I want to be really organised in that respect.
"I'm fortunate because there's a great group of guys here to learn from. All the DS's are young, ex-riders, and they will all help me a lot. Having that set-up in place at Team Sky was really important for me. The staff we have here are all really positive and they want to help me learn.
"I don't have any set goals as yet, I just want to take on board as much as I can this season, be as organized as I can, and continue helping the team."
Muc-Off have also been speaking to Gabba about his retirement, and you can watch their interview here: