Injury setback for Stannard
British rider raring to return but admits there is no chance he will ride the Tour de France.
Last Updated: 26/05/14 11:23am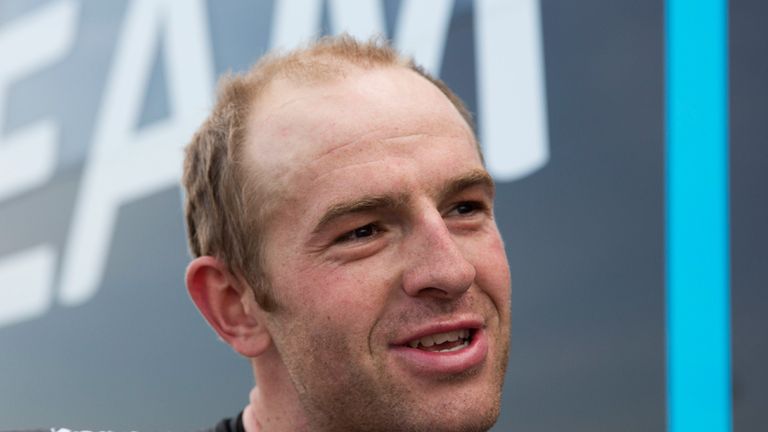 Ian Stannard is aiming to make his Team Sky comeback before the end of the season, but admits there is no chance of him recovering in time to ride the Tour de France.
Stannard has been sidelined since April after suffering a fractured vertebrae in a bad crash at Gent-Wevelgem, and although initial screenings had looked favourable, it has since transpired that his injuries are more complex than originally diagnosed.
The 26 year old is currently resting up at home in Britain so we checked in to see how he is coping with his enforced recuperation.
TeamSky.com: When did you realise things were more serious than originally anticipated?
Ian Stannard: In the week after the crash I visited a neurosurgeon and had CT and MR scans. When the results from those came through [team doctor] Phil Riley booked me an appointment with a pure spine specialist in London and he was the one who detailed the extent of my injuries. He said I'd been really lucky not to suffer any permanent damage because my vertebrae had been quite badly damaged.
TS: How disappointing was it to hear that news?
IS: It was really hard to take, especially when it became clear that I wouldn't be riding the Tour de France. At the same time, it was nice to get a definitive call - a clear cut decision. There was no uncertainty about what I should and shouldn't be doing.
TS: Have you been able to ride your bike at all since then?
IS: No, I've been told to take it easy.
TS: Is this the longest period you've been off your bike?
IS: Yes, it's the longest stretch I've had off my bike in years and years, as far back as I can remember actually.
TS: How stressful has that been for you?
IS: Really stressful. As professional cyclists, we're used to training five or six hours a day, and then there's the whole lifestyle that comes with that like diet, recovery and things. When that gets taken away it's really hard for us to adjust because we've become so accustomed to doing it.
I'd been training hard since the end of last year and that was all wasted. I spent a lot of time in Australia, did all the build up for the Classics, and then I picked up my injury just days before the Tour of Flanders and Paris-Roubaix. I had all that stress in the build up to those races, and all the stress that came with having a broken back, and then the stress of not being able to ride the Tour.
It's been hard to switch off entirely even now. I'm more stressed resting up than I am when I'm racing. At least when you know you're in condition and into the familiar rhythm of the season. Right now, I've not done any exercise, my weight's going up, my fitness is going down, so there's a lot of mixed emotions and it's tough.
TS: Has it been hard to switch off mentally as well?
IS: Yes, really hard. If I'd had my accident at the end of the season, I'd have been able to turn off properly, but it happened before the two biggest races of my season. There's been so much racing going on since then as well that I've been desperate to get back on my bike.
TS: What have you been doing during your enforced downtime?
IS: I've been trying to do as little as possible but it's been really hard. When you're busy, you daydream about how nice it will be to have time off, but once that happens you soon get bored after a few days and it becomes really frustrating. I can't fly in my current condition so me and my girlfriend hired a motor home and took a road trip around Scotland last week. That was really fun and it definitely helped take my mind off things.
TS: Are you in constant pain or discomfort?
IS: No, not at all, and that's what's the most surprising thing about it. It was sore for the first week or so after the crash, but since then I've felt absolutely nothing. There's been no pain or restricted movement whatsoever. If I'd had pain, it might've actually meant it was less frustrating, but in my mind I feel fine.
TS: Was surgery ever an option?
IS: No, I've had no choice but to wait for my body to fix itself. As far as I understand, if I'd had surgery on it, it would have ended my cycling career because the spine and joints would have stiffened up to such a degree that I wouldn't be able to get into the right position for cycling.
TS: Have you been given any firm dates about when you'll be able to make your recovery?
IS: No, not yet. I've got to have another X-ray at the 12-week mark to check everything is healing OK and they can guarantee I won't be putting myself at risk by riding again. We're confident I'll be riding again before the end of the season though, so that's what I'm focusing on. I'm eager to get back in the saddle but it's in the hands of the experts.
TS: Have you had any contact with other riders on the team?
IS: Yes, they've been great. I'm really good friends with guys like G and Swifty, so we're always chatting, and they are keeping me up to date with what's going on.
Send your get well soon messages to Ian on his Twitter page using the hashtag @IStannard and follow his progress on his Facebook page at Ian Stannard Official