Team Sky questions and answers
At the start of the Tour de France, Team Sky answers a range of commonly asked questions.
Last Updated: 04/07/14 5:22pm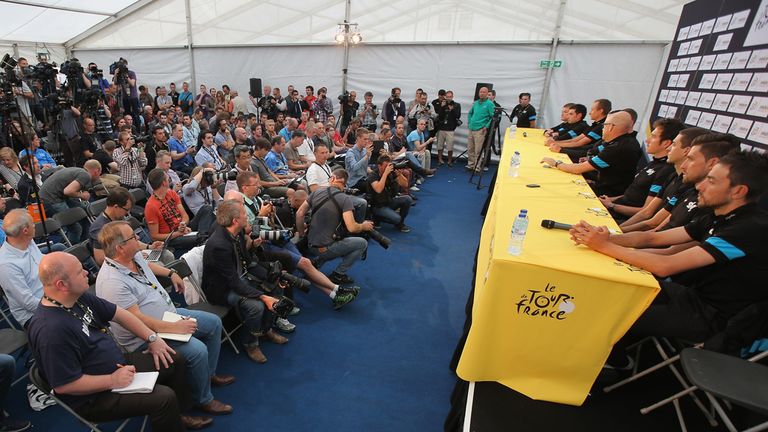 When the Tour de France starts, the team and the riders get plenty of interest - and plenty of questions.
Throughout the Tour we'll try to explain how we work and give an insight into competing at the highest level.
We start with some commonly asked questions ahead of this year's Tour.
Racing
Are we excited about the Grand Depart in Yorkshire?
Absolutely - we can't wait to ride in front of the British fans at home for the first time in a Tour.
The UK stages will be spectacular and there's clearly huge excitement. We even saw that when Chris Froome and a few of the other riders did the Yorkshire stages on a recce at the start of June.
You also can't forget the crowds we saw at the Olympic Road Race in 2012 and at Sir Bradley Wiggins's win at the Tour of Britain – plus it's great to see so many people getting on bikes themselves up and down the UK.
A number of this year's team, as well as our staff members Nicolas Portal and Dario Cioni, rode the Tour in 2007 and witnessed those incredible crowds in London. That event helped sow the seeds for what eventually became Team Sky three years later.
How did we pick the team for the Tour?
When the route was revealed last year, Chris was marked as our leader for the Tour. He was the rider who will give us the best chance to win.
Of course, this is a team sport and we need to put the right combination of riders around him with each playing a specific role.
After the last few races in the build-up to the Tour - Dauphine, Suisse and Route du Sud – we took a final look across our riders, considered all the options and made our decision.
It's a difficult challenge – but sport is full of them. We stuck to a performance-first philosophy, which has brought considerable success, at British Cycling and with Team Sky, for more than a decade.
Given the number of talented riders here this approach inevitably lead to some very tough decisions and some disappointed riders. But we're racing to win and we think this team gives us the best chance of doing that.
What do you expect to happen on the three UK stages?
The opening stages provide an intriguing challenge. They won't provide a race winner but they could certainly end some hopes.
We recced the Yorkshire stages at the start of June. Though all signs point to a battle of the sprinters in Harrogate, the grippy Yorkshire roads could hold a few surprises.
Stage two could prove to be one of the most decisive stages of the race. Constant undulations and a technical route will mean that punchy climbers and the overall contenders will move to the fore. Don't expect a bunch sprint into Sheffield.
Stage three into London looks, on paper, to be a more straightforward sprint test. But no stage of the Tour can be taken lightly and history has shown anything can happen at any time.
And what about the cobbles on stage five?
The last time the pavé featured in the Tour in 2010 brought a number of crashes and the peloton will be nervous as it heads back.
The Tour does not often visit pavé and most contenders for the yellow jersey are not used to these roads from the one-day Spring Classics. The weather will play a key role. Warm, dry weather will produce lots of dust while a bit of rain can quickly turn the narrow tracks into treacherous mud.
Which stages do you think will be most decisive?
Conventional wisdom says the biggest time gaps will be taken on the race's tough summit finishes and the 54km time trial on the penultimate stage.
Key mountaintop finishes at Risoul [stage 14], Pla d'Adet [stage 17] and Hautacam [18] create a brutal last week of climbing for the main contenders before that decisive time trial.
And there's always a stage that throws up a surprise result – you must be prepared for anything to happen at the Tour. A motivated breakaway, a crash or a crosswind section can completely change the course of the race.
Training
What do we do at the training camps in Tenerife?
During the 2010 Tour, we weren't good enough in the high mountains, so, for the last three years, we've had training camps in Tenerife.
The riders normally sleep in a hotel near the top of the volcano at over 2000m above sea level and train at mixed altitudes for up to two weeks at a time.
These camps are mainly about acclimatisation to heat and altitude, focused group training and doing plenty of climbing.
Typically the riders will do 25-30 hours a week in Tenerife, with 16,000 – 20,000m of climbing per week. It is one of the few accessible locations that allows year-round training, easy access to a range of altitudes from sea level to 2300m, and climbs of up to 40km length.
We've done two camps this year – 8-20 April and 16-28 May – and Chris Froome trained at both.
For the first camp the hotel we normally use at the top of the volcano was so busy with other teams we couldn't get rooms, so we had to stay lower down the mountain.
It's well known that we – and other teams – go to Tenerife and we have had films crews and media with us at times. Anti-doping authorities have carried out control tests there but we would welcome more, for us or anyone.
Do we monitor our riders' performance during training?
Yes, we monitor it all the time.
Every day, in racing and training, we collect a wealth of information on all our riders. Power, speed, cadence, altitude, climbing speed, temperature, and heart rate are recorded literally every second that our riders are on their bikes.
It's collected using Stages Power meters, and managed using TrainingPeaks software. Understanding this data helps us improve our training sessions so that we can get the riders into the best physical condition for the demands of different types of races.
Do you measure VO2 max?
The short answer is that VO2 max testing is not something we find useful or have put any priority on.
The long answer is a bit complicated in parts, but should explain why we don't focus on VO2 max. Head of Athlete Performance, Tim Kerrison says:
"VO2 max describes the maximal aerobic capacity of an athlete; the rate at which an athlete can consume oxygen in the production of energy.
"This aerobic capacity is important in endurance sports and, whilst elite endurance athletes often have large VO2 max values, this is not necessarily always the case. There are many other factors that contribute to being a Tour de France champion.
"For example, efficiency has been shown to vary widely in trained cyclists and the range is typically reported as being 20-25%. This means a very efficient rider with a relatively low VO2 max could out-perform a less efficient rider with a higher VO2 max. And the relative contributions from aerobic and anaerobic metabolism (which produces energy without consuming oxygen) can also vary between different athletes, and depend on other factors such as the state of fuelling of a rider.
"The performances we see – on the road, in training and races, sometimes at altitude, in the heat, and at the end of long stages – are result of a complex interaction of many physiological, mechanical, psychological and environmental factors.
"Separating out each of these factors and measuring them in isolation can be practically challenging, time consuming and impacts on training and recovery. So coaches and sport scientists need to constantly assess whether the benefit of having a piece of information outweighs the time and compromise to training and recovery required to get that information.
"For us, the answer is often "no". Ultimately it is appropriate training and recovery that leads to an improvement in performance, so we prefer to collect as much information as we can "in the field" to shape our performance decisions, without compromising training.
"Other coaches or scientists may value information differently and some, we're sure, would find the information obtained from a lab test as useful, perhaps even indispensible. But for us, knowing a rider's VO2 max is not a priority.
"From time-to-time we will try something and assess whether we think it is of value to continue to use, and we have had a few riders in the lab in the past, but in general the monitoring tools we put most value on are those that we can incorporate into our day-to-day training."
Rider health
Do you have your own doctors in the team?
Yes – and we list them all on the Team Sky website.
Alan Farrell is the team's doctor for this year's Tour de France. He's been a full-time member of the team for two years and is one of five doctors, British and Irish, who work within the team during the season.
None of our riders have their own private doctors and when they need to consult an external specialist they would be referred by, or would inform, our own medical team, who would then also be required to grant permission for any appropriate medication.
Why don't you give out more medical information?
The team can't give out personal medical information as a matter of course, simply due to proper medical ethics and the professional requirement for confidentiality – the same right that everyone has with their own doctor. The health of our riders is paramount and, of course, all riders are treated equally. They will only race or train when it's right to do so – their safety and long-term health are essential.
What checks do we make when signing new riders?
In recruiting riders, we follow a thorough evaluation process.
We consider a number of key factors, assess all the available data and ask a range of opinions about their past performances and behaviour. We also carry out our own medical to look for any health issues or areas of concern.
Anyone who is already with a WorldTour team will have a Biological Passport, which we will have fully assessed. If, following our information gathering, we were not confident about a rider we would not sign them.
How do we monitor riders during the season?
We continuously analyse performance data to make sure that the training we're asking riders to do is getting them into the very best condition – as we explain above.
The team also carries out quarterly health checks, with relevant blood tests, and annual heart and eyesight screening.
We also have an internal process to ensure proper governance. We continue to develop and improve these and appointed a full-time compliance officer at the end of last season to manage all of the processes and to document the appropriate activity. As an example, each month we look at all the new Biological Passport tests, which have been carried out on our riders by the anti-doping authorities.
If there are any readings that we don't fully understand or we think merit further analysis, we send the data to external experts to get an independent opinion. In the case of Sergio Henao, we didn't fully understand how certain readings in his Biological Passport might have been affected by his return to live and train at altitude during the off-season.
As a result Sergio was withdrawn from racing and we commissioned independent research with him as the subject. This groundbreaking approach has brought insights into the haematological response of altitude natives to altitude training. This process was fully shared with the UCI and anti-doping authorities and the scientific experts are looking to publish the research in an appropriate scientific journal later this year.
Do we give our riders Tramadol?
We don't give it to riders whilst racing or training, either as a pre-emptive measure or to manage existing pain.
None of our riders should ride whilst using Tramadol – that's the team's policy, because we believe that its side effects, such as dizziness and drowsiness, could cause issues for the safety of all riders. We also feel that if a rider has the level of severe pain for its appropriate use they should not be riding.
The use of Tramadol is a safety issue, not an anti-doping issue, which is why it is not prohibited by WADA. But our decision not to use it during training or racing has been our firm position for the last two seasons and all medical staff and riders are aware of this.
Because of the safety issue, we believe that it should be on the WADA list and that any appropriate clinical use should be managed through the regulated TUE system.
What is our position on Therapeutic Use Exemptions?
If medication for an illness or condition is on the WADA Prohibited List a TUE is required before a rider can take it, in or out of competition. This is not to say that anything on the WADA list can be taken under a TUE. In fact TUEs can only be issued for a handful of specific medications.
This system, in place right across world sport, exists to allow riders to receive the appropriate medical care but also to protect against certain medications being abused.
It's rare for a rider to need a TUE and the team applies through the proper regulated process, with the authorities agreeing that it is the appropriate clinical requirement.
A recent newspaper report stated that we once had a policy of not letting our riders compete while under a TUE; that's not correct – our doctors have always given the proper clinical care, must have the discretion to do so and will always follow the rules.
We have a clear internal policy to follow. For example, two team doctors would both have to agree that a treatment was required before an application was made and, of course, treatment could not start until the UCI had granted the TUE.
The health of all riders is carefully monitored and if it were not safe for a rider to race, or right for their long-term health, they would be withdrawn from riding.
Anti-doping
Did we keep last year's promise to offer data to the anti-doping bodies?
We spoke to them during the Tour and followed up with them on our return.
We offered UK Anti-Doping (UKAD) access to all of our data and shared some materials and had further discussions with them in the autumn.
We approached WADA at the same time and they recommended we talk to UKAD.
The team also made the findings of our altitude research with Sergio Henao available to the UCI, WADA and CADF.