Year of progress for Boasson Hagen
Edvald Boasson Hagen is happy to have continued his progression in 2012.
Last Updated: 17/11/12 3:31pm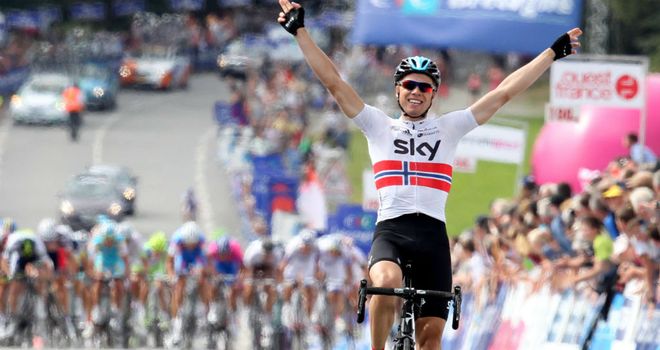 Edvald Boasson Hagen is happy to have continued his progression in 2012 after one of his most consistent seasons to date.
Present at the team's first race of the year at Tour Down Under, and right in the mix in their last at the Tour of Beijing, Boasson Hagen spent his third season in Team Sky colours demonstrating the incredible consistency which has made him a star.
In a campaign which saw the 25-year-old net seven wins and put in some virtuoso performances, the highlight of the season by his own admission arrived when he was asked to play domestique.
With the team's sights set firmly on overall victory, the Tour de France was always going to be a different experience for Boasson Hagen, a rider who claimed two momentous stage victories 12 months previous.
"Just to be a part of the Tour de France team was very special," he revealed. "All the success we had there was amazing."
With the squad forced to ride kilometre after kilometre on the front, Boasson Hagen showed another string to his bow with some sensational climbing performances, dropping established mountain specialists in a role which earned him universal praise.
Climbing legs
"It was nice to be in that team, and to really feel that you are a part of it," he admitted. "I was pulling on the front a lot along with Christian [Knees]. The rest of the team did a great job, and when you are all working together like that it is a really good feeling.
"I'm not a climber, so to be able to perform like I did was something I was really happy with."
2012 saw Boasson Hagen continue to add to his palmares, notably with a stunning solo victory in August at the WorldTour event GP Ouest-France.
Remembering back to the victory which saw him ride away brilliantly from the field in the final kilometre, he added: "My win in Plouay was the best win for me this year and a great moment, especially when you can arrive solo at the finish like that."
"I think in general I've improved and got stronger in every area this year, but at the Tour the climbing was my best improvement. I feel like I'm a stronger rider and a bit more robust. I'm just looking to carry that on into next year and improve even more."
After a long season Boasson Hagen plans to keep it simple this winter. "I will go back to Norway and just be home and relax," he said with a smile. "I've not planned any holidays. It's nice just to be home. I've been travelling for the whole year now."
Big-race mentality
Boasson Hagen made a splash in his native Norway last May with a sensational homecoming which culminated in victory at his national tour.
On the pressures of racing at home he explained: "I had a small break [leading up to the event] so I hadn't trained that much before the race, but I really wanted to do well.
"When I won the stage in Lillehammer my hometown it was a really good feeling. There were so many people lining the route and it was a really special race to win."
Despite Team Sky losing Lars-Petter Nordhaug over the winter, the team's Norwegian contingent remains constant with the arrival of Gabriel Rasch, a rider Boasson Hagen is happy to see join the ranks.
"I know Gabriel very well as we'd been racing for two years with Team Maxbo-Bianchi, our old continental team, along with Lars-Petter before turning pro. It was a good group and it's nice to see Gabriel come into the team. He will certainly bring some great strength."
With 2013 already edging closer, Boasson Hagen is keen to improve on what has been seen by many as his best season to date.
"We haven't made a plan yet for next season but I really want to do well in the Classics and Paris-Roubaix. It's a race I really want to win in the future. Whether it's going to happen I don't know, but it's a goal and I'd really like to win it in my career."