Edvald raring to return
Edvald Boasson Hagen is raring to return at the Tour de Pologne on Sunday and put a difficult few months behind him.
Last Updated: 02/08/14 6:26pm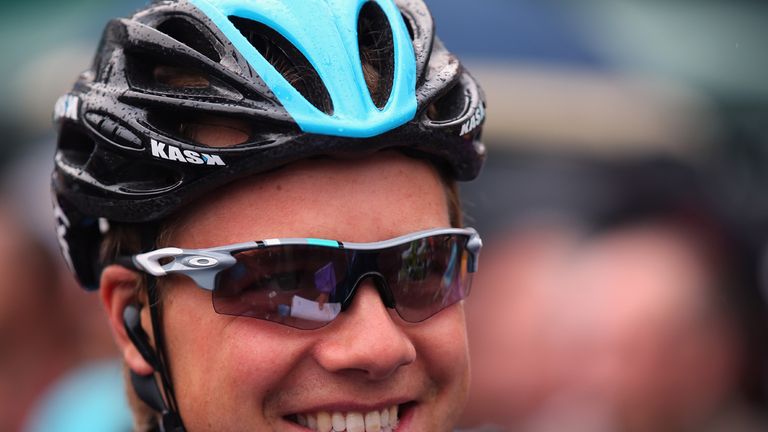 Edvald Boasson Hagen is raring to return at the Tour de Pologne on Sunday and put a difficult few months behind him.
Boasson Hagen began his season in solid form by claiming a podium position at Omloop Het Nieuwsblad in March, and achieved five further top-10 finishes before he was forced to withdraw from the Giro d'Italia and Route du Sud with a niggling Achilles injury.
Instead of battling on and risking making his injury worse, the 27 year old returned to Norway to undergo a thorough treatment process before gradually working his way back to form.
Now he is fighting fit and looking forward to making his return in a race he holds dear after finishing third there in 2009, and taking two stage victories in the process.
We caught up with him at his home in Oslo, and fired these questions his way:
Team Sky.com: An obvious question to kick things off - how are you?
Edvald Boasson Hagen:I'm good. I've been able to train fully for quite a long time now and I'm hoping to be at a good level when I return to racing in Poland. Training is a lot different from racing though and I want to use that race to get back up to speed and improve my sharpness.
TS: Are you looking forward to getting back in the peloton?
EBH: Yes, definitely. It's been a long time. My last race was back in June, and I didn't manage to complete that race, or the Giro before it, so I'm really excited to get racing again.
TS: Do you have any specific goals for the Tour of Poland, or as you mentioned, are you using it purely to regain your form?
EBH: I don't have any specific goals other than getting back in race shape. If I get the opportunity, I'll try and go for a stage win, and you never know, but mainly I'll be just testing my form.
TS: What has the Tour of Poland got in store for you and the rest of the peloton this year?
EBH: There are four fairly flat stages to kick things off, which should all end in bunch sprints, and then we have two tough mountain stages followed by a time trial to round things off. There's a bit of everything thrown in there, and although it's open at first, those last three days should make for a selective GC.
TS: What type of training have you been doing leading into the race?
EBH: I've been based at home in Norway and have been riding a lot there. I've spent some pretty long days on the bike to build up my stamina and get some miles in the legs, and just recently I've been adding efforts and intervals into my rides to give me that sharpness needed for a race situation.
TS: Have you enjoyed being able to spend time in Norway?
EBH: Yes, I've really enjoyed it. We've had great weather this summer - the best for years - so it's been the perfect place to train. I'm definitely ready to start competing again now though. I've been out a lot with Thor Hushovd and Lars-Petter [Nordhaug] but I miss being around my team-mates so it will be nice to see them again.
TS: Did you watch any of the Tour de France?
EBH: Not too much, to be honest. I watched a few of the mountains stages but I've been that focused on my recovery that I was often out on the bike when it was on.
TS: When you did watch it, did you miss not being there?
EBH: It definitely felt a bit strange. Up to this year I'd ridden every one of them for Team Sky, and I would have loved to have been there again, but my injury didn't allow that. It did feel good sitting at home watching on TV though, when they were in the mountains. A few of those stages looked horrible (laughs).
TS: As a fellow Norwegian, was it nice to see Alexander Kristoff win two stages?
EBH: Yes, it was great for Norwegian cycling that he rode so well. He seemed really strong and I just wish I'd had the chance to be in there battling it out with him.
Check out which Team Sky riders will be joining Edvald at the Tour de Pologne on our August races page HERE.