Froome: Next target the Worlds
Chris Froome is already looking to the future and wants to round off his phenomenal season in style with a shot at the World Championships
Last Updated: 23/07/13 3:40pm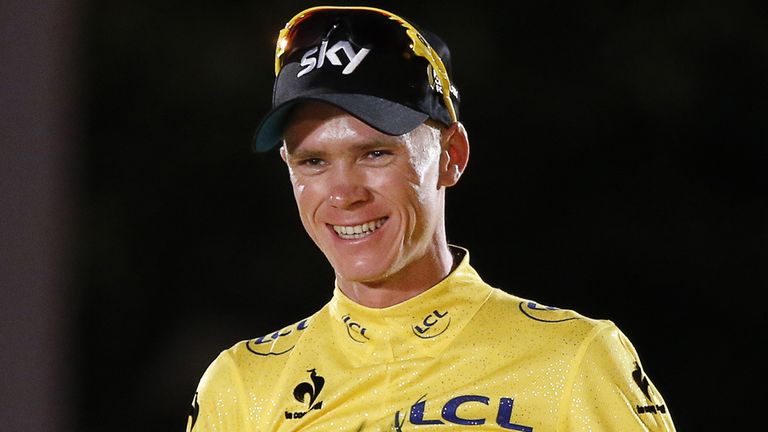 Less than 24 hours after his first-ever Tour de France victory, Chris Froome is already looking to the future and wants to round off his phenomenal season in style with a shot at the World Championships title in September.
Froome wrapped up Team Sky's second consecutive Tour de France victory at a spectacular floodlit finale in Paris on Sunday evening, but after taking time to savour the moment with his team-mates, his thoughts turned immediately to fresh challenges, and adding the rainbow jersey to his newly-acquired maillot jaune is now top of that list.
This year's World Championships road race take place in Florence on Sunday 29 September and the 279.6km route features a series of tough climbs which will suit the world's best ascenders. Froome very-much falls into that category and is excited by the prospect of making yet more history in year that will live long in his memory.
He said: "The World Championships is an event that doesn't often favour climbers like the way it does this year, so it'd be a great opportunity to go for that.
"I'd like to make the Worlds the focus for the second part of my season and use that as motivation to keep my form up in the races that come before it. I want to try and see the season through, not just switch off completely.
"Winning the yellow and rainbow jerseys would be an incredible double. I've focused on the Tour up until now but being the world champion, that's probably the second biggest prize in cycling."
Mental break
While most of the riders that completed the Tour's centenary edition will now be taking time off for rest and recuperation, Froome's unwavering work ethic means he will ride a series of criteriums across Holland and Belgium before focusing again on the latter part of the season.
"I'll relax and let my hair down a bit during these next few weeks of criteriums, and have a bit of a mental break," he added. "But after that I'd like to get back on it and start focusing on the Worlds."
Such was the dominance that Froome displayed during his maiden Tour de France win, that many fans are now speculating that the 28 year old could dominate the race for many years to come. That is a long-term ambition that Froome is desperate to fulfil, even if future routes might not always suit him as well as the centenary edition.
"It's hard to talk so far in advance," he admitted. "But if I look at my career and what my ambitions are as a professional cyclist, targeting the Tour has got to be the biggest goal, and to be able to do that year after year has got to be what my main focus is on.
"Every year things are going to change with the parcours, but I'd like to think I'm a well-balanced rider. I can time trial reasonably, I can climb pretty well, and I can't really see what else they're going to put in the Tour that I would struggle with, so I'd like to think I could come back every year and focus on the Tour.
"The success I've achieved at this year's Tour has set an amazing platform for me and it's been a massive learning experience. It would be a shame not to carry that experience forward and use it in future editions."
Future rivals
Froome is only too aware however, that there are a number of riders rising through the ranks who will provide a stern challenge in the immediate years to come. Nairo Quintana is one such example, having taking both the white (young rider classification) and polka-dot (mountains classification) jerseys in a stunning Tour debut, as well as finishing second overall behind a suitably-impressed Froome.
"Guys like Quintana are going to be around for a long time and he is one of the guys who I'm going to have to battle it out with for the next few years," Froome accepted. "All the time there are younger guys coming up through the ranks, guys who are going to keep me on my toes.
"Aside from Quintana, there's other guys like Michal Kwiatkowski and Andrew Talansky who stand out. They might not have turned too many head in this year's Tour but they're heading in the right direction and I definitely won't have it easy in the future.
"As I've said before though, I would love to come back and keep targeting the Tour every year. I am 28 now. Most cyclists come into their prime around their early 30s. I would love to come back and keep contending for the Tour as long as I can and as long as I have the motivation."