African adventure for Swift
Ben Swift will draw inspiration for the 2014 season after a life-changing trip to South Africa.
Last Updated: 17/12/13 10:34am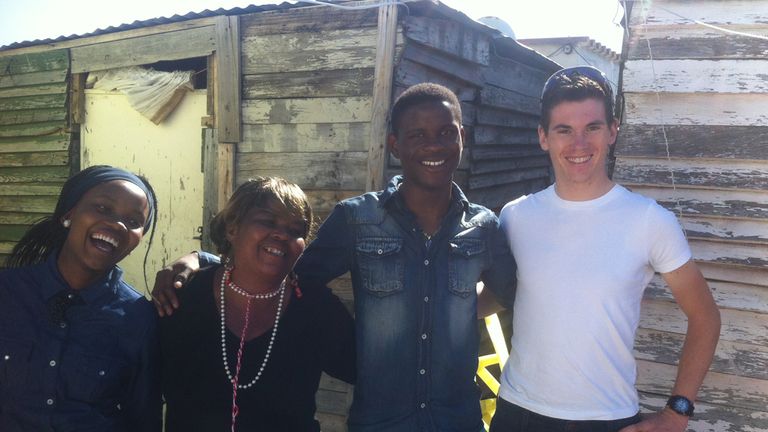 Ben Swift has been working hard to ensure he hits the ground running at Team Sky's winter training camp and has drawn inspiration from a life-changing trip to South Africa.
Swift based himself in Cape Town for much of November to step up his recovery following shoulder surgery in September, and will join up with his team-mates in Mallorca during the first week of December.
His trip to the Southern Hemisphere however, was not memorable solely for his improved condition, but for a friendship he struck up with one of Africa's brightest cycling talents.
Before touching down in the Western Cape, Swift had been put in contact with Nicholas Dlamini through Stephen Roche, who had spotted the 18 year old's talents earlier in the year and then worked in co-operation with the JAG Foundation and Velokhaya Life Cycling Academy to help sponsor a trip to Europe which saw Dlamini blow the field away on a ride from London to Paris.
It was through these township community programmes that Swift arranged to take a trip to Capricorn Park where Dlamini lives, and the encounter brought about a rapport which has had a profound effect on the Team Sky sprinter.
Swift explained: "I love being based in South Africa during the off-season and as part of my training I'd decided to take part in an event called the Double Century, which is a 202km team time trial for teams of 12 riders of all ages and backgrounds. Nicholas was in the team with me so I took the opportunity to visit him after getting in touch with the people who run these fantastic community projects.
"Heading into the township was a real eye-opener because the way he lives is a world away from anything I'd ever known. Nicholas was brought up with nothing, but thanks to the support he's received from the programmes, he's using sport to try and make a better life for himself.
"He still lives with his mother and three sisters in a house which is no bigger than a few garden sheds, and there's so little room he has to store his bike in the bath. Everyone I met was so friendly though, and so welcoming when we called around.
"Nicholas is a hero inside the township – they're so proud of him because he represents their community whenever he's competing."
Aiming to inspire
Dlamini's talents have seen him rise through the domestic ranks and he will represent South Africa at the African Championships before setting his sights on the European racing scene once his schooling finishes in 2014.
Swift is already predicting a bright future for the youngster, and has volunteered to mentor Dlamini as he prepares to make a life-changing switch to cycling's heartland.
He added: "I've told Nicholas I'll give him all the help I can and it would be great if we could get him in a few U23 races in Italy next year to test the water and see how he gets on.
"Hopefully that will sow the seeds and allow other young riders from the Western Cape to follow in his path.
"It's an honour to be able to do something like this because as professional cyclists, we're here to inspire and that's exactly what Team Sky was set up to do.
"Chris Froome's achievements have already had a massive effect across Africa and I'm delighted to do my bit as well.
"Team Sky are a massive team out here and any advice Nicholas needs, I'll be more than happy to give it because the stories he's told me have really inspired me as well. He's grown up in meager surroundings to become an absolutely unbelievable rider, and the determination that must have taken is mind-blowing."
Looking ahead
2014 represents a new chapter for both riders, and Swift is raring to get back into the fold at Team Sky and put a stop-start season behind him.
He continued: "I'm feeling really good and everything's going to plan now. My shoulder's fixed and I've been working really hard to get my strength back over the last few months.
"I went back to my roots over the autumn and did a lot of work on the track, as well as in the gym. The track is great preparation for the road, especially after an injury or operation, because it's a safe environment to train in – there's smooth surfaces, no potholes and no other traffic to worry about. It's a lot more interesting than the turbo as well – I've had enough of that (laughs).
"Now everything's focused on building my endurance before the new season. I've been spending a lot of time on my bike in South Africa, which is nice, and I'm aiming to come into next season in good form and then hopefully carry that on throughout the 2014 season."