Wiggins looking to build form
Sir Bradley Wiggins is looking to build momentum ahead of his upcoming goals at Paris-Roubaix and the Tour of California.
Last Updated: 23/03/14 6:14pm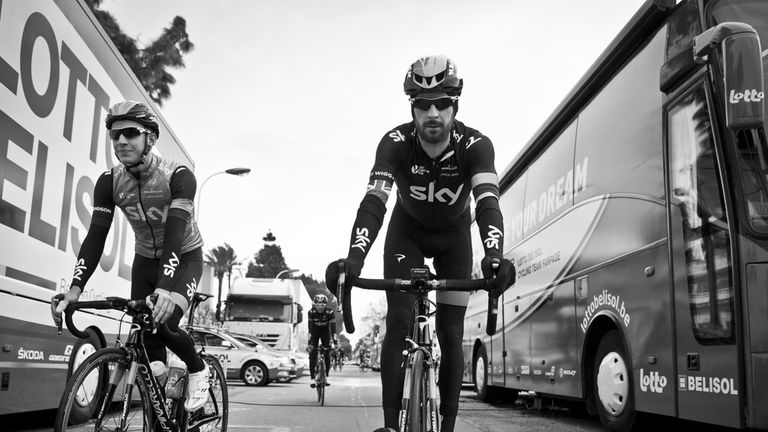 Sir Bradley Wiggins was happy to be back in action after a strong finish to Tirreno-Adriatico and is now looking to build momentum ahead of his upcoming goals at Paris-Roubaix and the Tour of California.
The Brit ran third in the final stage time trial in Italy off the back of a gruelling stage race and the toughest test of his season so far.
Reflecting on the TT effort in San Benedetto del Tronto Wiggins said that he was happy with his performance on the day and where he stacked up against his time trial rivals.
"Obviously I wanted to get up there on the timesheet and I was pleased I could do that," he told TeamSky.com. "I'm still getting used to quite a few changes we've made on the bike. I've moved to electronic gearing and I flicked it accidentally on the start line and it changed to the little ring as I rolled down the start ramp. There were just a couple of little things like that which went wrong. I maybe lost a few seconds there and perhaps lost second place but I think the win was a bit beyond me. [Stage winner Adriano] Malori had a great day.
"But team spirit in the camp was good all week and personally I was pleased with how I felt physically after a pretty hard week's racing. Now it's about taking the next step."
Making progress
Wiggins will now look to kick onwards and continue to build his form, and has chosen to embark on a valuable climbing-centred training block instead of riding in the upcoming Volta a Catalunya.
Explaining the new focus, Wiggins added: "We've now changed the programme in order to ensure that I keep moving forward. Having spoken to the coaches we've decided that I'd benefit a lot more from a couple of weeks of hard training to work on my climbing before coming back for Paris-Roubaix – all with a view to being in good form for the Tour of California, the Dauphine and making the Tour team."
"This block was probably something I was going to end up missing out on this year just due to the congestion in the race schedule, but this is now an opportunity for me to get some good training under my belt and concentrate on improving in every area."
Team Sky's Head of Athlete Performance, Tim Kerrison, explained the benefits of a training block at this point in the season, saying: "Bradley is satisfied with the racing he's done this year and how the season has gone so far, but he realises he needs to do a good, solid two-week block of training, focusing on climbing in preparation for his goals later in the season. He's is still very much focused on riding well at Paris-Roubaix and then going on to perform at the Tour of California.
"Whilst Catalunya would have given Bradley a guaranteed workload, by taking him out of a racing environment and into a training environment we can have much more control over that workload – making sure the training he does in that block is as specific to his needs as possible."
Wiggins will return to racing action at Scheldeprijs (April 9) ahead of tackling the 'Queen of the Classics' – Paris-Roubaix – four days later.