Get to know: Sir Bradley Wiggins
Currently riding up front at the Tour of California, we caught up with the Brit on being a mod, tattoos, guitars and fame.
Last Updated: 14/05/14 4:34pm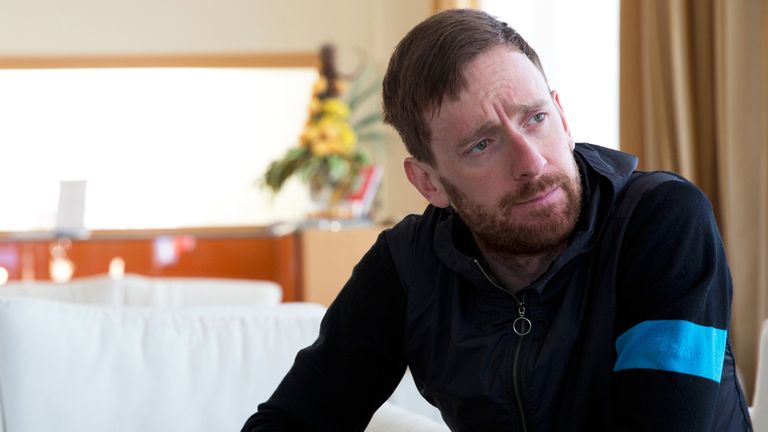 Cycling has taken Bradley Wiggins from the amateur ranks to a household name, an Olympic champion, a Tour de France winner and a knight.
Aside from being a fierce competitor, there is plenty more to the 34-year-old, who currently finds himself in the heat of battle at the Tour of California.
As Team Sky look to bring fans closer to their riders, we caught up with 'Sir Brad' to find out what makes him tick off the bike.
TeamSky.com: Tell us what being a mod means to you.
Sir Bradley Wiggins: Being a mod is big part of who I am, and while there's loads of elements about that culture I like, I don't agree with this whole stigma about how you're supposed to look. I've taken a lot of stick for growing a beard, but being a mod isn't about conforming to some stereotype, it's about doing your own thing. It shouldn't be about looking like you've just walked off the set of Quadrophenia – there are elements of mod that you take into everyday life.
Mod culture doesn't really exist to the extent that it did in 1963. People had no money back then in post-war Britain and it was all about clean living under difficult circumstances. Of course, people are still living under difficult circumstances today but people have access to money through loan companies, credit cards, and things like that, so it doesn't really apply in the same way as it did in post-war Britain. I love the scooters and the nicely-tailored suits, and of course some of the music, but it's not all about looking a certain way for me.
TS: Paul Weller is often mentioned when it comes to you and music.
BW: I don't get tired about people talking to me about Weller all the time – it doesn't happen as much as you might think actually. I get asked to play with bands a lot, like The Rifles and The Jam, but I try and avoid doing things like that because it just adds to the whole stereotype. I love the mod target logo, but that's to separate me from the rest really. I like having something different.
TS: Tell us about what seems to be a growing tattoo collection.
BW: I've got right back into tattoos recently, and that's all part of having something different. They've started creeping out of my jersey so people have cottoned onto it a lot more. It's very much a work in progress. I want to get the sleeve on my right arm finished and then I'm going to go down the back and eventually I'd like my top half to be nearly covered.
I've been using the tattooist Louis Molloy who did a lot of David Beckham's tattoos and had the TV series London Ink. He's got a six-month waiting list but comes around my house in the evenings. He's a big cycling fan who got in touch with me and said he'd love to tattoo me. We became really good friends while he was doing a tattoo on (former Wigan Warriors rugby league player) Sam Tomkins and we took it from there really.
The next project is a knight on my chest. I told him I wanted something to commemorate my knighthood and then we worked off each other about what a design would look like. We've come up with an angelic knight in armour based on Henry V, who was the first English king to conquer France. That held comparisons with my Tour de France win and then off that we did some floral stuff around it. I've also had '101' engrained on the back of my arm as that was my race number from the Tour. The idea then is to get a George and the Dragon piece on the other side. The Prodigy one is going to get covered up and my kids names will be in cloud above the dragon. He's done it all in exchange for a yellow jersey.
I've been into tattoos for years and I've always liked having bits done but it's just about having the time to do it. I always had this thing in my head though to wait until I was 30. I had a few done when I was really young that I hated. Nothing much changes though between how you think between when you're 30-40, but a lot changes from 18-30.
TS: Do you still have a collection of guitars?
BW: I'm still into my guitars and amps – I buy a lot of those still. I've just got rid of a load because I've run out of places to put them, but I'm still very much a hoarder so things like that are never easy. They're all from the late 50s, early 60s. That's when the best ones were made, and a lot of them have been played by people in bands, like John Squires's guitar or Gary Grainger's (Fender) Telecaster who used to play with Rod Stewart. I've just got some amps from Jonny Marr as well, which he'd lent to Noel Gallagher during the early days of Oasis, during the Definitely Maybe era.
TS: What's it like being famous?
BW: Elements of it are really hard and elements of it are really nice. The hardest bit is dealing with the press. I can't go out with friends and family any more, but you learn to take yourself out of certain situations. That said, some of it's really nice. A lad came up to me in Tesco's recently with his dad. He wanted an autograph a year and a half on because he'd watched me win the Tour de France on TV. People still congratulate me about that and the Olympics wherever I go and things like that are really nice. It's nice to know I've inspired people.
Fame means I also get to give something back to causes I feel strongly about. I've done things for Joining Jack and I gave out a prize at the Triumph Over Adversity awards before Christmas to a soldier from Afghanistan who'd lost all his limbs but was still riding a special type of bike. He told me I was his biggest hero and I inspired him in 2012 with what I did. To hear things like that is really nice.
I did want to be famous when I was younger. You get blinkered to what you think fame is about. As I've got older I've learned to appreciate the things more that fame takes away – like privacy. That's hard. Like going to concerts, I love music but I can't really go to gigs anymore and be down in the pit because people either want to talk to you during the show or get into a scrap. You can't win in those situations but that's the price you pay. There are times I wish I'd never won the Tour and others where I'm really happy because all that training and all that sacrifice was worth it. You can never be prepared for what comes next after the racing's over. Given the choice I'd take success over mediocrity though.