Commonwealth Games: Sir Bradley Wiggins poised to focus on track cycling
Last Updated: 25/07/14 6:59am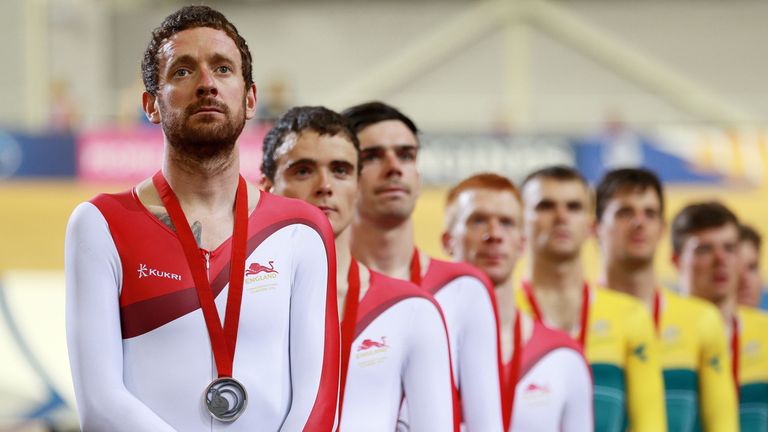 Sir Bradley Wiggins hinted he may have ridden his last Grand Tour after claiming team pursuit silver on his eagerly awaited track return at the Commonwealth Games.
Wiggins, in just his second major track competition since the 2008 Beijing Olympics, rode impressively alongside Ed Clancy, Steven Burke and Andy Tennant as England finished second behind a dominant Australian quartet at the Sir Chris Hoy Velodrome.
It may not have been the golden return he - and the unflinchingly supportive Glaswegian crowd - were dreaming of when he decided to make his return to the Commonwealths 12 years after his last appearance in Manchester, but his impressive comeback showing was enough to spike his desire to go one better at Rio 2016.
The 2012 Tour de France winner was a controversial omission from Team Sky's squad this year, but had previously indicated willingness to ride at the Vuelta a Espana - a race his rival and fellow Tour winner Chris Froome will now target.
Wiggins had been considering a new one-year deal that would likely have seen him target one-off events such as Paris-Roubaix or the Hour Record, while also being on hand to Team Sky as a support rider.
Dedication
But, speaking moments after laying hands on his fourth Commonwealth silver medal, Wiggins indicated a shift in priorities that could see him focus exclusively on the team pursuit and a fifth Olympic gold.
I don't think I'm doing the Vuelta any more now so I think that could be it, yeah.
Sir Bradley Wiggins
"I certainly answered the question of whether I can still do it or not but I still think it will take a lot more improvement and a lot more dedication," he said.
"I don't think I'm doing the Vuelta any more now so I think that could be it, yeah.
"I just think with the commitment it will take to ride track and the speeds we will have to go at, I think it will take a complete change.
"You're already looking at changing body composition and things like that - getting heavier and more explosive - which will hinder climbing in Grand Tours. And I don't relish the idea of riding round in the back group for three weeks having won the Tour.
"I think three minutes 50 seconds will probably be the mark (for team pursuit gold at Rio), if you look at the progression of previous Olympic Games, so it's almost going to become a sprint endurance event now. It's completely different and I don't think the (track) will necessarily complement the Grand Tour races."
Special
England's medal tally in the velodrome after day one included another silver - secured by Jason Kenny, Philip Hindes and Kian Emadi in the men's team sprint - and a bronze for Jessica Varnish behind dominant Australia duo Anna Meares and Stephanie Morton in the women's 500m time-trial.
Triple Olympic champion Kenny was short of his best all day, having qualified 11th in the men's sprint and only reached the quarter-finals via repechage.
Para-cycling rider Sophie Thornhill, at 18 the youngest member of the English track team, claimed gold alongside pilot Helen Scott, beating Scottish pair Aileen McGlynn and Louise Haston 2-0 in a best-of-three final.
Thornhill said: "Every gold medal is special but to have it on the platform we have here with the world watching and showing what the world can do is great.
"It's just as special as the world title."