20 questions: Christian Knees
After of Paris-Roubaix Team Sky's fearless German Christian Knees steps up to take on the next round of questions.
Last Updated: 12/04/14 1:20pm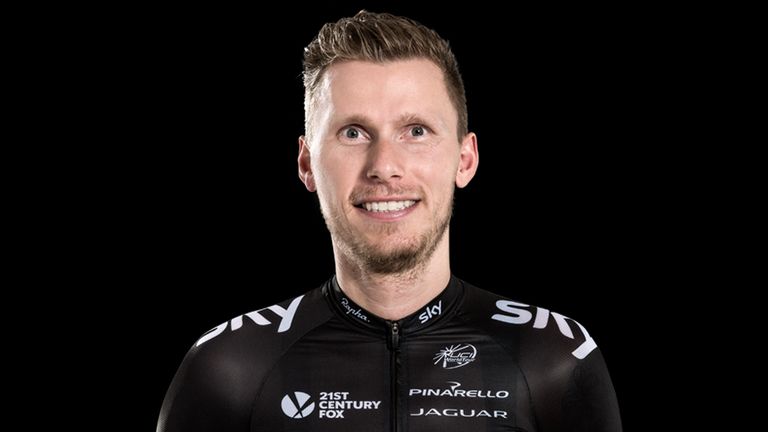 On Sunday Christian Knees will tackle 28 tough cobbled sectors at Paris-Roubaix. First up he must tackle 20 equally tough questions in this Team Sky grilling. A good warm-up we think you'll agree.
What talents apart from cycling do you have?
I recently found out it's basketball. I always thought I was bad at it, but recently I sank five baskets in a row. I couldn't believe it. Maybe I should go for it as a career!
What is something you should throw away but you can't?
I've got a white t-shirt with some sunglasses on it and I should throw it away because it's too old but I can't.
What is the most unusual thing you've ever eaten?
I once ordered a steak. It didn't arrive quite how I ordered it but I just thought there were some mushrooms on top of it. As I started eating it I realised that underneath the steak I'd ordered there had been one with snails on it! Once that had sunk in I couldn't enjoy it, but I thought I've started so I might as well finish it.
What is the worst fashion crime in cycling?
I would say that there isn't really a fashion crime – just wear it with a bit of pride and confidence. And then maybe it becomes a style.
If you had a year off what would you want to do?
I would really love to travel around. Obviously I'm travelling all the time now but that is at a cyclist. One of my friends he stopped riding at the Japan Cup one year and then he just travelled around the world – low budget. I guess he saw a lot of nice places and he could write a book about it from all the stories he has told me. I'd like to do the same.
What football team do you support?
FC Köln
What is your favourite condiment?
Definitely salt!
Do you collect anything?
Not really. Two pieces of something is not collecting.
What is your favourite fruit?
Strawberries.
If you could change anything about yourself what would it be?
I would like to be more successful maybe (laughs). No I wouldn't change anything. You should take yourself as you are.
What is your favourite animal?
I don't like animals. I'm not sure which one I dislike the least.
What is the best piece of advice anyone has given to you?
It's hard to say what is the single best piece of advice. But my old cycling coach was a pretty hard one. Because he was that hard he expected us to be the same. I think this was a good lesson and it taught me that cycling was not going to be easy.
What was your least favourite school subject?
Can I just say school in general? Looking back you know it is good to get education but at the time I just wanted to do anything else.
If you were a superhero what power would you have?
Spider-Man is quite cool. Wherever you want to go you could just climb up there.
What historical period would you like to live in if you could go back in time?
I guess no period you could live in is as nice as what we have at the moment. Not in terms of comfort and everything we have. Going back to the Middle Ages just to see what it was like could be interesting – but straight away with a button to go back!
If you could join any music group which would you like?
I'd say the Backstreet Boys as there is a reunion soon and maybe we can make some money!
What language can you speak apart from English?
I speak German and a little bit of Italian. My English is okay.
What has been the best decision you've made in your life so far?
Difficult to say which was the best. There are various decisions I've made. One really good one was to learn a trade. I learned metalwork. This helped me not to focus too early on cycling – as you never know what is going to happen.
Do you believe in aliens?
If you look up to the sky there must be something somewhere. I don't actually believe specifically in aliens but there must be something.
What do you do apart from cycling to keep fit?
I try to do about an hour of stretching and core stability work every other day during the season. During the off-season I like to go for a run. I like to go to the gym, play basketball, go for a swim. I'll do as much as possible. When I'm not racing I also like to go out on my mountain or cyclo-cross bike.