Successful night on the track
Alex Dowsett and Luke Rowe claim a hat-trick of Team Sky victories at the Revolution track series.
Last Updated: 02/12/12 11:46am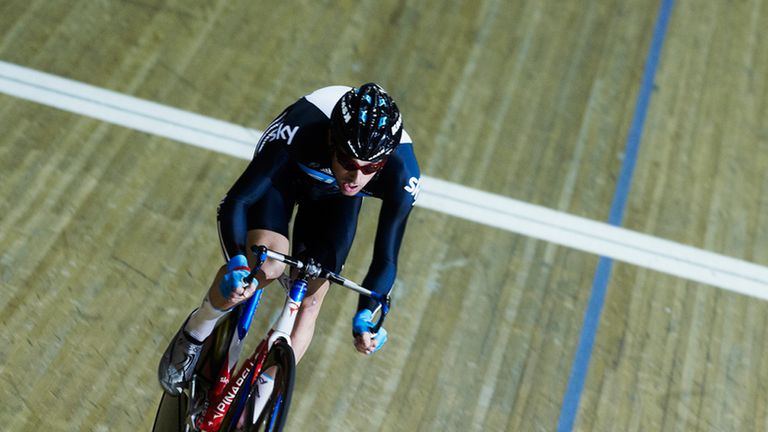 Alex Dowsett bowed out in style at the Revolution track series on Saturday night as he and Luke Rowe claimed a hat-trick of victories for Team Sky in Manchester.
Dowsett - who will ride for Movistar next season after two years with the team - marked his final competitive outing with a superb victory in the Scratch Race - the final Elite Championship event of the evening.
Earlier on, Rowe had got the ball rolling by outsprinting his rivals at the finish line to win the Points Race, and then powered around the final bend in the Elimination Race to pip former Team Sky man Russell Downing in the most exciting clash of the night.
The duo had been playing cat and mouse as the event reached its conclusion and Rowe looked to have been caught napping when Downing swooped down on the Welshman from the top of the track.
Rowe put in a blistering pursuit however, and rounded the Team Net App-Endura man on the closing straight before throwing his front wheel forward to snatch an incredibly narrow victory.
Those results helped move Team Sky up to fourth in the Championship standings with two events remaining.
Happy memories
After his final race in Team Sky colours, Dowsett was happy to reflect on his time with the squad. He told us: "It's been incredible. For a first-year pro being with Team Sky was the best possible place I could have been.
"Being part of this team has been amazing. It's been great to have been given responsibilities in a wide variety of races without having that absolute pressure on you. It means you can enjoy things more, and learn more as a result.
"I'm moving on to get different opportunities and to gain experience. Team Sky are so strong at the moment that I feel I need to step away to get that and establish myself more.
"I've got a fantastic group of mates here though – both staff and riders – and although I'll be in a different kit next season, I'm looking forward to seeing them all in the peloton next year."
Back to work
As for Rowe, he was delighted to be competing again after his end-of-season break and is looking forward to honing his condition in the months to come.
He said: "I'm really surprised with my wins tonight because I've hardly done any track riding at all recently. It was nice to be able to find my feet again as quickly as I did and getting a couple of victories is always nice.
"After the Tour of Beijing I took three weeks completely off. That was nice because it meant I could enjoy myself and let my hair down a bit.
"I got back to the grind three weeks ago though and have done some solid training since then. I think I'm where I need to be heading into our Mallorca training camp next week."
Viewers can catch highlights of the action on ITV4 on Wednesday 5 December at 8pm (UK time) with Team Sky's very own Ben Swift making his co-presenting debut.