Wiggins out of Tour de France
Team Sky suffered a devastating blow at the Tour de France when Bradley Wiggins abandoned the race after a crash on stage seven.
By Jonathan Turner
Last Updated: 12/07/11 1:30pm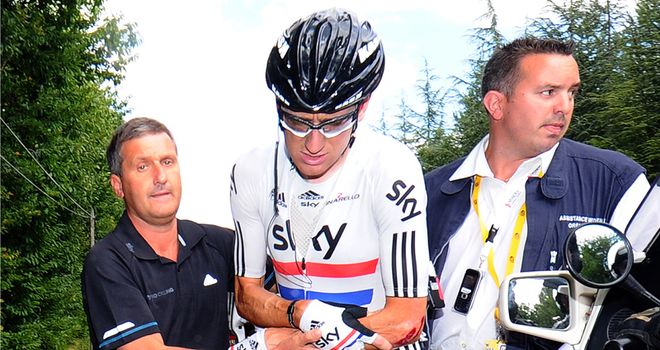 Team Sky suffered a devastating blow at the Tour de France when Bradley Wiggins abandoned the race following a crash on stage seven.
The Team Sky leader was caught up in a mass pile-up 38 kilometres out on the 218km route from Le Mans to Chateauroux.
The 31-year-old British champion finished fourth in the 2009 Tour and had enjoyed an almost perfect build-up to this year's race, including an overall win at the Critérium du Dauphiné, the traditional Tour warm-up. He had continued that fine form at the Tour, standing just 10 seconds behind race leader Thor Hushovd in sixth on the overall standings after a solid first week.
Wiggins remained on the road surface for around two minutes after the crash and when he got to his feet he was holding his left arm to his body.
He was examined by both the official race doctor and his team doctor Richard Freeman, before making the decision to abandon the race and enter an awaiting ambulance.
The injury was later confirmed as a broken left collarbone by his team.
The hammer blow for the British-based outfit came almost exactly 24 hours after they had claimed their first stage win at the Tour, Edvald Boasson Hagen winning stage six in Lisieux.
Desperate news
Team Sky Principal Dave Brailsford explained exactly what had happened, saying: "With about 40km to go, everyone was fighting for position and some guys in front of Brad crashed and he went down along with all the other guys on our team.
"Unfortunately he went down and he's got a clean break of his collarbone; he obviously couldn't continue so now he's in hospital and that's the end of his Tour.
"You could see the pain he was in and when he did eventually get up off the floor he was holding his arm and he couldn't get back on his bike."
Brailsford continued: "It's such a shame as he was in the form of his life; he'd worked so hard and we were very, very confident this year that he was going to be right up there knocking on the door for a podium.
"We monitor all the numbers and training data very carefully and there's no doubt about the form he was in - we knew that he was climbing with the best climbers, time trialling with the best time trailers and once the race hit the mountains we were very confident that he was going to challenge for the overall.
"But unfortunately we'll never know now as far as this year's Tour is concerned."
Down but not out
Speaking after leaving hospital a philosophical Wiggins told ITV4: "Everyone was just jostling for the front. We were being constantly told on the radio to 'Stay up front there's a risk it could split any minute' and I think everyone was being told that.
"When you've got 200 riders trying to stay up front and small roads like that it was always going to happen. It's just one of those things."
On realising that his time at the Tour was over, he added: "I could not get up off the floor, for love nor money. Once I did make it to the side of the road people were saying 'Do you want to get back on the bike?' But there comes a point where you just can't do it really.
"That's bike racing isn't it. These stages when you're trying to stay out of trouble. That's the risk you take as bike riders. Life goes on.
"I've got fantastic form. It's only a break (collarbone) so I'll recover from it and be back for the end of the season I'm sure."
Battling back
Team Sky's aims will now have to change for the remainder of the race, with Brailsford adding: "Our priority now as a team is to regroup and focus on the rest of this Tour.
"We still have eight world-class riders in the team and they will go back out tomorrow, on the front foot and looking for more stage victories. There is still a lot of racing to be done between here and Paris."