Sky extend with British Cycling
British Cycling has announced a four-year extension of its partnership with Sky to the end of 2016.
Last Updated: 02/05/12 10:02am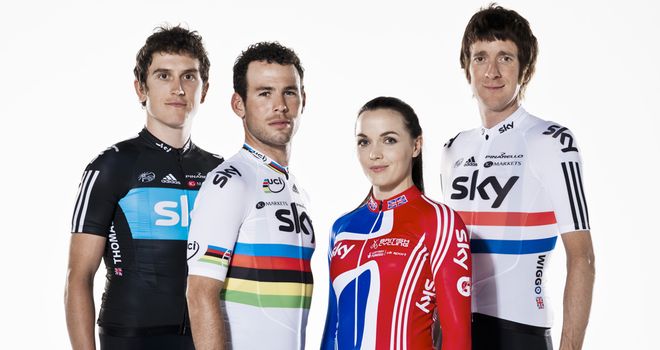 British Cycling has announced a further four-year extension of its partnership with Sky and its role as Principal Partner, extending the relationship to the end of 2016.
The announcement comes at a great time with Britain's cyclists flying high both on the track and the road leading up to the London 2012 Olympic Games.
The "unique nature" of the partnership between British Cycling and Sky, has been a key factor in cycling's phenomenal success story, Ian Drake, British Cycling's Chief Executive said today.
He said: "I'm delighted that Sky has committed to working with us for a further four year period. The unique nature of our partnership with Sky has been a key factor in cycling's phenomenal success story, perfectly complementing the support we receive from UK Sport and Sport England.
"The growth of our sport over the past four years has been amazing. Not only have our Olympic and Paralympic riders continued to deliver on the world stage, but we've also seen the emergence of Team Sky as a force on the road scene. Being a world leading cycling nation isn't just about winning medals – it's also about inspiring everyone to get on a bike, from the playground right through to the podium. That's exactly what initiatives like Sky Ride have achieved and we're well on track to reaching our target of getting one million more people cycling by 2013.
"I'm proud of what we have achieved through our partnership with Sky, and I look forward to delivering even greater success over the next few years."
Proud partnership
Jeremy Darroch, Sky Chief Executive, said: "We are proud of the partnership we have with British Cycling and look forward to four more years supporting the sport. Our aim has always been to increase participation, support the leading riders and inspire the next generation.
"We know we are making a difference and getting people involved, right across the UK, just as we have through our broad contribution to sport over the last 20 years. This is proof that sport can really benefit in the long-term through a partnership with Sky."
Four times Olympic champion and long standing Sky Ride ambassador, Sir Chris Hoy, commented: "We've all seen the difference that Sky can make in cycling. Through events like Sky Ride – opening up cities for families or providing local led rides – they have helped get people back on their bikes. Their work with British Cycling has got more people to understand and enjoy the sport we're all passionate about. And the support for elite riders has helped the current team and will go on to support the next generation."
Getting involved
Sky's partnership with British Cycling supports all levels of cycling, across all disciplines, and aims to encourage more people to ride. Already, almost 700,000 more people across the UK are riding regularly (at least once a month or 12 times per year) through the Sky Ride campaign.
Sky Ride has offered mass participation rides on traffic-free streets, with over 200,000 people participating in over 20 city events last summer alone.
Alongside, Sky Ride Local events offer people of all ages and abilities the chance to join small, weekly community rides guided by a British Cycling trained leader. Now available in 45 council partnerships, these led rides have evolved to create new activities like Breeze, a series of fun bikes rides led by women for women and - Social Cycling groups – which encourage an informal network of riding groups across the UK
Sky's investment has also supported the grassroots programmes Go-Ride and Go-Ride Racing, which give young riders their first taste of the sport and competitive action in order to hone their cycling skills, together with a crucial first step for those on the path to the Great Britain Cycling Team ranks.
Elite success is also used to inspire and excite. Beyond the support for Great Britain's track, road, BMX and Mountain-bike riders, the creation of Team Sky has given Britain a winning presence on the international road racing circuit.
As well as enjoying impressive performances in their own right, the impact has been felt across the Olympic programme. Riders who compete on both the road and track are able to have their training and performance schedules controlled in parallel to ensure they can deliver at their peak when it matters most.