Tour de France: Alberto Contador admits anxiety over cobblestones on stage five
By Matt Westby
Last Updated: 08/07/14 11:07pm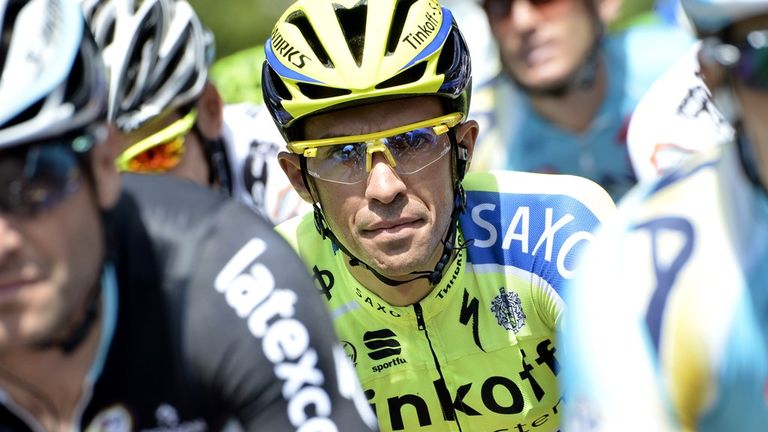 Alberto Contador says Wednesday's cobbled and potentially treacherous fifth stage of the Tour de France will be like "ice skating with bikes".
The 155.5km day, which takes the peloton from Ypres in Belgium to Arenberg Porte du Hainaut in France, includes 15.4km of cobblestones over nine sections and is expected to be battered by rain and wind.
The pave, as the cobbles are known, are defining features of spring Classics such as Paris-Roubaix but foreign territory for the Tour and light climbers such as Contador and defending champion Chris Froome.
The bone-jarring road surface makes crashes and mechanical problems common, while the frantic fight to be positioned at the front of the peloton amplifies the dangers.
"I will cross my fingers for tomorrow - it will be a really difficult day," Contador said. "The weather forecast is very bad. Without bad weather it will be a complicated stage, but with rain it will be like ice skating with bikes.
Crosswind fears
"We will have winds of about 30kmh, which might cut the peloton into pieces even before the cobblestones. But we are concentrated and we will ride the sections together as a team."
The importance of staying safe on stage five was highlighted by Froome's innocuous crash on stage four, when he fell heavily following a clash of wheels with another rider on a straightforward section of the route.
Contador was unaffected by the incident but nevertheless admitted the opening four days of the race had been stressful.
"The last days has been nervous with great risk throughout the stages," he added. "And today the crosswind was a factor as well, forcing us to be well positioned.
"My feeling is that I wasn't further down than 20th position in the peloton during the entire stage. We didn't crash but we had to eat a lot of wind to keep our positions. I gained two positions today, which means that we'll have our team car closer to us [on stage five]."