David Brailsford to delay decision on Team Sky Tour de France leader
Dave Brailsford will wait until just before next year's Tour de France to decide on Team Sky's race leader.
Last Updated: 17/12/12 9:13pm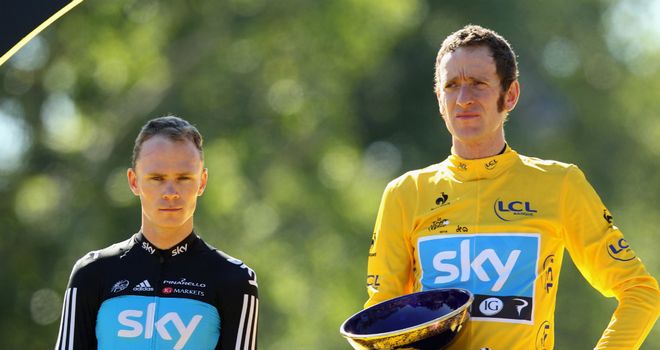 Brailsford could go with defending champion Bradley Wiggins or Chris Froome - or have a two-pronged attack.
Wiggins raced to gold in a captivating Olympic time trial on August 1, but his greatest achievement came just 10 days earlier when he became the first Briton to win the Tour de France in its 99-race history.
Froome played a vital supporting role for Wiggins during the 2012 Tour but he has made no secret of the fact that he wants to win the race himself next year, leaving general manager Brailsford with a tricky decision.
"The legs will do the talking," Brailsford said. "When we get there (the Tour de France) it's the guy with the best legs who will lead.
"At this moment in time Chris is obviously focusing on the Tour and Bradley will do the Giro d'Italia and then the Tour.
Form
"As you get close to the moment you see who is in form, who isn't in form and you make the decisions from there."
It had been expected that Wiggins would make way for Froome next summer, but the Olympic champion made his intentions clear last week when he said he wanted to reclaim his crown.
Brailsford has not ruled out the possibility of two leaders and claims both riders are more than capable of taking home the yellow jersey next summer.
"It's possible (to have two lead riders)," Brailsford said. "That can give you a great advantage. When you have two world-class athletes in a team it's a fantastic place to be.
"As long as Brad keeps the hunger, he can win it again. Physically he can certainly keep going for a few years so let's see how he gets on.
"Chris is younger, he is 27 years old. He is very, very ambitious and I think he has many years ahead of him. I am sure he can win a grand tour."