Jason Kenny aims to taste victory at Track World Cup in Glasgow
Jason Kenny is hoping to taste victory at the Track World Cup event in Manchester this weekend.
Last Updated: 13/11/12 6:13pm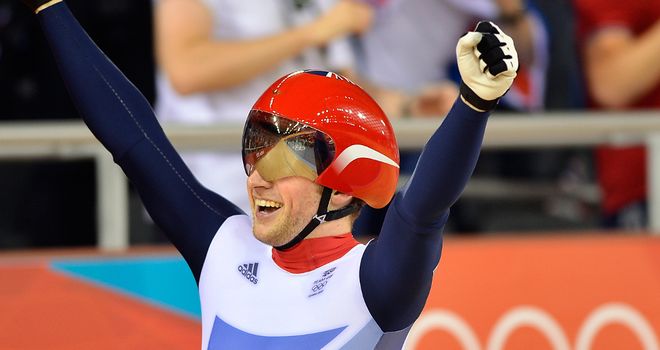 The natural heir to Sir Chris Hoy as British Cycling's sprint king, Kenny is aiming to seal multiple successes as he begins another Olympic cycle which will culminate at the Rio de Janeiro Games of 2016.
Already a three-time Olympic champion, the 24-year-old from Bolton is keen to regularly experience the feeling of crossing the line first, just as he did twice in the London velodrome last August.
"I don't feel any different; I don't feel like the Olympic sprint champion. I just feel normal," Kenny, who won gold in the sprint and team sprint in August, said.
"These last couple of weeks I've really suffered in the motivation department and I can't understand why, because I've just won the biggest race in the world that I could possibly win.
"What I've come to realise is that I loved winning it, I loved actually winning it and racing it. I want to get that feeling back.
"With that in mind I'm keen to get back on it, put some hard yards in now and hopefully when February comes around I can get that feeling back.
"Winning the worlds is a massive, massive thing that I want to do. I've got to get to work now."
Kenny's immediate focus is this weekend's event at the Sir Chris Hoy Velodrome, but the Track Cycling World Championships in Minsk in February are a major target.
The Lancastrian has been world sprint champion before, but was awarded the 2011 rainbow jersey only after Gregory Bauge of France was stripped of the title for an infringement of anti-doping regulations.
"Getting it in retrospect was all good and well, it's nice to have your name on the list as world champion, but it's actually winning the race that I enjoy and I didn't do that," added Kenny, who won silver at the 2012 World Championships in Melbourne behind Bauge.
"I want to win every race that I compete in, it's as simple as that. That's what I'm training for."
Kenny had just three weeks off post Olympics, where he enjoyed a public kiss with girlfriend and fellow double London 2012 champion Laura Trott, as well as the parade and parties.
Many would struggle to comprehend, like he has himself, how motivation can be a challenge for someone with so much success.
For some reason Kenny does not have the profile of the likes of Hoy, despite having the potential to eclipse the achievements of his training partner, who won his first Olympic gold aged 28 in Athens.
While Trott has basked in the limelight, Kenny, likened to Manchester United footballer Paul Scholes as a quiet man with mesmerising ability, has had fewer commitments post-Olympics.
"I don't see her half as much as I want to," said Kenny of Trott.
"She's rich and famous now, so she's always off doing something. I end up sitting in on my own most nights."
Another person with whom Kenny is close but has not seen much of is Hoy.
The pair have won two Olympic golds together and share a birthday, 12 years apart, but Hoy is taking a break from the track after taking his tally to six Olympic golds with a double success in London.
It means Hoy will be present only in a spectating capacity in the arena which bears his name.
Kenny is unsure if Hoy, 37 next March, will return to the boards and continue until the 2014 Commonwealth Games in Glasgow.
"I know him quite well, but I couldn't say which way he's going to go, whether he's going to retire or whether he's going to carry on," Kenny added.
"I'm sure he's got the quality to carry on and be competitive for a few years, but it's whether he wants to.
"It takes 100% commitment. You can't do it half-heartedly. No-one knows that more than Chris."
Filling Hoy's position, for the time being at least, will be Ed Clancy.
Twice a team pursuit Olympic champion, the 27-year-old Yorkshireman will now revert to the three-man, three-lap team sprint, which takes place on Friday's opening day of competition.
Kenny is excited by the potential of the squad, which includes Olympic champion Philip Hindes as specialist starter, and is optimistic of success in Minsk.
"There's every possibility we could end up going really, really fast in this combination," said Kenny, who has never been a world champion in the team event.
"Glasgow will be the first test and if we get round and do a half-decent time, hopefully by the time February comes round and the worlds we can be really up there.
"Hopefully we can move forward and get on top of the podium between now and Rio."