Sir Chris Hoy: Sir Dave Brailsford and Mark Cavendish lead tributes
Sir Dave Brailsford says British Olympic great Chris Hoy embodies everything good about elite athletes.
Last Updated: 18/04/13 4:51pm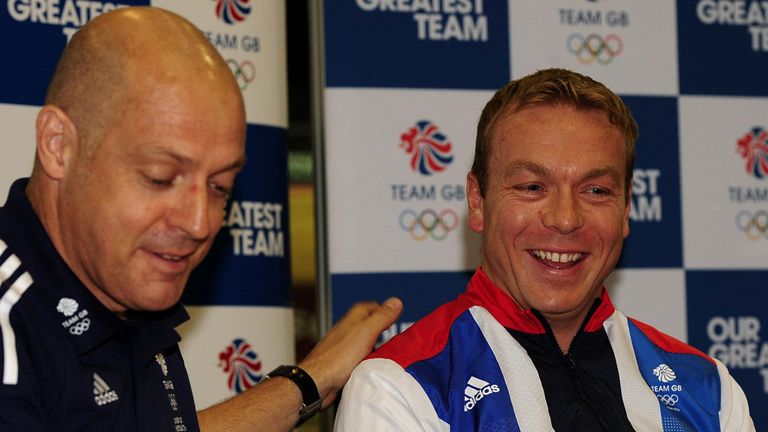 Hoy has announced his retirement after a glorious career during which he has won six Olympic gold medals, many of which Brailsford witnessed at close quarters, as Great Britain's performance director.
And Brailsford says Hoy's first gold medal success, which came in the 1km time trial at Athens 2004, was a particularly memorable moment.
"I can't speak highly enough of Chris and his career," said Brailsford.
"On a personal note, I will never forget his Kilo in Athens - it was one of the most epic Olympic moments that I've ever experienced. The tension in the build-up was unreal.
"Chris' application, athleticism and dedication are second to none and he is a true Olympic champion who embodies all of the Olympic values.
"Chris is always welcome to come back to the velodrome and share his experiences and wisdom with the next generation of cyclists, and I wish him the best of luck in his retirement."
British sprint king Mark Cavendish, who has won 23 Tour de France stages and the 2011 world road race championship, was also eager to pay tribute to Hoy.
"He's one of the most professional athletes I've ever seen and one of the nicest men, on and off the bike, that I've ever met," said Cavendish.
"What he's done for cycling for this country has been bigger than anybody can even put into words.
"I'm proud that, as I was growing in the sport, he was the face of my sport for so many years in this country."
Hoy is an ambassador for the 2014 Commonwealth Games and says his only regret about retiring is that he will not be able to compete in Glasgow, at the velodrome named in his honour.
David Grevemberg, chief executive of Glasgow 2014, said: "We respect Sir Chris Hoy's decision to retire from international competition and pay tribute to his spectacular achievements at the highest levels of elite world sport over the past two decades.
"Sir Chris is not only Britain's greatest Olympian, he is an inspiration and a first-class Ambassador for Scotland and the Glasgow 2014 Commonwealth Games."