Sir Chris Hoy: Lord Coe pays tribute to 'inspirational' and 'iconic' athlete
Lord Coe has paid tribute to Sir Chris Hoy, describing the retired track cyclist as an "icon".
Last Updated: 18/04/13 4:36pm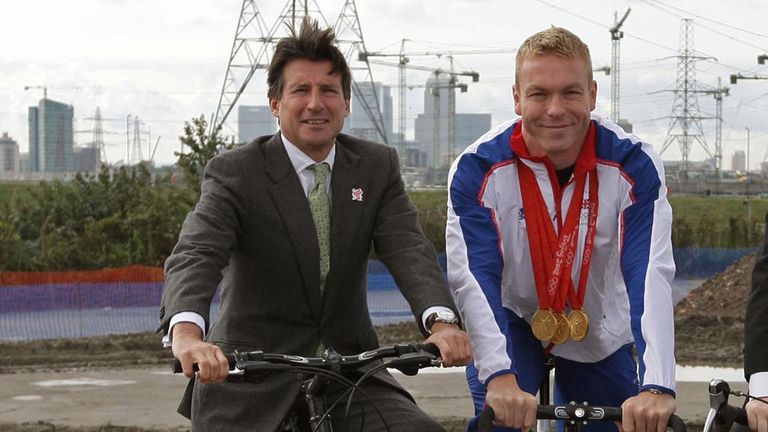 Hoy, who carried the British flag at the opening ceremony prior to the London Olympics last summer, retires as Britain's greatest ever Olympian, having won two golds at the 2012 Games to take his career total to six.
And Coe, a dual Olympic gold medal winner himself, who then headed the organising committee for the London Games, believes Hoy has set an example which younger athletes should try to follow.
"Throughout his remarkable career, Sir Chris Hoy has exemplified the values that define an Olympic champion," Coe said.
"His pursuit of excellence has been tireless. His respect for opponents, and commitment to clean competition, has been unwavering.
"And his dignity in victory has set an example that generations of Team GB athletes will strive to emulate. Chris is an icon and he has earned a revered place among our nation's greatest sporting heroes.
"His gold medal triumphs this past summer in London are two of the defining moments of the Games, and were a source of pride and inspiration for millions throughout our country.
"We are grateful that Chris has chosen to continue his association with the British Olympic Association by serving as a Glasgow 2018 Champion in its bid to host the Youth Olympic Games.
"As he transitions now from his unparalleled competitive career and takes on a series of new and different challenges, we wish Sir Chris the very best for continued success, and we thank him for his commitment to Team GB and the Olympic Movement."
Twitter reaction
David Cameron, Prime Minister: "Sir Chris Hoy's retirement marks the end of a remarkable career. His contribution to British sport & 6 Olympic golds will continue to inspire."
Victoria Pendleton, former Olympic track cyclist: "Sir @chrishoy has been an incredible ambassador for cycling, not only nationally but also globally. A huge inspiration throughout my career."
Matthew Pinsent, former Olympic rower: "Congrats @chrishoy personal inspiration to me in '04. Must see for me in '08. Bucket list moment in 2012. Peerless on and off the track."
Ed Clancy, Olympic track cyclist: "We couldn't have hoped for a better ambassador for our sport. A genuinely nice guy and an Olympic legend. Thanks Sir @chrishoy !"
Joanna Rowsell, Olympic track cyclist: Congratulations @chrishoy on a fantastic career. Feel privileged to have trained alongside such an amazing rider. You will be missed!"
Anna Meares, Olympic track cyclist: "Happy retirement @chrishoy An icon, a legend, a real life good guy!"
Philip Hindes, Olympic track cyclist: "What a career for @chrishoy ! An true Inspiration and always up for a laugh!"
Becky James, double world champion track cyclist: "We miss you training with us already @chrishoy! Bet you still wish you could still come on Majorca training camps!"
Dani King, Olympic track cyclist: "It's been an honour to be in the team with @chrishoy He is and will always be a legend of the cycling world and will be missed greatly."
Jess Varnish, Olympic track cyclist: "I've been so lucky to train with @chrishoy over the last few years. Such an inspiring, dedicated, phenomenal athlete! #GoldenHoy"
Jody Cundy, Paralympic track cyclist: "A legend of our sport stepping down today. You are are hero and inspiration to all, Thank You @chrishoy"
David Coulthard, former Formula One driver: "Living legend, not a bad career."