As Operation Puerto trial ends, Orla Chennaoui considers impact
The trial of Eufemiano Fuentes, the Spanish doctor at the centre of the Operation Puerto doping investigation, is set to end on Tuesday. Here Sky Sports reporter Orla Chennaoui blogs on the implications of the case for cycling and sport in general...
By Orla Chennaoui
Last Updated: 03/04/13 8:38am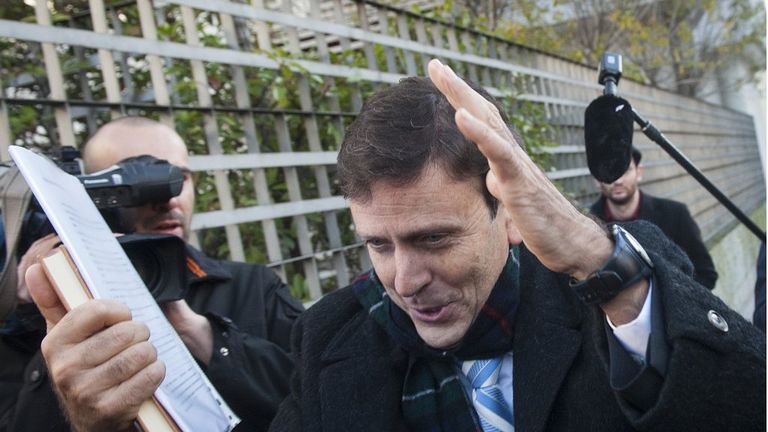 Once again the sport has been forced to wash its dirty linen in public. Once again the details of past misdemeanours have been shocking.
Dr Eufemiano Fuentes, the man said to be the ringleader of the alleged doping ring, was accused in court of providing athletes with a drug derived from calf blood, and a blood booster meant for dogs. One witness claimed he would joke with fellow team mates that depending on the product of choice that day, they would either be mooing or barking while riding their bikes.
Then there were the allegations of a complete disregard for the medical practices needed to make blood transfusions safe. Extractions and reinfusions in hotel rooms, blood transported in cheap wine boxes, blood bags mixed between athletes... Little wonder Tyler Hamilton claimed his urine turned black shortly after receiving a badly stored blood bag.
And yet, this trial could turn out to be a crucial part of the healing process cycling so desperately needs.
Sure, not many of the witnesses were willing to tell such graphic accounts of the darkest days of the sport, but some did.
Can we really say the same of other sports?
Since the 200 or so blood bags which kicked off the investigation were discovered in 2006, some 50 cyclists' names have been leaked.
Dr Fuentes claims most of his clients were athletes from other sports - namely boxing, track and field, tennis and football.
Yet there's hardly been a clamour from within those sports to contact the authorities and try to root out the cheats in their midst.
As cycling's proverbial hand was forced though, so too could that of the wider sporting world.
Storm
The Spanish and World anti-doping authorities have asked Judge Santamaria to hand over the rest of the blood samples, to begin the laborious task of identifying which other athletes, and crucially from which sports, joined the named cyclists in their quest for 'greatness'.
If she does, many sportsmen and women, as well as sporting federations, would do well to look at the mill cycling has come through, and work out a positive, pro-active way to deal with any impending storm.
We don't yet know how dark and deep-rooted this problem might be in other sports. Many sports fans may not want to.
If the anti-doping authorities have their way, there will be little choice.
It's been a depressing year already for the avid sports fan after the varied magnificence of 2012.
There could well be worse to come.