Tour de France: Chris Froome riding into history on Champs Elysees
Follow Sky Sports News reporter Orla Chennaoui's daily Tour de France blog.
Last Updated: 21/07/13 7:56pm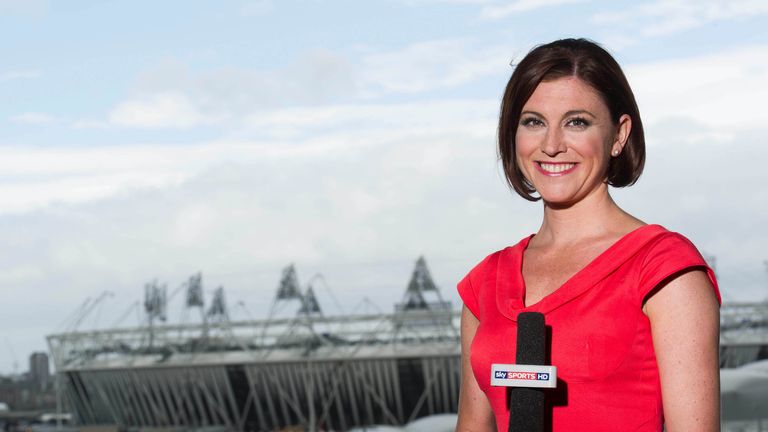 The most famous boulevard in cycling is already full of Union flags and South African supporters as fans line the Champs Elysees for the biggest day in sport.
Froome may not yet enjoy the fame of last year's winner Bradley Wiggins, but he has the demeanour and attitude to become a true sporting hero.
Chatting to a group of school friends this morning, the image that emerges is of a determined, level-headed, sports mad, harpoon fishing gentleman.
Cutting his cycling teeth on the roads of South Africa, while his friends would train for victory in local races, Froome was always determined to end up racing in Europe.
Something of a dreamer according to his fiancee, Michelle Cound, his ultimate dream was almost scuppered by sensible thinking. He briefly entertained the idea of becoming an accountant, before his mother urged him to follow his heart.
That she passed away before seeing her son realise his ambitions on the biggest stage in the world makes today's victory somewhat bittersweet. But as Michelle said to me this morning: "She would have been incredibly proud of Chris. Especially today."
And there may be many more days like this to come. Those in the sport certainly believe he has the ability to win several more yellow jerseys in his career. He might want to get used to enjoying the Tour celebrations today. He may have to.
Few victories could match that of the centenary Tour de France though. As Mark Cavendish knows only too well. He's gearing up for his own assault on the history books, attempting to beat his record of four consecutive stage wins on the Champs Elysees.
There are certainly plenty of fans lining the route to cheer him along the way.
It all bodes well for next year's British Grand Depart. For now though, it's all about the party in Paris.
Saturday, July 20: Getting to know Didi 'El Diablo' Sefdt
El Diablo, as he's known, has been following the Tour for some twenty years, so we thought it was only right that we track him down and follow him on his journey to Paris.
I can tell you, a day with the devil is as fascinating as it is fun.
Swamped by supporters wherever he goes, Didi Sefdt - as he's known for the rest of the year - clearly relishes his role as unofficial mascot.
There's no such thing as sitting in traffic for the sprightly pensioner. Instead, he jumps out of his customised van, trident and horns at hand, to run through the temporary motorway car park, causing mayhem and posing for pictures.
Even a quick stop off by a lakeside lay-by leads to an impromptu baptism by a band of hardy locals.
Having grown up in East Germany, Didi had to secretly invent a special antenna as a boy to be able to watch the Tour every year.
Now fans tune in to watch him as he runs alongside the riders in his own, diabolical fashion.
Back to the race itself and while many have already crowned Chris Froome the race champion, there is still one tough day of climbing ahead.
That said, his grip on the leaders jersey is looking unshakeable just now.
As we've said many times, anything can happen in the Tour de France, but it would take one hell of a shocker for Chris Froome to arrive in Paris wearing anything but yellow.
Friday, July 19: Froome hopes to put illegal feed troubles behind him
It's these kinds of rules that can make the sport so baffling to the newbie, but reveals much about the largely unseen tactics of the sport.
Ostensibly, the ban on fresh feeds within the final 6km is to prevent riders from adopting the "sticky bottle" method of racing, or so I'm told. For those aforementioned newbies, that's when the rider takes longer than strictly necessary to take a bottle from the team car, getting a little pull along the way.
While Chris Froome wasn't looking for a literal helping hand, he knew he was breaking the rules by asking for gels so close to the line.
But bike racing is all about calculation and weighing up the gains to be had against what's to be lost, be that effort, energy, or in this case, time.
In the end 20 seconds should matter little to the overall race lead, although Froome and his coach Rod Ellingworth conceded at the team bus this morning that today could be a more decisive stage than yesterday.
Indeed, cycling legend Sean Kelly said as much yesterday. While this may be the toughest week of climbing the Tour de France has ever seen, it would take quite a shocker to slice over five minutes off the race lead at this stage.
Froome is certainly looking comfortable and confident. Plus, as he joked this morning, he's had a good meal so he's feeling good.
As a fan joked as he took to the rollers: "Don't forget your lunch, Chris!"
It raised a smile, but it's hardly likely today.
Thursday, July 18: Fans in for one heck of a show on Alpe d'Huez
When the Tour de France organisers first introduced an Alpine climb to the race in 1910 the first man to scale the summit, Octave Lapize screamed; "Vous etes des assasins!"
Their modern-day incumbents must surely have had a masochistic moment when they dreamed up today's stage. A climb up the iconic Alpe d'Huez not once, but twice.
When the course was unveiled in Paris last year there were gasps in the auditorium when stage 18 was presented. Smiles on the lips of those who relish witnessing suffering, set grimaces on the faces of those who'd have to go through it.
The pain is softened somewhat by a lack of climbing en route to the mighty mountain, but the descent down the other side before take two, will surely have many of the peloton on edge already.
Storms are predicted for this afternoon, and there was talk of abandoning the second ascent, should the race down become too treacherous and tricky in the wet.
As yet, the rain has been falling, but there's no sign of ASO, the organisers, pouring water over the fiery spectacle.
Should they decide to do so mid-race, it could wreak havoc with teams' race plans. But after the confusion that kicked off this race in Corsica, it would take a lot for the route to be changed mid-race.
One thing we can be certain of is a massive mountainside party. As we drove up yesterday the campervans were in place, flags were waving, beers and barbeques on the go.
With music blaring through the town, cycle-happy revellers were danced in the streets all night, and from the early hours of this morning, spectators were taking their spots by the finishline.
The riders are in for a tough day in the saddle. The fans are in for one heck of a show.
Wednesday, July 17: Time trial offers chance for Chris Froome to prove his pedigree
Chris Froome has already proven himself to be the purest all-rounder of this year's Tour de France and shouldn't be caught out in today's time trial.
They call it the race of truth, the purest discipline, the individual time trial.
Indeed, it's easy to think the race left is for second place but as Team Sky wingman Geraint Thomas told us after his morning's effort: "If Froome gets isolated again, it's a risk, but the way Richie Porte and Pete are climbing, that shouldn't happen."
"A lot can happen but looking at the way he's going it would take a lot of effort to take away his lead."
I think that's what you call quiet confidence. And confident they should be. With a hilly technical time trial, Froome would be able to hold something back for the tough days ahead should he so wish.
As for the other Briton who started the race with jersey hopes, Mark Cavendish may have lost sight of green, but he'll be hanging on with everything he's got in the mountains to make it to Paris, and another shot at glory.
Certainly he left little on the road today. Coming back to the team camper van this lunchtime he promptly dropped flat out on the sofa inside, clearly exhausted from his effort.
It's not only stage winners who give it their all. Speaking to us after he'd recovered, the Manx Missile was in good spirits and confirmed he'd felt reassuringly sprightly after a stomach upset yesterday. "I felt surprisingly OK today, but I take every day as it comes."
The day that matters most for the world's fastest fast man is, of course, the Grande Finale on Sunday.
His rivals seem to be betting already on an historic fifth win in a row on the most famous boulevard in cycling.
As Greg Henderson the lead-out man for Cavendish's main rival, Andre Griepel, commented on his way back to the team bus this morning: "The spar for sprint may have evened out somewhat this year but the Champs-Elysees is his. He has expertise there. It will be hard to beat him."
Cavendish's love for what's known as the sprinter's world championship is as well documented as it is unwavering: "The Champs Elysees is the most prestigious sprint finish in cycling", he said outside the team van. There's a lot of great sprinters here and it's not going to be a walk in the park but we will see.
First he and the rest of the peloton will have to see off what's been billed the toughest week of climbing in Tour de France history.
Alps d'huex here we come. Not once, but twice.
Tuesday, July 16: Rest provides little respite for Chris Froome
I can't imagine many riders actually look forward to the end of a rest day, but it wouldn't surprise me if Chris Froome was relieved to get yesterday behind him and get back to doing his talking on the road.
That the race leader was bombarded with questions on doping, rather than praised for his stunning performance the previous day, was of little surprise. That Froome handled the pressure and repeated press insinuations with poise and calm was a measure of the man as well as the bike rider. That these questions have to be asked at all, is what upsets the most.
It's currently impossible to ignore the spectre of the past casting a shadow over peformances on the road, as well as the ensuing press conferences. The question is, when will we be able to move on? Of course, the main responsibility is on the riders and teams to race clean, and the onus is on reporters to ask the questions and do the digging. However I do lament somewhat the temporarily forgotten principle of journalism, whereby suspicion alone is never enough to go to print, or to go to air.
In the days of social media have we gone from "we knew about Lance but couldn't say anything" to, "better safe than sorry." If the presumptions are wrong they'll all be forgotten. Right? Well then you can bask in the glow of "I told you so."
It's worth noting the cauldron of intensity and emotion that is the Tour de France. There was no such scrutiny and scepticism when Vincenzo Nibali dominated the Giro d'Italia for much of the race. Not that I'm saying there should have been. But the French are, quite rightly, very protective of their race. It's a country where, uniquely, the use of performance-enhancing drugs is a criminal offence. They and their media take the matter seriously, as indeed they should.
But sooner or later we're going to have to find, if not a happy medium, then certainly an agreed middle ground where the cheats are caught and punished and we're not afraid of applauding truly great sport.
Speaking of which, that's what we've been promised in the final week of racing, hailed as the toughest in the Tour's 100 years.
Before we hit the high mountains, the smart money today, Sagan surprise aside, would be for a breakaway to make it. After his valiant efforts on a number of stages, including Bastille Day's 15th, Sylvain Chavanel is clearly salivating at the thought of a stage win.
It's a day that should suit him, and a win that would give the French headline writers something to celebrate at last.
Sunday, July 14: Time to tackle Mont Ventoux
This is it. The big test. The one we've all been waiting for. The first day we'll really see just who has the form, the mental fortitude and the flair to put their definitive stamp on this race. It's time for the Giant of Provence, Mont Ventoux.
That the mountain is also known as God's Tomb, and possibly best known in cycling folklore as the final resting place of Britain's Tommy Simpson, would indicate it's not the cheeriest of challenges. Certainly, when the Etape du Tour last visited Ventoux a few years ago, (that's an amateur race replicating a stage of the Tour) I clearly remember seeing the thousand yard stare on the faces of the hardy souls determined to get the better of the legendary climb and thinking, so this is what purgatory looks like.
It will be particularly hellish for anyone who finds themselves exposed and alone on the scorching hot lunar-like slopes. As such, all eyes will be on Team Sky. Have they really recovered from the crashes and crushingly punishing efforts of the first two weeks? They can put on as much bravado and bluster as they like, but today we'll find out the truth. There's nowhere to hide in this barren landscape.
There are fewer doubts over Chris Froome. By far the most consistent and impressive rider of the Tour so far, he familiarised himself with Ventoux during a recon session in May, and says he's relishing the chance to do battle with the giant in anger.
With this being Bastille day, and all cliches of fireworks aside, we're sure to see an explosive day of action. There will be a few GC casualties by the end of the day, of that there is little doubt.
While it won't mark the end of the war, by nightfall we should have a clearer picture of who's likely to take the spoils of victory in Paris.
Let battle commence.
Saturday, July 13: A difficult race to predict
Stage racing often follows a certain formula. We can predict which days breakaways will be allowed to stay away. We can surmise when one rider or another team will have to start showing form or their race is over.
We know pretty much which riders will suit a certain parcours and so who's going to be in contention on any given day.
And one of the near-certainties of bike racing is that flat, sprint stages feature kilometre after kilometre of very little action, bar the entertaining farm display or two.
Then, soon after the publicity caravan rolls over the finish line, the peloton shakes itself from its rolling reverie, and starts to stride towards the day's breakaway like a pack of preying wildebeest before pouncing on the final sprint.
Well, yesterday was a day when the rule book was shredded to pieces. Much like much of the bunch.
For a start, the prize for combativity went to an entire team, Omega Pharma - Quick-Step, rather than an individual. The individual in that team going for the win - Mark Cavendish - took it not only from a breakaway, but after such a gruelling day that many believed only Peter Sagan would have had the strength to sprint to the line.
And you know that old adage about GC teams staying safe and having a relatively quiet day in the saddle on sprint days? Well Saxo-Tinkoff clearly don't. With the crosswinds calling for canny, courage and a dash of luck, they scented blood.
Riding a more impressive team time trial than on the day it was supposed to matter, they eliminated Alejandro Valverde from the competition, but possibly more importantly in the battle for yellow, they showed Chris Froome that they were coming to gatecrash his party.
While Mark Cavendish was hardly a surprise winner, he did defy the doubters and critics with not so much his win yesterday, but the manner in which he and his team pulled it off. That's how to climb to joint-third in the list of Tour de France all-time greats.
As for today, we may finally see a breakaway allowed the chance of glory. Certainly it would be no surprise to see. What many will be looking for though is the form of Team Sky on this last day before the big boy's battle with the mountains begin.
Given that they happened to share a hotel with Saxo-Tinkoff last night, I can only imagine the puffing of chests and bluffing of form on either side as they sat down to dinner. But they'll need to show swagger on the bike to try to regain the momentum they'll need to propel them to Paris. They've shown they're vulnerable. That's no bad thing because of they can show they can cope with anything the race throws at them, and still come out on top, they'll earn respect and support in spades .
Tomorrow may be the day to walk the walk. Today though, they'll need to talk a damned fine talk.
Friday, July 12: Is Marcel Kittel the new Mark Cavendish?
In a rare quiet moment in the office this morning, I took a quick look at which topics were trending on twitter in the UK, and was mildly amused to see 'Cav' featured alongside 'Horrible Histories' and 'The Chase'.
How poignant I thought. Given that the stage 11 urine-spraying incident will surely be remembered as one of the most horrible, indeed revolting, in the modern history of the Tour, and the fact that Mark Cavendish finds himself chasing stage wins rather than dominating them, it could almost sum up the plotline of his Tour de France so far. Albeit rather tenuously. I did say 'almost'.
But certainly the Manxman's Tour hasn't exactly gone according to plan. Last week I blogged that Cavendish sometimes bemoans the fact that many of us have come to take his seemingly effortless wins for granted. As I mentioned then, each and every win comes with the scalp of the best sprinters in the world.
With Marcel Kittel collecting enough scalps to make a wig as impressive as his quiff, there was talk post-race yesterday whether we were witnessing a changing of the guard. Kittel as the new Cavendish. The King of Sprints is dead. Long live the King.
Of course that's all rubbish. As we should have learned by now, no-one is invinceable.
Indeed such suggestion once again comes from the assumption that Cavendish will win, and if he doesn't, something's either gone wrong or he's on the way out.
Since it seemed like a textbook finish until the dying yards, the conclusion is it must be the latter.
But pre-emptive statements aside, I think we've all become a little more aware of just how tough a game this is. While Cavendish was making winning look easy, it was difficult for him to convince us it was anything but.
Now we know.
I'm sure it's not quite the way he would have liked us to finally accept the truth of his protestations, but maybe it's a small consolation that many of us now do.
As we know of course, there's nothing like the prospect of proving people wrong to fire up the Manx Missile.
Which must surely mean he'll win today. And in Paris. Oh dear, here we go again...
When it comes to international sport, it's easy to accuse the media of a home nation bias in their coverage. Indeed, every international press pack is naturally inclined to report on their own.
Thursday, July 11: British riders keep writing the headlines on stage 11
Sometimes it's difficult to step back and assess whether the stories that appeal to the partisan fan are really the ones we should be reporting on.
But at this year's Tour, it's hard to escape the Brits. Whatever the result, they're making the headlines.
Chris Froome's current 3min 25 sec lead is difficult to ignore, as is the incessant debate among sceptical onlookers over whether his performances are credible.
After the initial, inevitable suspicious questions, given the recent history of the sport, he does seem to be slowly convincing the doubters. After a few days of discussion around the much-touted, somewhat questionable measuring model developed by former Festina coach Antoine Vayer, yesterday Fred Grappe, FDJ coach and physiologist, added his voice to the counter argument. Without boring those already following the story with the details, the story is documented by Cycling Weekly on their website.
Froome's also winning over fans with his unfailingly polite manner, and somewhat ungainly riding style. Brits love a quirky gent, after all. If he keeps upright to Paris, and barring a drop of form in the mountains, we could well have another national sporting hero before long.
And you certainly don't need to be from the British Isles to have become caught up in the daily drama of Mark Cavendish.
So far we've had dashed hopes on day one, an historic and euphoric 24th stage win, that crash with Tom Veelers and the ensuing "dictaphonegate". One could have be forgiven for thinking we'd seen it all.
But no. To be sprayed in urine while carrying out your day job is not only disrespectful and disgusting, it's surely an arrestable offence. Words would fail me if it wasn't my job to produce them.
Ironically, Cavendish's reaction to the most vile expression of disrespect from a "fan" could well be what wins back the respect of those he seemingly upset.
By leaving the condemnation to others, he took the high ground he could arguably have taken with more consideration at the team bus the day before.
Rather than ranting, he simply expressed his sadness. Win today of course and he, his team and fans will all be happy.
But the last word on the incident should surely go, fittingly, to the race leader. He may not have made the international headlines with his surely bet-winning quote, but Chris Froome summed it up perfectly when he said: "Disrespectful. It just leaves a bit of a bad taste in your mouth."
Can't say I'd know, but you are the man in yellow Chris, so I'll take your word for it.
Wednesday, July 10: Cavendish causes a stir on stage ten
There's nothing quite like a Mark Cavendish sprint gone wrong to vex and vehemently divide the peleton and punters alike.
No sooner had Tom Veelers lost his battle with gravity than that bastion of reasonable thinking, twitter, was alight and indignant with proponents of both sides of the argument.
I confess to joining in the debate myself. Naturally. But not for long. I have neither the stamina nor the sure knowledge that my opinion is absolute. So I did the sensible thing for all and simply stepped out.
That Cavendish creates such heated discussion is partly because he's no stranger to controversy. Nor does he shy away from it. Remember the disqualifaction on Stage 14 of the 2009 Tour when sprint rival Tour Hushovd put in a complaint en route to winning the green jersey? Who can forget Cavendish's lead-out man Mark Renshaw's spectacular three-times headbutt of Julian Dean on Stage 11 in 2010?
The latter of course, could hardly be Cavendish's fault. He'd say the former wasn't either. But that's almost irrelevant. The point is, everyone seems to revel in a Cavendish controversy.
While the twitterati were divided, the riders were less so. From young guns like Taylor Phinney to the old guard of Robbie McEwan, most were taking Cavendish's side.
Only years-old rival Andre Greipel and his lieutenant Greg Henderson seemed to point the finger of blame. Henderson later clarified his position to deny he ever thought Cavendish was a dangerous sprinter, simply that he was at fault on the day.
Incidentally, it was a day in which Cavendish predicted chaos and carnage. In his Sky Sports stage-by-stage guide he predicted: "There's going to be elbows going, riders chopping, swapping, it's going to be one of those old school Tour de France bunch sprint finishes. After the rest day it's carnage."
The eternal problem of a sprint is that argy-bargy is always a part of it, and staying upright a struggle. The eternal problem for the commissaires is judging when the jostling crosses the (sprint) line. As for us watching at home, who've never raced in anger ilke the pros, I can only defer to those who know better. But then, everyone seems to know better!
On to today and while we'd fully expect a hopefully fully recovered Tony Martin to shine, I'd imagine Sir Dave Brailsford will be instructing all but Chris Froome to take it relatively easy. Apart from Ian Stannard, the Team Sky squad were noticeable in their absence on Stage 10. After their Herculean efforts on Stage 8, and the toll that had clearly taken on the legs the next day, it looks like they're being rested ahead of the hard days in the mountains. Froome should steal some more time in the time trial, but he can't afford to be isolated again.
Monday, July 8: Rest day gives Team Sky time to re-group
Tour de France rest days are fairly formulaic - riders take a (relatively) gentle spin on the bike, fans wonder what on earth they're going to do reluctantly get around to doing those chores, and journalists have a merry old time finding the story of the day in the absence of sporting action.
More often than not in recent Tours the latter endeavour is seen to by the almost-customary doping scandal when the peloton stops off in Pau. But the Breton breeze has seen off any such potential clouds for now, so instead it was time to move to more thoughtful consideration....
Have Team Sky overcooked it? How on earth did Chris Froome manage to hold off the Movistar mob to retain his lead? Just how long did it take for Orica GreenEDGE to produce THAT video?
I'm still waiting on the Aussie rockers to get back to me on the last question, but Froome addressed the second with a typically cool head at yesterday's press conference.
Pointing out the weeks of training spent away from away from families atop volcanoes, he said he wished more people could see that side of their preparation to understand what goes into their results.
Indeed, he said exactly the same to me when I did visit their Tenerife training base ahead of the Giro, that he wanted more people to see what they get up to. And before we raise that old twitter debate about how secretive, exclusive and frankly dubious that particular hideaway is, I should point out there were almost half a dozen Pro-Tour teams sharing the same base for the duration of my stay.
In fact I would usually stay in the same hotel as the team to ease the logistics of access, but given its popularity among the peloton now, there simply wasn't the room. I'm not claiming for one minute that reinforces or otherwise their stance on doping, but other teams are seeing Sky's training regime, up close for that matter, and attempting to replicate it.
Which brings us back to the first question. Is what they're doing too much in a way? Have they overcooked it? Former British road champion Brian Smith thinks so. Chatting to him in the studio this morning he feels the training regime, extreme weight management and intensity of preparation may work for the likes of Froome and Wiggins, but that others may be pushing themselves too far into the red.
Now I don't need to imagine what Sir Dave B would say to that, nor indeed what colour it would turn the air.
While Froome can certainly hold his own in many circumstances, don't think for a second the others won't be sacrificing more blood, sweat and tears to make sure he doesn't have to. They wouldn't be on the team otherwise.
What I do know is we will probably have to wait a few days to really see what effects the tolls of week one will have taken on the squad, and the others contesting the GC, given the flatter days ahead.
Here we'll be looking to another British rider to provide the headlines.
Sunday, July 7: Froome proves he is worthy of the yellow jersey on stage nine
It's become easy to think you can predict how Team Sky are going to dominate a race.
Today's stage for Chris Froome was anything but easy. And for all the questions pre-stage, he's shown why he's a worthy wearer of the yellow jersey
When I sat down to try to pen some bon mots on what was possibly an early decisive stage eight of the Tour de France, there was little I could think of that hadn't been said already.
Chris Froome has proven his imperious form in fashion. The rather lovely synchronicity in taking yellow, once again, on the second Saturday of the race meant we were possibly looking at another two weeks of Sky dominance, defence and, for some, dull riding. And again we see a deluge of (asking for trouble here but...) lazy and libelous Twitter comparisons between Team Sky and US Postal back in the day.
On the latter matter I'd refer you to the thoughts of a rival channel's blogger @saddleblaze. He's not claiming to provide answers, simply addressing the questions.
However, if I had tried to commit thoughts to laptop, I would have had to throw any pre-written script out of the proverbial window. Because only a fool would deem the Tour de France to be predictable.
So much for the dominance of the "Death Star" team, as they're sometimes (un)affectionately known. Their struggle to overcome the limitations of human ability, heat and attacks from other teams can only be a good thing for this year's Tour. Not to mention for the armchair fan who wants to see some riveting rivalry on the roads of France.
As Chris Froome said when I visited their Tenerife training camp ahead of the Giro: "It's great that you're here. We want everyone to see what we're doing." Why? "Because it's boring."
As a cycling enthusiast I certainly wouldn't say it was boring, but seeing how many other teams were sharing the same hotel and doing pretty much the same thing, was a revelation. For all the criticism of the steady, systematic adherence to "numbers", power output and daily measuring of a rider's form, other teams are following suit.
Every single rider has come here wanting to taste victory in some way. Every single one wants the hard yards to pay off. As we saw on the roads of southern France today, those spoils are hard won.
Saturday, July 6: Time for climbers to rise to the occasion on stage eight
If the race so far has been a chance for the sprinters to stretch their legs, and for us spectators to relish the brilliance and brutality of a bunch sprint, today is the day the GC riders can start to show us what they're made of.
The first mountain-top finish of the centenary Tour de France is hardly going to be decisive, but it will show us who's emerged from the crashes and chaos of week one in tact, and with the legs to carry them to the Alps.
So far Chris Froome has played his hand perfectly. His Team Sky squad haven't shown the same dominance that we've come to expect. But for the casual observer, that's no bad thing. Their main man has already given us a glimpse of the form he's harbouring beneath the surface with his burst up the Corsican climbs on stage 2.
Despite their injuries the team seem in good spirits. Their pre-race demeanour was quite striking for anyone who's spent time with them pre-Tour in the past. Relaxed, and refreshingly jovial, these guys are confident they have the potential of another win in their sights.
As for Contador, we're still waiting to see his true form. Claiming he was only at 75% of his best at the pre-Tour warm-up, the Criterium du Dauphine, the Spaniard said he was closer to 90% coming into the race.
As Sean Kelly, the legend of the Classics, said to me before the race got under way, if Contador is in that kind of shape, we'll see it in the mountains. And Froome will feel it in the legs.
Today will be our first glimpse of what they, and the other big contenders, have to offer.
It's been a frenetic, fascinating week of racing already. Here's to the fight for yellow getting under way.
Friday, July 5: Mark Cavendish will be looking to make amends on stage seven
If yesterday's crosswinds and certain sprint finish led to nerves, crashes and upsets in the peloton, today should be slightly more straightforward.
As the route heads inland it leaves the sea breeze behind and heads for the hills.
So it may surprise some to learn that the bookies have Mark Cavendish down as favourite for the stage. The Manxman and mountains don't tend to mix.
But the climbs shouldn't be prohibitive for Cavendish, and after the misfortunes of yesterday, he'll be seeking to avenge defeat and notch up another win. Nothing ignites the fuse of the Manx Missile quite like not winning.
Peter Sagan has yet to take a stage at this year's Tour and it's a day that suits the Slovak.
You can't discount a breakaway on route like this, but if it comes down to a sprint, expect more fireworks and a frenetic, fast finish.
Thursday, July 4: Mark Cavendish continues to re-write history books
Mark Cavendish often complains that we've come to take his spectacular sprint success for granted.
Win and we nod sagely, having already predicted that would be the case. Lose? Well that's a different story. That IS a story.
Having been personally berated by the former world champion for slipping into suspected complacency, I've given the matter some thought.
Now, anyone who's witnessed my over-excitement at the business end of a bike race will know complacency isn't really my thing, but that's beside the matter. Because in many ways the rider who can already legitimately be called a cycling legend, does have a point.
We're no longer surprised by the seemingly super-human burst of speed, the almost freakish ability to read a race and the Houdini-like talent of creating a gap from nowhere to escape the tight pack of riders and sprint solo to the line.
To be fair, though, it's not our fault he makes it look so darned easy. Easy, though, it's anything but.
Because to undervalue the achievement of each and every win, is also to underplay the strength of Cavendish's rivals. These guys aren't along for the fun. They spend their entire year training through rain, pain and punishing regimes for their chance to beat the best in the world, at the best bike race in the world.
And sprinters are a fiery bunch. You only need to witness the furious banging of handlebars or pained grimace of disappointment of the also-rans at any finish line to see how desperately they want the win. The fact that they do win on many occasions is also a reminder that no one is unbeatable.
But what we're witnessing is the making of history. With 24 Tour de France wins, Cavendish stands in the shadow of only three riders in the 100 year history of the event. And one of those is Eddy Merckx.
Another win today and he'd be joint third. If he were to take each of the remaining stages he's targeted - 10, 12, 13 and 21 - he'd sit in equal second with French hero Bernard Hinault.
But again, to pre-empt any potential wins is to suggest they would in some way be easy, so I'll just leave it there.
Of course, Cavendish could hang up his wheels today and still have a solid place in the history books. He won't, of course. And with any luck, we'll have many more chances to take such spectacular racing for granted.
Wednesday, July 3: Orice-GreenEDGE impress in stage four team time trial
It may have taken four days and the fishbowl environment of a team time trial to prove to us that Cofidis are, in fact, riding this year's Tour de France, (honestly I saw them on TV and everything) but there's been no such anonymity for the team providing all the drama so far, Orica-GreenEDGE.
While the sponsors were the only parties to reap any rewards from the unfortunate bus incident on day one, the riders have since been enjoying their spoils of victory.
They may not welcome the comparison, but the Australian outfit are, in some ways, an Aussie version of Team Sky. A spiritual home for cycling compatriots, they too have taken until their second year to deliver on promised talent at the Tour de France.
They may not be planning on holding onto the yellow jersey all the way to Paris, but they've taken it on their backs sooner than their British rivals, and will be looking forward to showing it off today.
And it's a day that Mark Cavendish has had marked with a proverbial red-tipped pen. It's not so much a pure bunch sprint, more what the former World Champion calls and Italia-style sprint, one in which the fast men will have to work over the climbs to earn the right to contest it.
And if Cavendish was targeting the stage before the race even got underway, we can only guess at how badly he wants it after being denied the chance to push his legs to the limit on day one.
From his Twitter post, it was clear that he was hugely disappointed to be denied team victory yesterday by less than one second.
It's not going to be an easy one for the British National Champion to win. But a Manx Missile all fired up will be more like a lunar rocket. Sprinters beware.
Tuesday, July 2: Thomas fights through pain barrier in TTT
Riding through the pain of a fractured hip, even getting his leg over the bike at the start of stage three was an achievement, never mind enduring the hilly, twisty Corsican roads that followed.
The Welshman is hard as nails. Of that there is no question. But his determination to continue is also an indication of just how much he wants to be a part of this Tour de France team.
"G", as he is known on the team, sacrificed a place at Sir Bradley Wiggins's winning side last year to go for glory in the Olympics. He doesn't want to miss out on the chance of helping deliver yellow again under the leadership of race favourite Chris Froome.
Indeed, I hear that team bosses were holding Thomas up their sleeves as an extra card to play should they need it, such was his form coming into the race.
For all his mettle, today will test Thomas's pain threshold to the limit. The plan is for the Olympic champion to drop off the pace early in the team time trial, but he still has to finish within 10 per cent of the time of the rest of his team, so he will essentially be doing his own individual time trial for the length of the course.
Team Sky will be hoping their chances won't be hampered too much, since all talk is of a new rider in yellow by the end of the day.
One of their main rivals has to be Garmin-Sharp - maestros of the discipline who will be doing everything they can to ride David Millar into the lead.
The 36-year-old Briton took to Twitter this morning to nail his colours to the mast. He tweeted: "I lost the yellow jersey in a TTT 13yrs ago. I get a chance to take it back today & there isn't another team I'd rather be on to do it."
Sticking with the same medium, the Twittersphere was aflutter with predictions this morning, which were all basically variations of a theme.
Garmin, Sky, Omega Pharma - Quick-Step, Movistar - any one could take the win without surprise. And don't rule out BMC either. With Cadel Evans and Tejay van Garderen both in top form, they are the bookies' fifth favourite.
With 71 riders within one second of the lead, nothing will be left in the tank by the end of the 25km in Nice
Monday, July 1: Dog almost causes more carnage on stage two
When will dog-owning Tour de France-loving fans ever learn?
You would think past experience would be enough to teach supporters to keep their pets on a lead as they unleash their excitement.
In 2010, a similarly enthusiastic hound floored David Millar, also on stage two, meaning he had to ride the remainder of the three weeks to Paris with two broken ribs.
And who can forget Philippe Gilbert's outrage when a careless owner made a dog's dinner of his day on stage 18 of last year's Tour.
Perhaps they should add Tour de France leads to the ever-present merchandise stalls. Or common sense. But that might be more difficult to market.
At least unlike the opening stage, the day passed without further incident, other than the rather unexpected victory of Tour debutant Jan Bakelants, who confounded the norm by holding off the chasing pack
And so to the last day before the peloton heads to mainland France. There will be a collective sigh of relief if the riders make it to Nice in one piece.
As Cadel Evans tweeted earlier: "Last day here in Corsica; beautiful place to visit, tough to race at..."
And there's sure to be another tough day ahead, albeit one that's shorter than usual because of the post-race cross-water transfer.
There isn't a single kilometre of flat along the roads of North West Corsica today, so the pure sprinters will expect to be spat out the back.
Will it be the day that Peter Sagan wrests back the green jersey he took to Paris last year?
Mark Cavendish will be hoping the answer is no, not only because of his points ambition, but because Omega Pharma - Quick-Step will be hoping to turn around their Tour fortunes and may well feel it's a day for Sylvain Chavanel.
After the somewhat surprising stage winners so far, there's no nailed-on favourite today. Expect to see Simon Gerrans have a go though, if only to get Orica GreenEDGE back in the headlines for the right reason.
Sunday, June 30: Stage one throws up more chaos than predicted
We knew we were in for a day of drama on day one of the Tour de France, but no-one could have predicted it would unfold in quite the way it did.
As media colleagues dashed from the press tent in a fit of frenzy while the peloton was still some 10km from the finish, something told me they weren't scrapping to snap the passing publicity caravan.
The fact that a team bus managed to get wedged under the finish line arch was met with mixed reaction. While I tweeted it was something of a 'disaster', others found it more than a little amusing. The common undercurrent though, was one of disbelief.
How that affected the race outcome is open to conjecture, but stage favourite Mark Cavendish was adamant the ensuing confusion caused the crash which floored his dreams of yellow along with a substantial portion of the peloton.
Team boss Brian Holm was typically sardonic when chatting to me about the incident later. "Rubbish things happen", or less family-friendly words to that effect, before stating unequivocally "we will win" (the green jersey). As team- mate Jerome Pineau said, when Mark Cavendish doesn't win, he comes back twice as strong. They may be down, literally in the unfortunate case of Tony Martin, but they're far from out.
Saturday, June 29: Let the show commence
So this is it. The 2013 Tour de France is underway, and for the 100th edition if the biggest bike race in the world, we're expecting something even more special than usual.
As I type, fans are lining the road by the finish line in Bastia, waving flags and wearing the t-shirts of their favourite teams, braving the blistering heat to get a ringside view of the action.
A small group of Slovaks have been camped for hours right on the finish, proudly clad in Cannondale green and clearly hopeful of seeing their hero Peter Sagan sprint past them with his hands in the air celebrating victory.
But while he won the sprinters green jersey last year, it's a day when many expect Mark Cavendish to reign supreme. He's the red hot favourite to pull the yellow jersey over his shoulders for the first time by the end of the day, but the outcome is far from inevitable.
After his final training ride yesterday the Manx Missile looked focused and serious but fairly relaxed.
Speaking to his team boss Brian Holm, it was clear there is an element of apprehension. We've come to almost take Cavendish's wins for granted, but every single one is hard fought for, and every one taken from the teeth of fierce rivals, all eager to overhaul the sprint king.
Today's stage is fraught with danger more than most. The start of the Tour de France is always nervous. Everyone has fresh legs. Every single rider has everything to play for. Crashes are a near certainty so the priority will be staying safe and upright. If Cavendish manages to survive that and any breakaways are brought back successfully, he's got to be the man to beat.
His fellow Brit going for glory in the overall race, Chris Froome has plenty of support at today's finish line. Team Sky fans aplenty are festooned in the blue and black of Team Sky. In contrast to the somewhat earnest atmosphere at Mark Cavendish's Omega Pharma Quick Step's team, the mood at the Sky camp was remarkably relaxed. The riders were quietly chatting, laughing and signing autographs. Chris Froome appears to be relishing his time in the limelight and his shot at glory.
Whatever happens over the next three weeks is sure to be dramatic. In its 100th edition this year's Tour de France will certainly be historic.