Mark Cavendish facing period of reinvention as Marcel Kittel and Andre Greipel bridge gap
Briton must adapt and improve after his worst Tour de France performance in six years, says cycling reporter Matt Westby
Last Updated: 24/07/13 10:42pm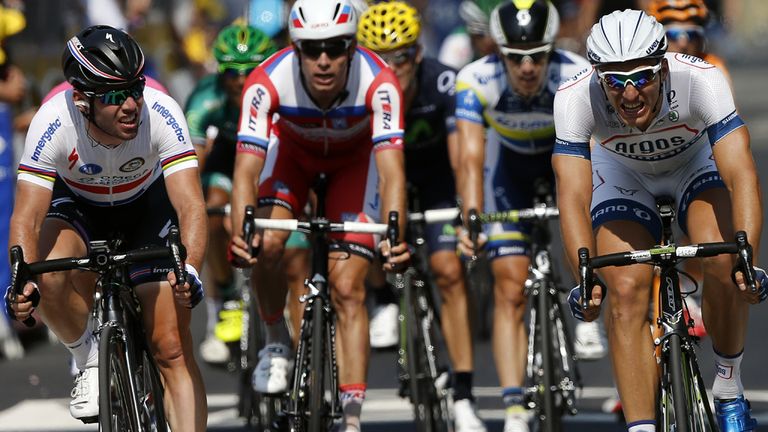 Win, lose or crash, there is no dressing up of the facts or hiding of the truth. No diplomacy or pandering to team PR. Only raw emotion, direct from the heart.
Sometimes he comes across as angry, sometimes arrogant, but even at his most offensive and obnoxious he is compelling listening and one of sport's great interviewees.
So his assessment of his poorest Tour de France to date (barring 2007, when he abandoned) is as intriguing as it probably is accurate, given that few know sprinting better than he does.
Cavendish won just two stages of the 2013 race, two fewer than new-kid-on-the-block Marcel Kittel, who beat him fair and square twice, including on stage 21 to inflict the Briton's first defeat on the Champs-Elysees.
'He was better'
"He was just simply better", Cavendish tweeted of his stage 12 loss to German Kittel, and then was equally frank on Sunday night when admitting: "Kittel was faster. I did 1,500 watts and, usually when I do 1,500 watts, I win by a few bike lengths."
It is a defeatist tone we are not used to. Cavendish made his name - and legend - by collecting race wins like passport stamps at a time when pedigree sprinters at their peak were few and far between.
This is not a criticism. He has made hay when the sun shone and nothing more can be asked than that, but now clouds are rolling in from Germany and the outlook has become gloomy.
Eddy Merckx's record of 34 Tour stage wins had appeared to be under serious threat but suddenly seems further away right now than at any other point in the past three years. The juggernaut is slowing down.
Rise of the Germans
It is not a crisis, merely a levelling of the playing field. Once it was Cavendish v The Rest; now it is Cavendish v Kittel v Andre Greipel v The Rest.
Just like Roger Federer raised the standard of tennis that Rafael Nadal, Novak Djokovic and Andy Murray have since followed, catching and overtaking the Swiss, so too Cavendish has lifted the bar for his fellow sprinters.
His achievements and dominance have forced his rivals to train longer, work out harder and ultimately sprint faster, to the extent that Cavendish has been caught and, on several occasions now, overtaken.
So to continue the tennis analogy, the ball is back in his court. It is Cavendish's turn to react, adapt and progress. It is time to prove himself all over again.
Indeed, building on what was previously considered perfection and reinventing oneself is the mark of a true great.
Time for reinvention
Look at last weekend's Open Championship. Phil Mickelson's belated mastering of links golf on the final day at Muirfield has been described as one of the finest rounds of all time and could do more for his legacy than any of his three Masters wins. History won't forget him after conquering his demons.
The task facing Cavendish has similarities. He has to find his weaknesses, eradicate them and overcome.
His ultra-low position on the bike is textbook and does not need to change, nor does his lightning-quick thinking, wily sense of positioning or eye for an opening. Kittel and Greipel remain no match in those departments.
But where the German duo appear to now be streets ahead is in raw muscle power. When Greipel took his jersey off mid-stage during the Tour to remove an under-vest, he inadvertently revealed an upper body worthy of the super-middleweight division. Kittel is no beanpole either.
Cavendish, on the other hand, still has the body shape he has had since his teenage years. There are no hulking biceps or rippling quads.
So maybe that is the answer: to hit the gym, pump some iron and add brute power to the myriad attributes that originally put him on the pedestal from which he is now in danger of being toppled.
Whatever Cavendish's answer is, whatever action he chooses to take to counter Kittel and Greipel, we can rest assured he will pull no punches when telling us about it.