Chris Froome special report: What it was like to follow the Tour winner back to Kenya
Sky Sports' Lia Hervey reflects on an enlightening journey
Last Updated: 30/12/13 10:34am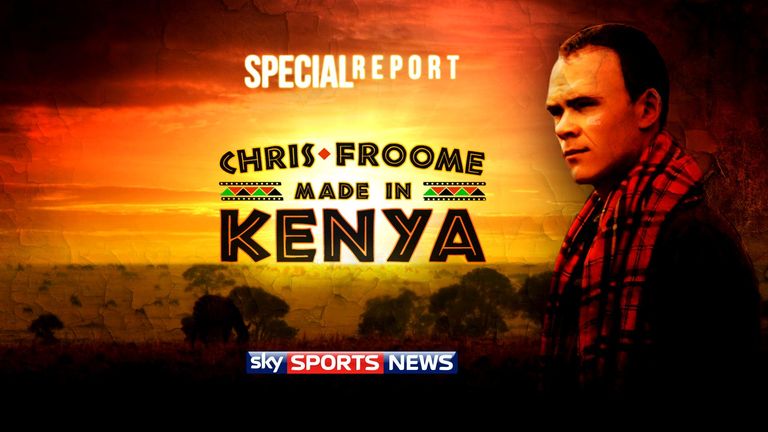 Bradley had been around for years, winning medals at the Olympic Games, world championships and slowly getting us ready for his Tour de France glory.
Chris came upon our consciousness rapidly, obscured slightly by Bradley's success.
He won bronze at the London 2012 Olympic time trial, but Bradley took the gold. At the 2012 Tour de France, he came second to Bradley.
Chris has been around cycling for a long time, but instead of training at the Manchester velodrome in the full glare of publicity, he was riding the high-altitude dirt roads of Kenya. The races he rode were in South Africa.
Few know about his unconventional youth in Kenya, his struggle to be able to ride professionally, the lack of a structured federation, personal tragedy and a life in a very British family, but in an African setting.
Uncoventional youth
His story fascinated me and my colleague Orla Chennaoui, so we asked Chris if we could follow him to Kenya when he returned.
The first stop was the Masai Mara. Chris spent a lot of time in the Mara as a child with brothers John and Jeremy and parents Clive and Jane.
In the Masai Mara, Chris would arrange little "surprises" for us, such as one day pretending there were elephants in the distance. As we looked, a whole tribe of Masai warriors ran at us screaming - Orla nearly fell off her chair in fear. Chris loved the joke and soon joined the Masais in their traditional jumping competition.
He arranged for us to have dinner in the bush, so as we sat eating, Chris hid among the bushes and jumped out on us, pretending to be a buffalo. Again more screams. Chris loved a prank, we soon learnt.
In Kenya we saw another side to Chris - one rarely seen by the cameras. There were times when you'd catch him looking overwhelmed. It was clearly emotional to come back and see his early friends, who hadn't seen him since he went from being the Mzungu (white man) in the village to the winner of the Tour de France.
Sadly we learnt why the Masai Mara meant so much, and the poignant reasons for his return. The last time he visited was with his mother, Jane, who passed away in 2008, just before his first Tour de France.
Cycling roots
Next, we travelled from the Mara to Nairobi, where Chris grew up, where he trained and fell in love with cycling.
The Kikuyu township is home to his first mentor, David Kinjah. Here Chris would mountain bike 200km on and off road with Kinjah.
The setting was so far removed from the slick look of the professional team buses and the glamour of the Champs-Elysees, which we now associate with Chris.
Kinjah aims to unearth hidden talent and develop world-class athletes from the under-privileged children of Nairobi.
The young "Safari Simbaz" crowd into Kinjah's corrugated iron shacks, where we found bikes, a kitchen and a tiny TV, where the boys had watched Chris ride to glory in Paris.
Far removed
Chris fulfilled Kinjah's own dream to ride the Tour de France, so the first reunion of two cycling buddies since Chris's victory was very emotional.
Those used to the entourage and finite planning at today's European bike races would be surprised to see one of these riders was once Chris.
He'd train with nothing more than a mountain bike, a few bananas and some very long roads. Chris was happy to take to the bike.
After years of struggling to keep up with Kinjah and the African riders, Chris had now earned his place in the Nairobi peloton.
"Chris Froome: Made in Kenya" - including Chris's video diaries for the 2013 Tour de France - will be screened on Sky Sports News on Monday, December 30, at 7.30pm and will be repeated on Sky Sports One at 1830 on Tuesday, December 31.