Women's Tour 2014 preview
We preview the inaugural five-day Women's Tour, where the world's top riders are in action across the country.
Last Updated: 07/05/14 10:14am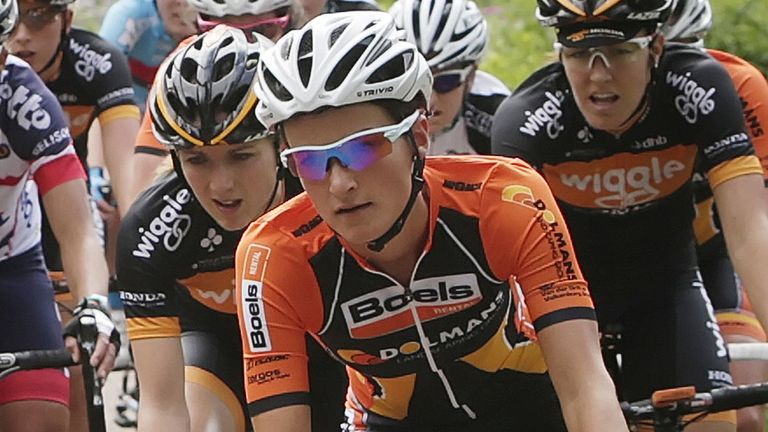 The five-day event has attracted the likes of world and Olympic champion Marianne Vos and a host of home favourites such as Lizzie Armitstead, Laura Trott and Lucy Garner.
The event takes place predominantly in the East Midlands and East Anglia, with rolling routes promising to produce compelling racing.
Here's how the race will pan out...
Stages
Stage 1: Wednesday, May 7 - Oundle to Northampton - 93.8km
The race opens with a rolling stage containing an endless barrage of short climbs. The finish line in Northampton comes at the top of a small ascent that could suit a punchy climber or sprinter who doesn't mind an uphill dash.
Stage 2: Thursday, May 8 - Hinckley to Bedford - 118.5km
Day two is the longest of the race and once again has barely a flat stretch of road on the route. This time the finale will suit late attackers who move clear of the bunch over the final two ascents of the stage. There is potential for a solo winner, while a reduced-bunch sprint is also possible.
Stage 3: Friday, May 9 - Felixstowe to Clacton-on-Sea - 90.5km
Arguably the most predictable stage of the race in terms of outcome, day three should end in a bunch sprint on the seafront in Clacton. Great Britain sprinter Lucy Garner will no doubt be keen to shine on this stage.
Stage 4: Saturday, May 10 - Cheshunt to Welwyn Garden City - 87.5km
The penultimate day of the race is the shortest, at just 54.6 miles, but a non-stop rolling route ensures there is no let-up for the riders. The late climb of Digswell Hill should prove decisive, with punchy climbers no doubt looking to attack over the top and then hang on down the descent into Welwyn Garden City. This stage has the potential to decide the overall winner.
Stage 5: Sunday, May 11 - Harwich to Bury St Edmunds - 108.3km
The race concludes with another undulating stage that should end in a bunch sprint, although if the gaps between the overall leaders are still small, there are enough climbs to offer scope for attacks and the racing is therefore likely to be fast and furious.
Ones to watch
Marianne Vos (Rabobank-Liv)
The best female rider of her generation and arguably the No 1 pound-for-pound rider in both men's and women's cycling over the past two years, Vos is nothing short of a phenomenon. Last year, of the 39 days she raced, she won 20 times, finishing on the podium in another nine - meaning she is almost always in with a chance of victory, irrespective of the type of stage. The reigning world and Olympic champion made a late start to her 2014 season but has already won on two of her four race days, so expect her to once again be right in the thick of the action.
Lizzie Armitstead (Boels-Dolmans)
Britain's leading road rider goes into the Women's Tour in the form of her life. In March and April, she went on a remarkable spree of finishing on the podium in ten of her 12 race days, picking up two wins along the way. After illness ravaged her 2013 season, the 25-year-old is back to her very best and her silver medal at the London 2012 Olympics is ample proof that she can raise her standards even further when racing on British soil.
Emma Johansson (Orica-AIS)
Last year's world No 1-ranked rider is enjoying another outstanding season. Like Armitstead, she heads to Britain on the back of an outstanding spring campaign in which she won three times and finished on the podium on another four occasions.
Lucy Garner (Great Britain)
The 19-year-old Briton is one of the brightest young prospects in women's cycling. A former double junior world champion, Garner is a sprint specialist who will be keen to make her mark on the Women's Tour's flatter finishes. She is yet to pick up her first win of 2014, but three podiums in the past couple of months suggest a victory is not far away.
Ellen van Dijk (Boels-Dolmans)
The reigning world time trial is a team-mate of Armitstead's and just as big a threat on her day. The 27-year-old won this year's Tour of Flanders with a superb solo ride and also finished fourth overall at last weekend's Festival Luxembourgeois du cyclisme féminin Elsy Jacobs, so she has fine form to go with her pedigree.
Brit watch
Katie Archibald (Great Britain), Lizzie Armitstead (Boels-Dolmans), Elinor Barker (Wiggle Honda), Hannah Barnes (UnitedHealthcare), Louise Borthwick (Matrix Racing Academy), Lucy Garner (Great Britain), Amy Hill (Great Britain), Ciara Horne (Great Britain), Hayley Jones (Great Britain), Emily Kay (Great Britain), Dani King (Wiggle Honda), Sharon Laws (UnitedHealthcare), Lucy Martin (Estado de Mexico-Faren Kuota), Harriet Owen (Matrix Racing Academy), Emma Pooley (Lotto Belisol), Jo Tindley (Matrix Racing Academy), Laura Trott (Wiggle Honda), Jessie Walker (Matrix Racing Academy), Helen Wyman (Matrix Racing Academy).
Key stage
Stage four. Two hefty late climbs have the potential to create race-deciding gaps in the general classification.
The jerseys
- Yellow: General classification.
- Red and green: Points classification
- Orange and white polka dots: Queen of the mountains.
- Red, white and blue: Best British rider.
- White: Best young rider.
Time bonuses
- 10, 6 and 4 bonus seconds will be awarded to the first three finishers on each stage.
- 3, 2 and 1 second will be awarded to the first three riders over the line at intermediate sprints.
Teams and riders
Astana BePink: Alena Amialiusik (Blr), Dalia Muccioli (Ita), Silvia Valsecchi (Ita), Susanna Zorzi (Ita), Michela Maltese (Ita), Alice Algisi (Ita).
Boels-Dolmans: Lizzie Armitstead (GB), Ellen van Dijk (Ned), Romy Kasper (Ger), Christine Majerus (Lux), Emma Trott (GB), Katarzyna Pawlowska (Pol).
Estado de Mexico-Faren Kuota: Uenia Fernandes Souza (Bra), Lucy Martin (GB), Fabiana Luperini (Ita), Rossella Ratto (Ita), Erika Yepez (Mex), Elena Cecchini (Ita).
Great Britain: Lucy Garner (GB), Hayley Jones (GB), Ciara Horne (GB), Emily Kay (GB), Katie Archibald (GB), Amy Hill (GB).
Hitec Products: Thea Thorsen (Nor), Ashleigh Moolman (RSA), Elisa Longo Borghini (Ita), Mirian Bjornsrud (Nor), Chloe Hosking (Aus), Audrey Cordon (Fra).
Lointek: Aude Biannic (Fra), Belen Lopez (Spa), Lucia Gonzalez (Spa), Sheyla Gutierrez (Spa), Fanny Riberot (Fra), Aurore Verhoven (Fra).
Lotto Belisol: Emma Pooley (GB), Amy Cure (Aus), Isabelle Beckers (Bel), Liesbet de Vocht (Bel), Anisha Vekemans (Bel), Chantal Hoffman (Lux).
Matrix Racing Academy: Helen Wyman (GB), Sigrid Jochems (Lux), Harriet Owen (GB), Jessie Walker (GB), Jo Tindley (GB), Louise Borthwick (GB).
Netherlands: Amy Pieters (Ned), Anouska Koster (Ned), Henriette Woering (Ned), Ashlynn van Baarle (Ned), Mascha Pijnenborg (Ned), Janine van der Meer (Ned).
Optum p/b Kelly Benefit Strategies: Lauren Hall (USA), Janel Holcomb (USA), Leah Kirchmann (Can), Joelle Numainville (Can), Denise Ramsden (Can), Jade Wilcoxson (USA).
Orica-AIS: Emma Johansson (Swe), Loes Gunnewijk (Ned), Shara Gillow (Aus), Annette Edmondson (Aus), Valentina Scandolara (Ita), Gracie Elvin (Aus).
Rabobank-liv: Marianne Vos (Ned), Annemiek van Vleuten (Ned), Anna Knauer (Ger), Roxanne Knetemann (Ned), Iris Slappendel (Ned), Sabrina Stultiens (Ned).
Specialized-lululemon: Chantal Blaak (Ned), Lisa Brennauer (Ger), Karol-ann Canuel (Can), Tiffany Cromwell (Aus), Elise Delzenne (Fra), Trixi Worrack (Ger).
Switzerland: Jolanda Neff (Swi), Linda Indegrand (Swi), Katrin Leumann (Swi), Ramona Forchini (Swi), Caroline Baur (Swi), Jutta Stienen (Swi).
UnitedHealthcare: Hannah Barnes (GB), Katie Hall (USA), Cari Higgins (Can), Sharon Laws (GB), Lauren Tamayo (USA), Ruth Winder (USA).
Wiggle Honda: Laura Trott (GB), Dani King (GB), Charlotte Becker (Ger), Giorgia Bronzini (Ita), Peta Mullens (Aus), Linda Villumsen (NZ).