Giro d'Italia Femminile: Lucy Garner confident of making her mark on debut
By Sam Drury
Last Updated: 07/07/14 5:01pm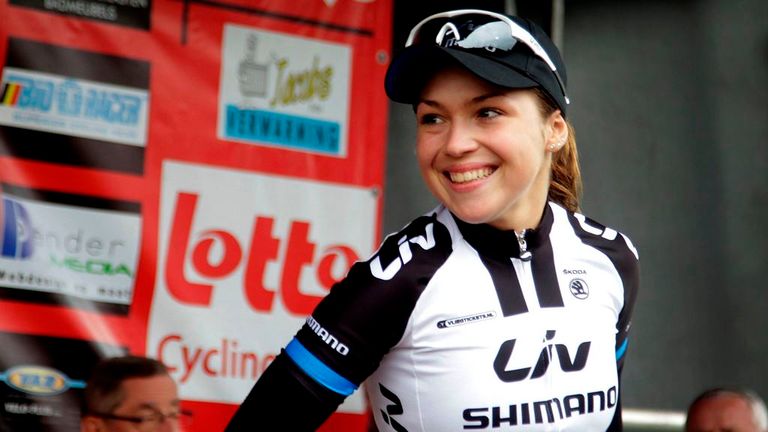 Lucy Garner is confident she can find top form to help Team Giant-Shimano in the Giro d'Italia Femminile starting on Friday.
The Sky Academy Sports Scholar will take part in the ten day stage race for the first time and is hopeful of making an impact.
Garner, 19, is in her second season with the senior peloton and has been in good form in 2014, finding herself on the podium on a regular basis in recent months, but knows that this will be another big step up.
It will be one of the biggest races that I've done in my career. It's going to be tough but I think I'm ready for it
Lucy Garner
"I'm really looking forward to it," she said. "It's going to be my longest stage race, ten days, so it's going to be pretty tough for me, especially with all the mountains.
"But I think it's going to be really good preparation for me and it'll bring me on afterwards so I'm really looking forward to seeing how I do in the stages."
As a sprinter, Garner is aiming to be in the mix during the earlier flatter stages and then provide support for Claudia Lichtenberg, a former Giro winner, in her pursuit of another general classification victory.
The race itself is an unknown quantity for the double junior world champion and she is grateful to have the confidence and support of her team as she prepares to venture into the Italian mountains for the first time.
"It actually makes such a big difference knowing that you don't have all the pressure on your shoulders," Garner explained.
Pressure
"Pressure does help you sometimes but for me being such a young rider, I have no idea how I'm going to do in these races and I've never ridden these stages before so I don't know how I'm going to cope with it.
"So for the team to let me do such a big race like this and not actually know how I will perform up the mountains and in the flatter stages, it's a nice feeling that they also feel I can get a result in the sprint, so that helps a lot."
Garner's final outing ahead of the Giro may not have gone to plan with a 25th place finish at the British National Road Race and she admitted there were no excuses for a performance that she said left her feeling "really disappointed in myself."
Before that though, Garner had achieved five top three finishes in six races, including victory at Zeilburg, and is confident she can rediscover that form in one of the showpiece events in the women's cycling calendar.
"It is really big. I think not many people know about because obviously the Tour de France also starts this weekend," she added.
"Everyone's eyes are on that which is a shame really because this is the biggest and longest stage race for women. It is a little bit of a shame.
"But it is right up there in the calendar, all the teams will be there and they'll be really on form for this as well. It will be one of the biggest races that I've done in my career. It's going to be tough but I think I'm ready for it."