Sky Academy Sports Scholarships: Lucy Garner geared up for final challenge of 2014
By Sam Drury
Last Updated: 26/03/17 2:24pm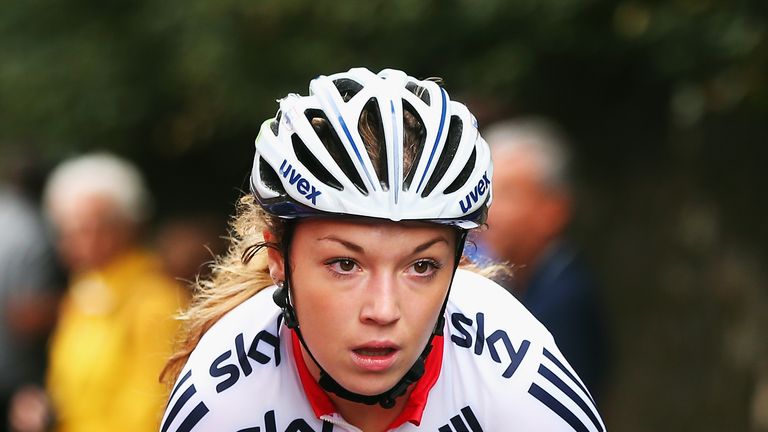 It has been a year of progress for Lucy Garner. The road cyclist is in just her second season as a professional rider and, after a difficult first campaign, she has really found her feet in 2014.
As well as achieving a number of podium finishes for Team Giant-Shimano, the Sky Academy Sports Scholar was also part of the England team that helped Lizzie Armitstead to road race gold at the Commonwealth Games and is now aiming for a place in the Great Britain squad for the UCI Road World Championships.
My eyes are really set on Rio actually and if I can keep improving in the way I have this year then I think I'll be in really good shape
Lucy Garner
If Garner gets the nod for the worlds, it would be her second appearance at the event, having made her senior GB debut at the race last year, but the 19-year-old feels she would return to the championships a vastly improved rider.
"I think this year I have really improved since last year," she told Sky Sports. "I can feel it physically and mentally. I do feel a lot stronger.
"I'm hoping that each year now I'm just going to grow and get stronger and stronger. My eyes are really set on Rio and if I can keep improving in the way I have this year, then I think I'll be in really good shape."
The Commonwealth Games provided a good gauge of just how far Garner has come as she turned in a selfless performance on the Glasgow course that had caused her a number of problems the year before.
'Really happy'
"I was actually really happy with how I performed because really that isn't my sort of course and last year at the nationals we had to do the same course and I didn't perform how I wanted to," said the two-time junior world champion.
"It was a really hard course; I don't think it really shows how hard some of the climbs are on the TV. They're not very long but they are really steep and they are pretty hard so for me to help out for the win and stay in the group that I did, I was really happy. Only 27 finished the women's race and there were I think 65 starters, so a lot didn't finish."
Indeed, a 20th-place finish may not make an headlines, but for Garner it showed the progress she has made and was proof that she is moving in the right direction after a winter of gruelling training on the continent.
"Obviously I've trained more on those type of hills and I've improved my climbing," she added. "I have more confidence in myself now, knowing that I can do it. It is really hard as a sprinter because you're always thinking 'flat is best for me', but it's nice that I can do that type of course as well."
With a Giro Rosa also under her belt in 2014, Garner has certainly not shirked any challenges and her impressive development has been just reward.
Now just one major challenge remains at the end of an exhausting season: the UCI Road World Championships in Spain and a final opportunity to show the progress she has made.