Proud Cataldo excited for Giro
Dario Cataldo is proud to be representing Team Sky at his home Grand Tour in what he admits will be a special race.
Last Updated: 04/05/13 10:53am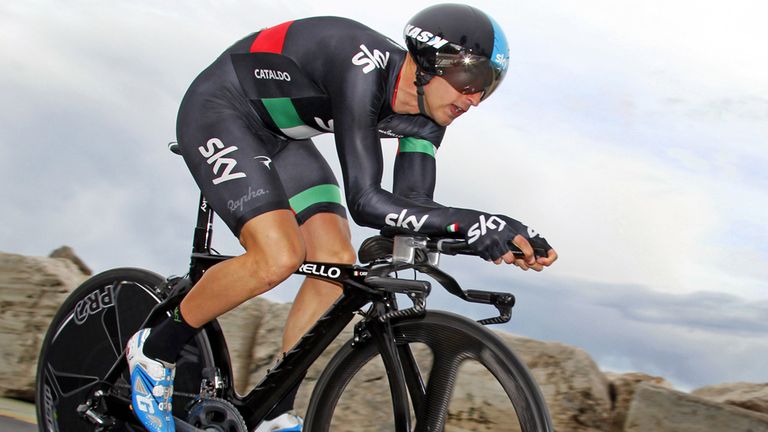 Dario Cataldo is proud to be representing Team Sky at his home Grand Tour in what he admits will be a special race.
The Italian has confirmed himself as one of the strongest climbing talents in the country and, with a pair of 12th places in the last two editions, has proven he has what it takes to star at the Giro d'Italia.
At 28, few riders have as many Grand Tours packed into their career as Cataldo, with the start line in Naples on May 4 set to be his ninth three-week jaunt.
That experience will be key to helping team leader Sir Bradley Wiggins in his quest to claim the pink jersey.
With the race fast approaching and after a strong start to life with Team Sky, Cataldo fills us in on just how it feels to be tackling the famous event.
"It's difficult to express just how much it means," he said on the latest Team Sky podcast. "It is the biggest race in Italy and the most popular race. People who don't necessarily follow cycling that much in Italy all follow the Giro d'Italia.
"For Italians it is a bigger race than the Tour de France. It is such a nice place to race and it is a beautiful event as a result of that."
Home comforts
The 96th edition of the Giro holds a special significance for Cataldo for a number of reasons, the first being his chance to campaign a national champion's jersey in a home Grand Tour.
"The Giro is always special, but especially this year," he confirmed. "For the first time I will go to the Giro with the national skinsuit as Italian time trial champion. To have the national flag, and to be riding on a big team like this, will be an emotional moment for me."
Stage seven of the race also passes through Lanciano, the birthplace of Cataldo and on roads where he first discovered his love of cycling, and the Giro.
"The race goes through Lanciano and a lot of places near where I lived and trained," he added. "I know the roads there metre by metre. I moved to Lugano this year, but Lanciano is the place where my parents still live.
"Not just my family, but all my friends and everyone I know who loves cycling in the region will be there on the roadside that day.
"It will be a special moment for me personally and naturally I want to do a good job, but for the team we have a big goal and that is to chase the pink jersey."
Fond memories
The Giro proved to be a draw even for a young Cataldo. Remembering back to his earlier memories of the race, it is clear why it is now such an honour to compete as a fully fledged professional.
"Before I was a rider, when I was six or seven years old, I went to the side of the road to watch the Giro as it passed to get some bottles from the riders," he explained. "Then, in 1995, when I started cycling I always went to the stages near my region. I wanted to see the riders up close - how they rode, how the teams worked and just to feel what real cycling was like.
"Racing in the Giro is always a dream come true. Every time I pass close to my house riding in the race I am instantly reminded about when I was stood there as a child. I always think to myself 'Wow, I am here riding with the big champions.' It's like a dream."
The race might be like a dream, but Cataldo is acutely aware of the reality of what it takes to win after three weeks.
When it comes to his role he is under no illusions: "I will be there to help Bradley," he confirmed. "The team is made for him and we will do our best to try and take the pink jersey. That's our big goal and we all share that. I will aim to be there in the latter parts of the race, especially in the mountain stages. We want to be the strongest team in the mountains this Giro.
"There is nothing better in cycling than to arrive at the biggest race in Italy with a team like this."
You can hear the full interview with Dario Cataldo in the first part of Team Sky's Giro d'Italia podcast series – available HERE.