Lizzie Armitstead blog: Tour of Flanders, Commonwealth Games and national road race are my goals for 2014
In the latest instalment of her blog, Lizzie Armitstead talks travel, training and targets for 2014.
Last Updated: 11/02/14 12:50pm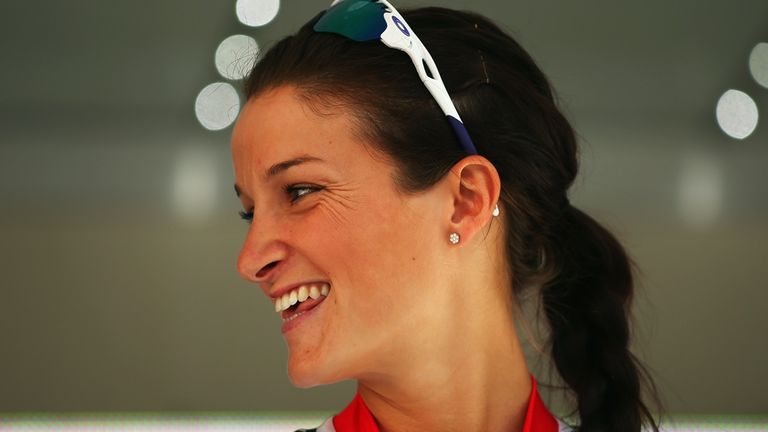 I've spent almost all of my 2014 so far travelling around Europe. I first had to go to Holland to pick up my new bike and then I went straight over to Alicante for a training camp with my Boels-Dolmans team.
I managed to fly home to Yorkshire for one night after that to get a Sunday dinner, but then it was back to the airport the next morning for a training camp in Gran Canaria, which is where I am now.
It probably sounds quite exotic, but it's quite a demanding lifestyle. Last year, for example, I took over 80 flights and spent a countless number of nights in hotels.
I know most people would love that, but believe me, it gets to the point where you just want to sleep in your own bed and cook your own meal. That said, if I am at home or in one place for more than ten days, I start to get itchy feet, so I'm probably more suited to this lifestyle than I think.
As for life on the bike, training is going really well. It is always difficult to tell, and you don't want to get too excited about how you are feeling, because you are not racing or training against the people you will be looking to beat later in the season, but I'm feeling pretty good so far.
My health is also a lot better than it was last year. I suffered with a hiatus hernia for pretty much all of 2013, but I am on medication for that now and the problem is more or less under control. I still have the odd day where I have to taper my training, but all in all I am feeling much stronger and it has made a huge difference.
As well as training, I have also been taking part in the Revolution Series track racing events, which has been a lot of fun. It's really hard racing, but it is nice to get back on to the track and have a bit of a burn-out. It also gives you something to aim towards and keep motivated for.
Commonwealth ambition
The crowds are a massive attraction for us riders as well. A lot of women's road races are supported by just a couple of parents at the finish line and the odd man walking past with his dog, so racing in front of thousands of passionate fans in places like the Manchester velodrome is too good an opportunity to miss.
That said, my main focus is still the road. I'm hoping for some strong results this year and I'm targeting in particular the Tour of Flanders in April, the Commonwealth Games road race in August and the British national championships in June.
The Commonwealths are definitely going to be a highlight of the year, especially as a British rider. If it is anything like the Olympics, the support will be incredible and it will be great to have cycling, and particularly women's cycling, in the public eye again.
But I'm not going there for the limelight. I want that gold medal. I have won silver at the Commonwealths in the past and am keen to add a gold. Plus, I really like the course we will be racing on in Glasgow. I won the British national title on it last year, so I know I can do well there.
Before all that, though, my first road race of the season will be the Ladies' Tour of Qatar next month. To be honest, I'm just hoping to use it as a means of getting back up to race speed ahead of bigger events.
British momentum
The main early-season focus for my team is European classics, which start a month after Qatar, and we often find that the people who go well in the first two or three classics are the ones who rode in Qatar - they are just a bit more race-ready. So we are going there to try to get the sharpness that could be the difference between a good and bad result in a classic.
I was really pleased to see Hannah Barnes didn't need any warm-ups to register her first win of the season for her new team at the Tour Feminino de San Luis in Argentina last week. She took a sprint victory on the first stage and it was great that she got off the mark so early.
She is a really talented sprinter, and having another Briton, Sharon Laws, in the UnitedHealthcare team with her as well, can only be a good thing.
There are British girls on a lot of different teams, but we always look out for each other because every UCI race point that we gain gives us a better chance a bigger team at the world championship, so Hannah's win was beneficial to us all.
She has set the ball rolling and hopefully the rest of us can keep the momentum going and make 2014 a success.