Lizzie Armitstead blog: The Women's Tour of Britain was a great event with amazing support
In the latest instalment of her blog, Lizzie Armitstead looks back on the Women's Tour of Britain.
Last Updated: 20/05/14 11:00am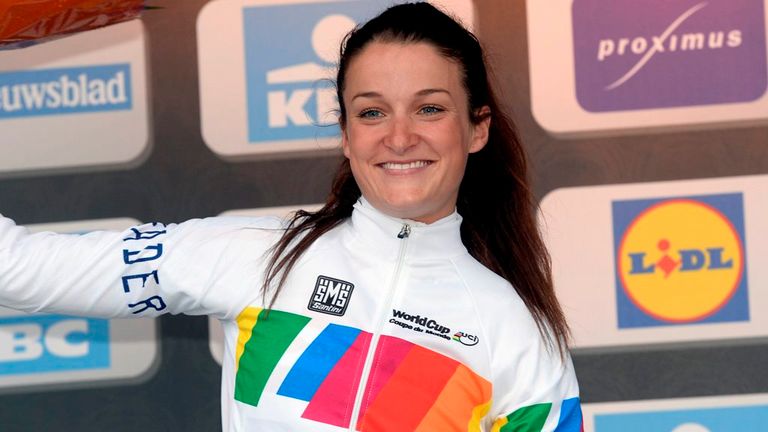 Unfortunately, I fell ill during the race and was too sick to start the fifth and final stage, which was a real disappointment given the amazing amount of people who came out to watch throughout the five days.
To be honest, as well as my illness, it was a fairly frustrating race from a results point of view. I kept doing well at the bonus sprints, which is all well and good, but you've got to win the sprints at the finish, which I wasn't quite able to do.
Also, on a couple of the days I punctured with just a few kilometres to go, and then on another stage I sprinted far too early, so I just never managed to quite get it right.
It was really disappointing to miss out on a win. I had such a good spring, picking up a couple of victories, so there was expectation for me to do well at the Women's Tour and that was only multiplied by the fact it was on home roads and with a home crowd.
But while I missed out, the race was definitely a win for women's cycling in Britain, and for cycling in general. The support was just incredible. A huge thank you to all of those of you who came out, particular through the bad weather we had.
Apart from at the world championships and the odd one-day race, such as the Tour of Flanders, we just don't get crowds like that at women's races. People were three or four deep in places and you don't even get that at some men's races. The support was way beyond what I expected.
I think the race got a worthy winner as well in Marianne Vos. She made a late start to her season and the Women's Tour was one of her first races, and she was just in a different place to the rest of the peloton.
Britons flourish
But the British contingent also performed really well, which was really pleasing to see. Lucy Garner finished seventh overall and Hannah Barnes was eighth.
They are both really talented riders, especially in the sprints, and it was good that they were able to show the British public what they can do. The race is nicely suited to them both and it was impressive to see them both picking up podiums.
There was also Sharon Laws, who won the queen of the mountains competition. There weren't many mountains, but she still took control of that classification and it was great to see her claim that jersey.
It was also nice to see the way all of the riders in the peloton took to the race, even though we didn't have such great weather. It was bigger than any of us expected and I'm pretty confident that all of the girls will target the Women's Tour next year. It was a huge success and I can see it being a much bigger part of the women's calendar than I originally thought it would be.
Looking forward, the first thing I need to do is get over this illness. This week was supposed to be a week where I would have a break and have a rest. I'm getting the break from riding, but the illness means I'm not getting much of a rest.
All being well, I'll start training again next week and then I've got a race in Holland that I'm taking part in. After that, I'll start building up towards the Commonwealth Games, which is a big target for my year.
I'll use the races between now and then as training races, which is difficult, because I won't be getting results in them and you have to have the confidence to accept that.
Hopefully the next few weeks will go a lot more smoothly for me than the Women's Tour and I can arrive in Glasgow for the Commonwealths in top condition.