Rider blog: Nathan Earle
In the first installment of his blog, Nathan talks about a whirlwind start to his Team Sky career.
Last Updated: 05/03/14 5:25pm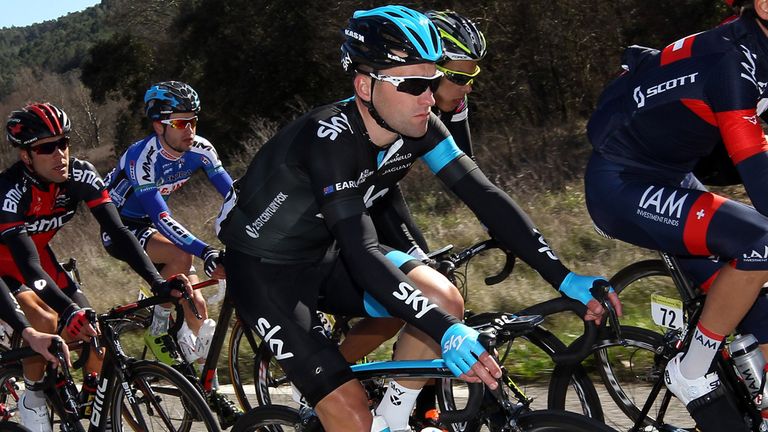 In his first blog of the season, neo-pro Nathan Earle fills us in on a whirlwind two months which saw him gain a last-minute call-up to the Tour Down Under, make the daunting move to Europe, and mix it up at the front of the Tour du Haut Var.
March 3 2014
Hi everyone and welcome to the first installment of my blog. We're three months into 2014 and I have to say I'm feeling pretty good.
It's been a bit of a different start to the year than I'd imagined following my call-up to the Tour Down Under. Getting selected at the last minute obviously meant it was a bit rushed but it was certainly exciting, and to be part of that team was pretty special. I just tried to do the best I could for the guys.
I'd made it clear that I wanted to do the race so when I got the call I thought to myself 'okay, this is what it's all about'. I wanted to go over and make the most of it. The team and coaches have been saying to me that, while you might have your race schedule, it's important to always keep up with your training as you never know when these opportunities pop up.
I think doing the Tour Down Under was a really good way to kick the year off – competing in a WorldTour race against all those other teams, and in front of a home crowd. It helped settle the nerves a bit and enabled me to see how the team operates, as well as giving me the chance to hang around some of the big guys on the team. Riders like G [Thomas], Richie [Porte], Ian [Stannard], Bernie [ Eisel] and the other guys. It was a really good experience and I felt quite privileged to be able to do that. I got a lot of positive feedback from everyone and all in all it couldn't have turned out much better.
On moving to Nice...
Moving to Europe is obviously a big deal but it's actually worked out really well. It's amazing having the support network here. If I was riding for another team I'd probably have come over here and been staying in a hotel or at a friend's for a little while – having no idea how I was going to get myself an apartment. I speak next to no French and it could have been a really horrible and stressful experience. Instead I came over here and I've got the coaches living nearby and riders like Richie in the Monaco/Nice area.
I came over and moved straight into the team house. There was a little bit of food in there so I didn't even need to go shopping. I got picked up from the airport and everyone was available to help. It wasn't stressful whatsoever. Charlotte [Rahr, Team Performance Lifestyle Manager] has been helping me to set up a bank account and move into an apartment, which I've got now. I move in this week. It's been as easy as it could possibly be – amazing really.
Having the team house is incredible. The team said I could come and live there for a month until I got yourself an apartment. It's taken the stress right off and saved me rushing in to finding somewhere else. All I've really had to do is concentrate on the training, the local climbs and enjoying the weather to get prepared for Haut Var, which was my next race.
I did pretty well there so it shows that if you have the right support you can perform.
On racing at the front and waking up without a bike...
In case people don't know, on the morning of the race the team had all our bikes stolen. At the time I didn't panic too much because the team weren't panicking. Obviously everyone was a bit stressed but they'd figured out a way to get around it. No one was running around freaking out, they were more like 'let's just figure out what we can do about it'. It's just one of those things that happened and there's nothing you can do about it. It could have been a lot worse.
I'm happy, on balance, with how the race went. Obviously I'd like to have gone a bit better and I think I could have gone a bit better and possibly podiumed on the last day. But then I've got to take a step back and realise that it's my first European pro race and I wasn't really going into it as a main guy to try and win. The experience I gained from it was really valuable and it's a positive sign that my form is good and I can handle those smaller races.
On the first day we were riding for CJ [Sutton] in the sprint but he was on a different bike so it was tough. I stayed back with him and tried to get him up there for the finish. He didn't quite have the legs and in the end I just stayed up there towards the line and got 11th. I was pretty happy with that, but happier that I'd tried to do the planned job towards the end. I just happened to get a good result out of it, which is a bonus really.
Then on the Sunday the team rode for Sebastian [Henao] and I. I felt good all day and the team was riding well. On the last climb I was third over the top, and I was disappointed afterwards because I was literally metres off the two riders that went to contest the finish.
I had a couple of guys behind me and thought that because the yellow jersey was ahead they wouldn't let him go. I felt that if I went to close the gap I'd be countered and then attacked. But I didn't realise the other guys were so tired. By the time they caught me I was trying to get them to swap off but they didn't do that because they were so tired. In the end the gap went out. I was pretty confident I could have been there with the other two and if we'd stayed away I would have had a guaranteed third, at least. But that's racing. I learnt a lot and it was positive that I was third over the climb. I need to try to gauge how tired other riders are or what the situation is.
Going in I knew there was a slight chance that if I did well I could get a result, but realistically I was expecting to help everyone else.
So in my first race in Europe it was amazing to have the team working for me on the Sunday. There's not many opportunities where that's going to happen so that's another reason why I was a bit disappointed that I couldn't get a result. To have guys like Chrisitian [Knees], CJ and Gabba [Rasch] looking after me was pretty special.
Next up for me are two one-day races in Italy at the weekend. I've got the Strade Bianche and Roma Maxima. They are both long races and you have to back up the next day so hopefully it should suit me. It will be a different squad there and it's more experience and learning. I'll let you know how I get on in my next blog!