Rider blog: Nathan Earle
In the second edition of his blog Nathan talks about riding for Chris Froome and the step up to the very pinnacle of the sport.
Last Updated: 22/04/14 1:59pm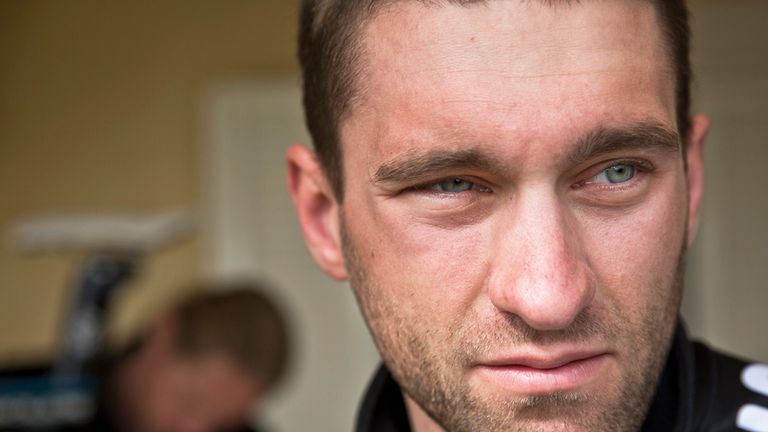 April 18th 2014
Hi guys and welcome to the second installment of my blog. Since last time I've ridden some big one-day races in Italy and tackled a really tough WorldTour stage race at the Volta Catalunya in support of Chris Froome.
I'm pretty happy with how the season has gone so far. I started on a high with Haut Var and was going really well there. When that was done it was on to the one-day races in Italy (GP Camaiore, Strade Bianche and Roma Maxima) which were a really good experience.
Those races were actually my first time rocking up in the team bus. It's something most pros probably take for granted but it was cool to see how everything worked. It goes without saying that having that at the start and finish of the race is really useful.
Catalunya was a really good tour. It was a hard race but I was relieved to talk to other riders in the peloton who also found it was tough going. That made me feel a bit better about myself. I was hurting every day and looking around thinking wow, is this just another day in the office for these guys or are they hurting as well? But then I'd go and talk to someone from BMC or GreenEDGE and they'd all be saying 'mate this is hard!'
It was a shame Richie (Porte) had to pull out with illness, but to do a tour with him and Froomey was a great moment for me. I've been watching Froomey on TV for the last few years and then all of a sudden I'm riding for him in a race. That was pretty special and a privilege. I got to look after him and play my role for the team. Whether that was riding on the front or maintaining a good position onto the descents, going back to get things from the car, stopping with him if he had an issue – that sort of thing.
Just being around Froomey was a great experience. I rode to the best of my ability and tried to be there when I was needed. The team was happy and Chris was happy, so that was good. Again I gained a lot of experience out of it.
On racing in the cold
The weather got nasty for a few days in Catalunya. I like to think I'm pretty good at racing in cold conditions, but a big part of it is managing and choosing what clothing you're going to wear at the start of the day. It was tough on some of the days but I came through it.
Being from Tasmania I'm used to being pretty cold. With hindsight, there were times when I should have gone back to the car to get a jacket, but I wanted to be up at the front where the action was and that's what I did. By the end of the day I was pretty cold. Again it's experience and having the confidence to go back and get what you need.
On racing the Ardennes
Next up for me it's the three Ardennes Classic races – Amstel Gold, Fleche Wallonne and Liege-Bastogne-Liege. It's fair to say they are going to be really hard, but again, they are races which everyone knows and watches on TV back home in Tassie.
To take part in these events (starting on Sunday) will be pretty cool. Anything can happen and I'll go in with a positive frame of mind, make the most of it and take as much away as I can. I don't want to have too higher expectations going in. They are such hard races.
Liege is one that I've always been interested in and always watched. I've got a photo of it back home that used to be on my bedroom for years. I used to look at it and think that would be a cool race to do. Maybe one day I could be a part of that. Now I'm going to do it. Maybe after I find out how hard it is it won't be my favourite race anymore!
I'm also down to ride Tour de Romandie which again is a cool tour and another one that I've always wanted to do. It's all good going to a race in really good form. But when you've got three one-day races, a couple of days and then a tour, plus travel in between – it comes down to how well you manage yourself. Recovery, diet, sleep. Not cracking and wanting to go home – all that sort of stuff. So that will be a good experience for me to see how I get through a good couple of weeks of racing. Even I make a few mistakes I can learn from it.
I'll let you know how I get on in my next blog.