Rider blog: Nathan Earle
We check in with first-year pro Nathan to hear about a winning team in Austria, crowd support in the UK and staying upright at Eneco Tour.
Last Updated: 24/08/14 5:37pm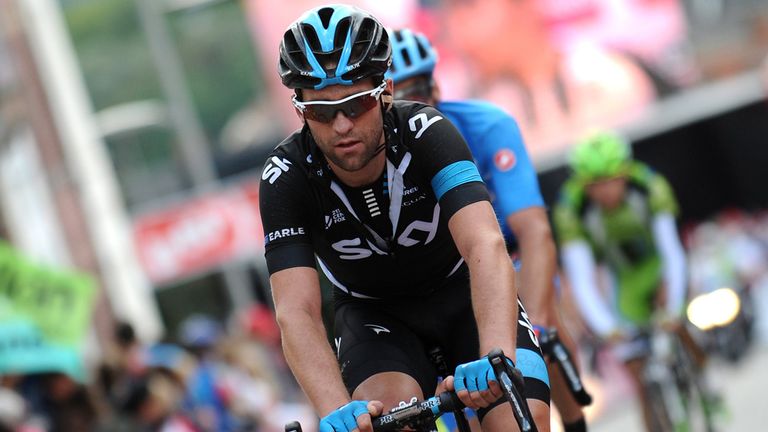 August 21st 2014
Hi again everyone! I've racked up a lot of kilometres since the last blog so I thought it would be a great time to catch up. I've been to Austria, ridden San Sebastian and RideLondon and recently competed at the Eneco Tour. As races go they don't get much more varied.
In Austria Pete Kennaugh took the jersey on the first day and from then on it was a case of riding on the front every day to defend it. That was my job and for me it was about getting over as many climbs as I could and trying to make it to the next valley each time. It was a really good experience and useful to appreciate how much effort it really takes when you're on the front for the day. It was tough but it was the best way to enjoy the views in Austria! We all gelled really well and it was great to be a part of Pete winning that tour. The start-to-finish win made it all the more rewarding.
Being a rider on a British team naturally I was looking forward to racing in the UK and the RideLondon – Surrey Classic did not disappoint.
The course was cool and I liked the short climbs and type of circuit we were racing. The weather just added to the drama! When you go to races you have people cheering for teams and particular riders but that was just on a whole other level. It seemed like pretty much everyone was cheering for Sky. It took me by surprise a little bit but it made me pretty proud to be wearing the Sky colours. There were some big crowds on the run-in and they were screaming 'Go Sky, go Bradley'. We had Ben Swift up the road and I was in the second group with Brad. It was certainly special for us Sky riders and a great experience for my first race in the UK.
Racing in the UK is quite unique but I'm used to rain and the wet weather, plus some of the roads in Tasmania are quite similar with narrow lanes and bad surfaces. It was actually really cool to have the RideLondon course go through all the back lanes. On the way in, given some of the major roads we were racing on, it was incredible to think that they'd blocked them off so we could all race. It's a unique experience to be able to compete on those roads – finishing in front of Buckingham Palace on The Mall.
On staying upright at Eneco Tour…
I was saying to a lot of the guys that I think the Ardennes gave me a false impression of what Holland and Belgium were like. I went there in April and the weather was nice, I liked the races and I was really happy to be going back. Then the first couple of days at Eneco Tour were just crazy! We had cross-winds, rain and road furniture everywhere! It was a constant case of bunny-hopping and swerving around obstacles, then sprinting every couple of minutes out of a corner. There were that many corners!
On paper when you upload your data it wasn't a really hard day – with low power, low heart rate etc. But you're really tired from all the accelerations and also the stress. It was an achievement just to keep it upright. That said it's really good experience, especially with positioning and that constant fight to stay up front. You can easily get chopped off a wheel and before you know it you're back in 100th position in the peloton. Also simply having the confidence to get in front of guys like Geraint and do the work. There were times when I didn't want to get in front of G because I didn't want to stuff him up. The last couple of days were better with the more Ardennes-style parcours. It was a great experience, even before it began, with doing the RideLondon – Surrey Classic and then starting Eneco the next day – to go into a tour with 200km in your legs.
On the final races of 2014 and tying the knot…
Looking back at this year so far I've been really lucky with this team and the races they've put me into. They could have easily said you're a neo-pro we just want to keep you in a safer environment or something we know you'll be capable of doing. Instead they've really thrown me into a diverse calendar of events – different roles, different races and styles. I feel like I've had a real taste of everything this year and I feel privileged to have ridden these races. It puts me in better shape for next year.
I get married on the October 10th so I'll have a slightly earlier finish to go home for that. I'm racing at Vattenfall Cyclassics in Hamburg at the weekend and then I'll head to Plouay and Canada for that pair of races. It means I'm able to finish this season before fatigue really sets in and I think next year I'm going to really benefit from how this season has panned out. The team have been incredibly supportive and the fact they constantly go that extra mile to help the riders has made everything so much easier in my first pro season.
I'll go home, finish the year early but get back on my bike early. Our Aussie nationals are in January and that's one of my big goals of the year. It's a circuit that really suits me so that's my early target. It would be a dream to wear that jersey!